In time for Taylor Swift's Red ASEAN Tour, Air Asia unveils an aircraft livery featuring the seven-time Grammy winner.
The Malaysian low-cost airline threw a Red Hot Party at the Mandarin Hotel in Kuala Lumpur, Malaysia, last Friday night, May 30, to officially launch the Airbus A320 with special livery featuring Taylor's name and images.
"This is a very exciting event for us, probably one of the most exciting events for us here, whereby we're flying Taylor Swift and her group of musician for her tour around Southeast Asia," said AirAsia Berhad chief executive officer Aireen Omar after showing to the guests the latest addition to the airline's extensive list of unique aircraft liveries.
In the press statement, she also mentioned, "At Air Asia, we've always taken branding to a different level and this opportunity to work with Taylor and her team marks yet another milestone for us as we continue to build the brand globally."
Air Asia will be the official airline of the 24-year-old singer on her music tour in Southeast Asia.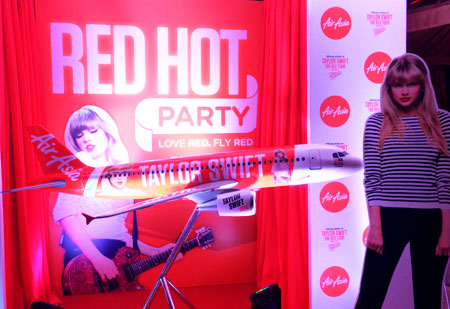 This will be the look of the Air Asia's Taylor Swift aircraft livery.
It will be servicing the airline's routes in 88 destinations across 22 countries.
The said aircraft will be travelling to various South East Asian cities for the tour, including Jakarta, Manila, Singapore, and Kuala Lumpur.
Media and bloggers from different ASEAN countries were present at Red Hot Party prepared by Air Asia to celebrate the launch of its newest aircraft livery and to commemorate the start of its collaboration as Red ASEAN Tour official airline.
During the event, a special video greeting by Taylor was shown to the guests, inviting everyone to her concerts in Southeast Asia.
The Taylor Swift Red ASEAN Tour presented by Cornetto will be in Jakarta, Indonesia on June 4; in Manila, Philippines on June 6; in Kuala Lumpur, Malaysia on June 11; and in Singapore on June 9 and 12.
VIEW PHOTOS Swifties tour Taylor Swift plane of Air Asia
Taylor Swift, who writes all of her own songs, is the youngest winner in history of the music industry's highest honor, the Grammy Award for Album of the Year.
She is also the top digital music artist of all time, the only female artist in music history (and just the fourth artist ever) to have two albums hit the 1 million first-week sales figure, and is the first artist since the Beatles (and the only female artist in history) to log six or more weeks at #1 with three consecutive studio albums.
Taylor has an album on Rolling Stone's prestigious The 50 Greatest Albums of All Time (women's list).
Her other recognitions include being part of Time magazine's "100 Most Influential People in the World" and Billboard's youngest-ever Woman of the Year.
Taylor, who is signed to Big Machine Records, has career record sales in excess of 26 million in albums and 75 million for a song.