Come tomorrow, June 6, 2014, Taylor Swift will perform once again in front of the Filipino crowd at the SM Mall of Asia Arena, Pasay City.
The seven-time Grammy winner's expected time of arrival at Ninoy Aquino International Airport is 3:30 P.M.
She and her supporters, the Swifties, are bound to paint the town red!
Earlier today, June 5, frenzied fans began trooping to the airport for the arrival of Air Asia plane bearing her RED livery.
Prior to this, Keds—the shoe brand Taylor endorses—has been running a series of promos, which include seat upgrades and backstage tours for her concerts in Tokyo, Japan (June 1); Jakarta, Indonesia (June 4); Kuala Lumpur, Malaysia (June 11); and Singapore (June 9, 11).
It also launched its RED Tour collection, a limited edition of sneakers featuring designs "that would allow the fans to show their support for their favorite rock star."
There's Keds champion (left), with all the cities on the Asia leg printed on it; the original Red Album Keds (second from left), which has a feminine lace overlay inspired by one of Taylor's favorite dresses; the polka-dotted pair (second from right); and the very girly pink and black sneakers!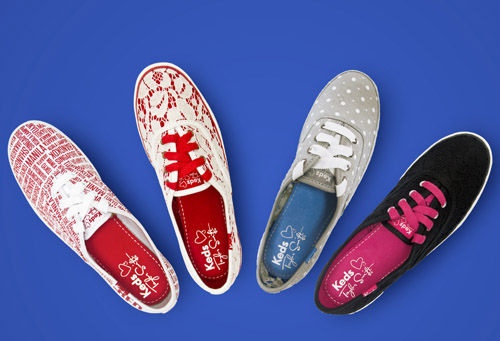 If you want to score PIT TICKETS or simply catch the RED fever, follow @KedsPH on Twitter and www.facebook.com/kedsphilippines.