Hair problems?
Would you believe a lot of woman prefer wash and wear 'dos because they think styling can damage their hair?
In an interview with Philips Consumer Lifestyle Business Development Manager Pia Umayam last May 29, she said, "Most Filipinas have virgin hair—meaning, they seldom use tools and [have] treatments.
"And that's because too much heat—for example, from blow drying—can cause breakage."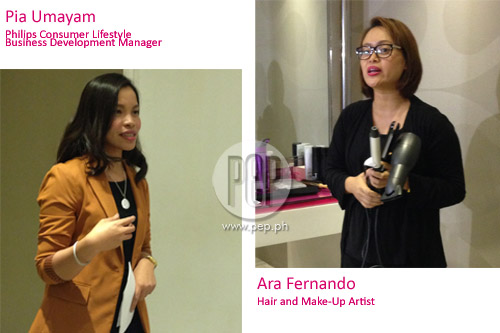 Some women also find hair styling too complicated and time-consuming.
But given the right tools and techniques, hair and make-up artist Ara Fernando said during Philips' Glam Night activity in Blõ Serendra, "Getting the look of artista is so easy..."
Ara's clients include Angel Locsin, Jennylyn Mercado, Dennis Trillo, to name a few.
Here are 10 tips so ladies can say goodbye to same ol' same ol' hairstyle and achieve the salon effect.
1. There are technologies that can both style and protect the hair.
Pia added, one "is called temp precision. If the level is too hot already on your hair, it automatically shuts off."
There are straighteners that have "ionic conditioning, which also locks the moisture of your hair so it remains healthier and shinier."
There are curlers that have "ceramic coating" to protect hair and fingers from burns.
Lastly, some blow dryers have the "cool shot na pag uminit na siya, may cool air na lalabas."
2. Price versus Efficiency
The cost of blow dryers would range from 1,000 to 20,000 pesos. But if you want to really save, consider efficiency.
Pia said, "May mura pero matagal para makuha yung look. So kung sa iba, 15 minutes, sa Philips, five minutes lang."
3. The higher the wattage, the less exposed you are to heat.
As a follow-up, Ara said, "I do not use blow dryers that are below 2,000W. This can reduce the job from one hour to 20 minutes."
4. "Wet the hair."

That's the first thing to do even before holding a blow dryer. To make it shinier, Ara advised, "Use cool air."
Reminder: Hair is weak when it's wet, so do not tie it, to avoid breaking [some strands].
Hold the blow dryer upward then run your fingers. Do the drying by layers.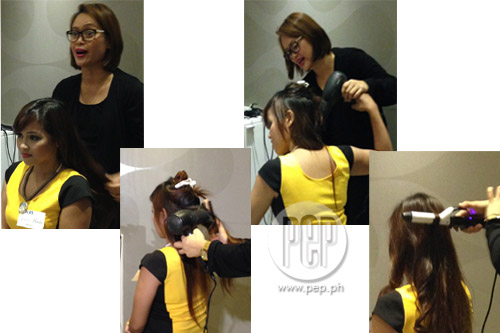 5. Use heat protector spray before using the flat or curler.
6. Directing the curls inward gives the illusion of jaw. As Ara had put it, "Nakakapayat yun!"
7. If you want diagonally-wavy hair, just glide then twirl it.
8. If you want the Dyesebel look, roll a portion diagonally with the curler, release, then run your fingers.
9. If you want the Santo Niño ringlets, just roll smaller portions of the hair.
10. Now if you want the Audrey Hepburn or the Megan Young bun...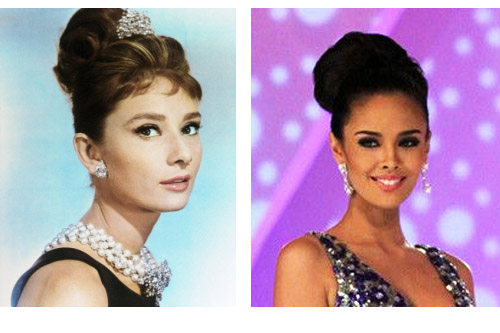 ...simply pull your hair up for a high ponytail then tie it.
Ara added, "The higher, the taller you will look."
Roll the hair with curler upwards. Then secure with hairpins.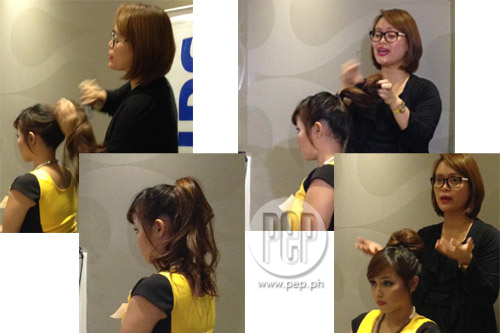 That evening, the bloggers and members of the press were asked to join a quick hair-styling competition...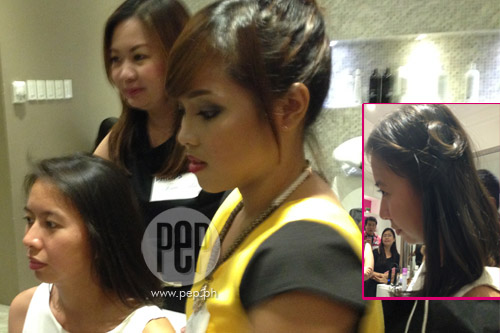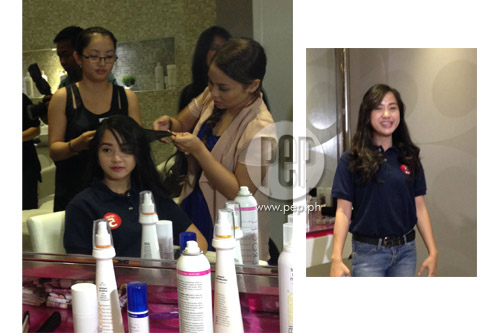 And the winning team's entry was inspired by Snow Queen Elsa of Frozen!