IMAGE Gia Allana Soriano
---
Since stress is very much part of the job, Vina Morales organized a stress management session for her partners and the staff of Ystilo Salon on June 23 at Club Filipino, Greenhills in San Juan.
She invited former Star Magic PR Manager Rikka Dylim to be the main speaker.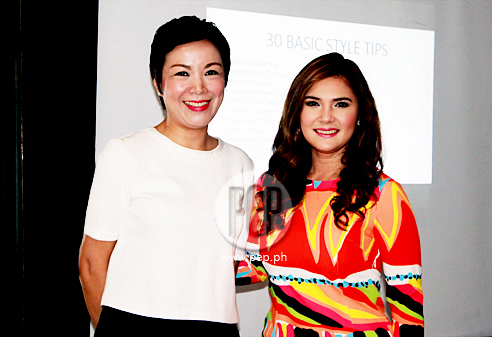 Says Rikka, "Stress is a fact of life, but being stressed out is not."
ADVERTISEMENT - CONTINUE READING BELOW
She admits to being "stressed out" to the point that her body almost gave up on her, "Akala ko okay lang, muntik ko na palang ikamatay."
After years of pushing herself to the limit, Rikka says she has changed her lifestyle and how she deals with stress. "I acknowledge kung anong nagbibigay ng stress sa akin."
Rikka shares this advice: "Pag nakakaramdam na, tumigil na. Hinga. Minsan nagpa-palpitate na, sige pa rin nang sige."
Rikka, together with Vina, lays out ways to control stress:
BREATHE
Vina shares, "Just breathe, deep breathing in and out for a few minutes. And after that, let it go."
VISUALIZE CALMNESS
Think of the person that makes you happy. If you're an animal lover, think of your pet, whether it's a puppy wagging its tail, or a cat purring.
Or visualize the beach, the mountains, whatever makes you feel good and blessed. Think happy thoughts.
ADVERTISEMENT - CONTINUE READING BELOW
DON'T GRIT YOUR TEETH. Do you grit your teeth when you're angry? Don't. Not only will this this harm your choppers, you may carry over this habit in your sleep.
Let go of the pressure and smile, that's what your pearly whites are for!
CHOOSE A MANTRA
"Repeat: Maganda ako, siya hindi," says Rikka in half-jest.
Seriously speaking, choose a mantra that will bring positive vibes such as, "Don't worry, be happy!"
It's all about perspective, how you see a situation. Do you view it as a problem, a challenge, a humbling experience, or something that will make you a stronger person?
BE A FIGHTER
"Being a fighter means choosing your battles, knowing that some things are beyond your control," Rikka explains.
Her tip? "Let it go." Free yourself of stress.
DRINK TEA
Rikka says drinking camomile tea will help calm you down. Avoid caffeine if you don't want to double your palpitations.
ADVERTISEMENT - CONTINUE READING BELOW
PAMPER YOURSELF
Vina says she likes to have some "me-time."
She adds, "I pamper myself when I'm stressed, I go to my salon, and talagang ano lang ako, magpa-pamper ako."
Whether it's getting a manicure or a hair treatment, do what makes you feel like the best version of you.
STRETCH
The cat is one of God's most graceful creatures. Do some cat-like stretches first thing after getting up and you'll feel really good about your morning.
Or better yet, go to a yoga class once or twice a week.
Says Vina, "I work out, I try to do yoga, yung mga ganun. It really depends with the time I have."
GOOF OFF
Tap into your inner child. Have you noticed how children laugh at the simplest things? Learn to appreciate what's around you.
Remember, there's a difference between being childish and being child-like. Be a responsible adult but don't forget to have fun like a kid.
ADVERTISEMENT - CONTINUE READING BELOW
IGNORE THE NEGATIVE

"Know what gives you stress," Rikka says. "'Wag na natin isipin yung mga taong nagbibigay sa atin ng stress.
"Wag na kasi kausapin, pakiusapan. Wag na natin tawagan si Nega-Star friend," she elaborates.
SAY A LITTLE PRAYER
Rikka prescribes prayers and Vina agrees, "In my quiet time, I pray."
So just let the Big Guy in the sky handle it. Do what you can and trust that He will never let you down.
How do you handle stress? Share below!