IMAGE Nimfa Chua
---
Both James Reid and LA Aguinaldo graced the Candy and Cosmo events this year, the hunks-slash-cuties talk about their experience with "both worlds."
"I think I went to Cosmo for my body but I'm here for my face," James Reid wittingly says.
"It's pretty different, but I enjoyed both."
Being a Candy cutie again this year, James Reid admits feeling ecstatic about performing again on stage.
"I'm always proud to be a Candy Cutie, and I love coming to the Candy Fair every year for the Candy girls, my favourite crowd."
Model and SM Youth ambassador LA Aguinaldo also feels overjoyed, thanks to everyone, who continuously "supports" him, whether he's Cosmo Bachelor or a Candy Cutie.
"Well for me, Candy girls and Cosmo girls, they really inspire me in everything.
"Like, natutuwa ako if I go to Candy events, Candy girls are always there to support me. And I love them because of that. They're all genuinely so sweet.
"Even the Cosmo girls, I really appreciate how they're also very welcoming and very pleasant lang sila.
"It's the best of both worlds, I guess.
"I have the Candy girls and Cosmo girls supporting me, so I'm really, really, really excited and happy about that.
"Experience is different, e, I think yung Cosmo, nakakagulat din yung sa Cosmo, e. I didn't expect people would recognize me or support me, so it's really humbling.
"Pero wala masyadong difference because everyone just spreads the love and I'm just so happy about that," LA explains.
IDEAL GIRL. In an exclusive interview with PEP (Philippine Entertainment Portal,) the boys dish on what type of girl makes their hearts skip a beat.
"My ideal type of girl, short and sweet," James Reid gushes.
LA Aguinaldo confesses liking girls who are "very down-to-earth," the 23-year-old adds, "yung honest, yung what you see is what you get, and yung happy-go-lucky."
ADVERTISEMENT - CONTINUE READING BELOW
Both also admit being attracted to a girl's smile during their first few meetings.
LA explains, "Kasi sa smile pa lang makikita mo what type of girl she is."
MAKING THE FIRST MOVE. James Reid still goes for the traditional type of courting. The actor says he would still like to make the first move when he starts liking a girl.
"I'd be upfront and straight up. But not too forward."
LA Aguinaldo reveals how he gives "signals" to subtly make a girl notice that he likes her.
"Eye contact, a lot of eye contact, and touches siguro sa balikat, sa arms, that's it."
DATE. These heartthrobs also gave us an overview of what a "date" with them would be like.
If you haven't got to know James for a long time, you probably need to check latest movie schedules, as this cutie would like to take it slow and prefer a casual night (or day) out instead.
"I don't like anything long so I'll probably take her out to see the movies," the 21-year-old says.
As for LA, getting pass the "getting-to-know-each-other" stage is his top priority.
"I've always wanted to take a girl to the park, ako magpre-prepare lahat: ng picnic, ng food, and mag-bike kami sa park, and we'll go fishing. Kinda just really get to know each other."
CANDY CUTIES. Girls swoon over these eye-candies not just for their looks but also for their talents and personalities, as James Reid says, "I think they like my talent."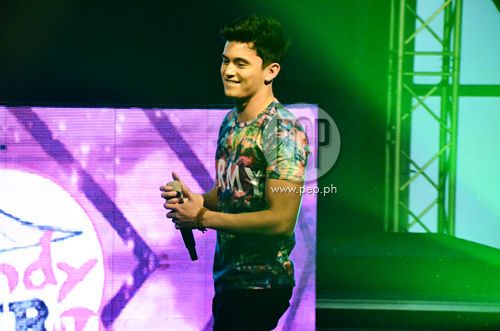 The Pinoy Big Brother: Teen Clash 2010 winner can sing, act, and dance. Aside from being a triple threat, James also has "gymnast and swimmer" under his resume.
As for LA Aguinaldo, he thinks it's his happy-go-lucky disposition that attracts female fans.
ADVERTISEMENT - CONTINUE READING BELOW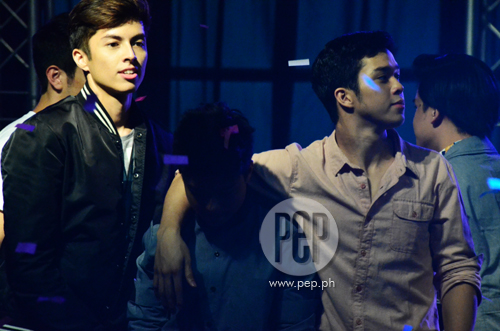 LA Aguinaldo (left) with Arkin and Elmo Magalona
"I always keep in mind that I have to be happy all the time because I am happy all the time.
"Siguro what attracts them is my positive energy, I think," the model concludes.