Prepare for a feast as the Vikings Group opens its latest buffet restaurant called Niu by Vikings.
Compared to its sister brand Vikings, Niu is more upscale, offering a more luxurious ambience, and a wider array of dishes from around the world.
"Niu is basically the [upmarket] brand of Vikings," Vikings Groups' Marketing manager Charles Stewart Lee told PEP.ph (Philippine Entertainment Portal) during a short interview.
"First of all, it is in SM Aura Premier, so we wanted to give it a more luxurious, more upscale look.
"We wanted a more evolved dining experience.
Niu comes from the old Norse word which means nine in English. As the name suggests, the Vikings group want their customers to experience being on "cloud nine" when they dine.
"You're eating amazing food so parang we wanted to say na you're on cloud nine," Charles said.
PEP.ph (Philippine Entertainment Portal) and other members of the press were treated to a feast last October 8 at the first branch of Niu by Vikings on the 6th floor of SM Aura Premier in Bonifacio Global City.
EAT AND CHILL. The restaurant can accommodate 350 guests. It also has three rooms for private parties and functions—the Norway and Denmark rooms which can each seat up to 12 people, and the Sweden room which can accommodate 45 to 50 people.
As for its interiors, Niu is on a par with the country's top hotels which also offers buffet dining. Unlike Vikings, Niu opted for a luxurious look with its chic choice of furnitures done in hues of white, beige, and purple.
It offers relaxing, live piano music at dinner time, compared to the upbeat music played at its sister brand, Vikings.
Charles explained, "Here talaga, it's more relaxed yung feeling, very luxurious. Sa Vikings kasi, the ceiling is a little bit lower and the music's a little bit faster talaga.
"Here it's more toned down, more chill. We want people to relax, to enjoy their food, their drinks."
If you're planning to come for dinner and there are 10 people or more in your party, you can have a table reserved near the grand piano.
For an intimate lunch or dinner, you can ask for a table near the Italian section.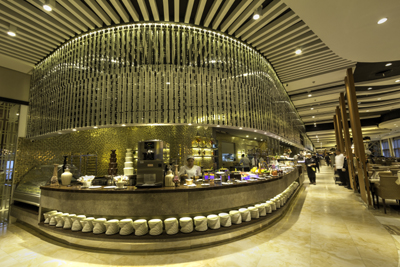 Niu's long stretch of buffet area which features 9 different stations.
NINE STATIONS. The long buffet is set up at the left side of the restaurant and features nine different stations with more than 300 dishes. Charles shared some details of the stations, starting off with the dessert.
He said, "Sa dessert—we have artisan gelato.
"Sa appetizers, we use premium quality ingredients. Sometimes we use arugula and fig, which is a premium fruit.
"You may want to consider sushi [because] the Japanese section comes with [katsudon], tempura, etc.
"There's the bar [station]. Cocktails and wine are included in the buffet rate.
"After the bar, you have the Pan Asian [station].
"Then your Chinese [station].
"After that you have your carving [station], your grilling station.
"And then yung Italian or pizza station."
What food to expect? See the photo above!
For our dinner that night, Niu served its top dishes starting with foie gras. French cuisine for an unlimited serving is definitely worth the price. The restaurant also served us rock lobster in miso soup. Invited guests also tried the Surf and Turf—shrimp and lechon macau—which is arguably one of their best dishes. Lastly, we were served a slice of mango cream cake.
Aside from this, I helped myself to assorted sushi from the Japanese station. I loved the sashimi and baked oysters. I skipped the appetizer station which consists mainly of different kinds of cheese, cold cuts, soups, and green salads.
Sushi lover's haven!
From the selection of drinks, I loved the lemon infused tea and strawberry mango drink. The restaurant also has an assortment of Twinings teas, highly recommended after a heavy dinner.
Moving on to the Asian cuisine, Hakaw (shrimp dumplings) did not disappoint as it was filled with huge chunks of shrimp. The steamed soy chicken is also a must-try.
As for Filipino food, the crispy pork binagoongan with ensaladang talong is best served immediately after cooking so it's crispy.
I also tried the New Zealand garlic and rosemary studded leg of lamb which was tasty but a bit chewy for my liking. The risotto could have been better if the chef prepared it al dente and topped off with foie gras.
Niu is proud of its artisan gelato. I tried the vanilla gelato which was perfect—not too sweet—and added some blueberry toppings. Filipino desserts, such as puto bumbong, are house staples.
Overall, the restaurant lived up to its promise of upscale dining compared to its sister company, Vikings. For foodies, you can definitely enjoy their long lineup of dishes.
Niu by Vikings is priced at P1,088+ for weekday lunch, and P1,388+ for dinner, weekends, and holidays. The restaurant is open for lunch Monday through Sunday from 11:30am to 2:30pm and for dinner Monday through Sunday from 5:30 to 10:00 pm.