Liza Soberano is the country's newest sweetheart. Little wonder that the fresh-faced Filipino-American actress is becoming a much sought-after endorser of brands.

PEP.ph (Philippine Entertainment Portal) spotted the actress at an event last October 26 during the Philippine Fashion Week Spring/Summer 2015 at the SMX Convention Center in Pasay City.

The Kashieca endorser described her style preference to be on the conservative side.

"Basically I just wear anything I feel comfortable in, I don't like wearing things I don't feel confident in because one of the most important things for me is to be conservative.

"I don't like showing too much skin, as you can see.
"Showing a touch of skin is okay so that they could see how beautiful your skin is, but not too much.

"I'm still young, I'm just 16, I like to preserve my youth.

In modeling Kashieca's Little black Dress line, she picked the ones that reflected her personality the most.

"I like the dress by Sassa Jimenez. Long-sleeved and backless, very cute, very Audrey Hepburnish."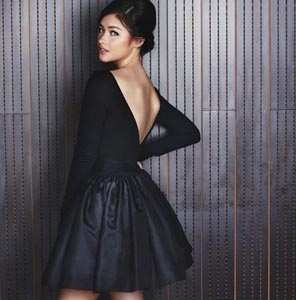 Photo courtesy of Instagram (@lizasoberano)


"I love Audrey Hepburn that's why I like that one the most.

"I'm not in a hurry to grow up but sometimes my stylists are the ones that dress me up especially for photo shoots.

"When you're portraying a character or role for the shoot, they make you look older or younger sometimes.


GETTING CLOSE TO ENRIQUE. Liza is currently being paired with Enrique Gil, and she admitted they have become more at ease with each other now than when they first started working together.

"I'm more comfortable with him definitely now, cause' we got to talk a lot habang wala kaming ginagawa like pag' tengga.

"I got to bond with him more, mas close kami. I feel more comfortable with him now.

"We have a lot of common interests when it comes to food, we have the same taste in food, music siguro and a lot of things.

"We're both adventurous and we both like animals."

MOST WATCHABLE. With her pretty face and a sweet image, Liza has a lot in store for her in showbiz.

The young actress expressed she's aware that all eyes are on her, and thankful that so far she's been getting positive feedbacks.

"I'm very happy, but nervous at the same time cause everybody's watching me.

"Of course I'm honored. I'm very happy and blessed of course, thankful to everybody for noticing my talent and for appreciating me."