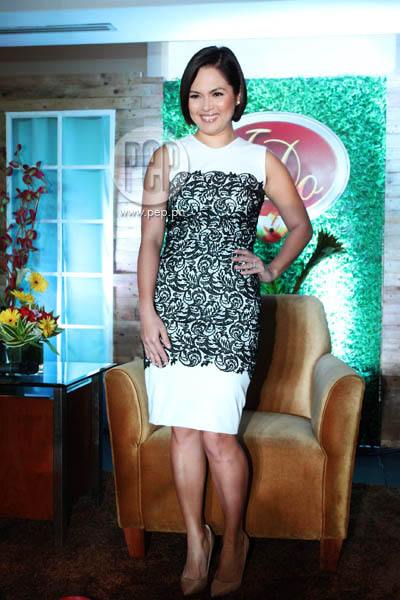 IMAGE Noel Orsal
---
Throughout her long career in showbiz, Judy Ann Santos still has the freshest face in the industry.
Her married life and motherhood notwithstanding, not to mention her hectic schedule, her mien does not show any sign of stress.
What is her secret?
The actress cites that drinking lots of water is the key to her glowing skin, "For you to be well-hydrated, of course, you have to drink eight to10 glasses of water a day."
She adds, "And of course, there's your weekly body scrub, yung mga lotion.
"As you age kasi, you have to buy mga products that you really need, you really want, especially for your skin.
"Also, mostly eating fruits and veggies, eat healthy, again drink lots of water, and, of course, vitamins."
Dr. Aivee Aguilar-Teo from the Aivee Clinic affirms that citrus fruits are your best bet if you want to achieve that natural glow.
She recommends, "Vitamin C is very good. A lot of oranges, citrus fruits.
"Tomatoes are also good. I think the good thing about all these fruits is that they're natural.
"And as much as possible take less preservatives.
"Para talagang healthy, importante yun for anti-oxidant, anti-aging, and overall for our health in general."
The doctor explains, "Whatever you put on your body also reflects on your skin. So I always advise them [her patients, including Judy Ann and husband Ryan Agoncillo] to minimize alcohol, get enough sleep, and drink a lot of water to hydrate their bodies."
DAILY REGIMEN. Dani Barretto and Dr. Aivee also share their morning and evening beauty routines.
ADVERTISEMENT - CONTINUE READING BELOW
Still in her prime, Dani's kikay kit includes "a cleansing gel, and a ceramide cream, which is also a moisturizer."
The young Barretto reveals, "I think that's about it, that's my daily regimen when I wake up and before I go to sleep."
She also gives a piece of advice to young women like herself, "Always, wash your face, especially before you sleep.
"When you have make-up, don't forget to remove it before you go to sleep.
"When you have make-up, don't forget to remove it before you go to sleep. Cleanliness din yan and hygienic.
"And find the perfect facial wash for you and the perfect moisturizer."
Dr. Aivee then spills the secret to her ageless beauty, "Basically, I use a moisturizing facial cleanser, I use a make-up remover, and at night I put my retinol cream, and anti-aging cream.
"And of course, sunblock. I use my sunblock every day. And I take my vitamins, my anti-hair loss vitamins, my hair and skin vitamins, and my anti-aging vitamins."
GRACE UNDER PRESSURE. Dr. Aivee also gives her advice on staying beautiful even when under stress.
"Stress is inevitable, because of work, family life. So, this is not just in terms of beauty, but overall we should always take time to pamper ourselves.
"You know, sometimes you work hard, but you also have to play hard.
"So one of the things to do to take of yourself is taking care of your body, taking care of you skin, and bringing out your best.
ADVERTISEMENT - CONTINUE READING BELOW
"And I think if you try to bring out the best of you... I mean, you know not all of us are naturally beautiful or we're not happy with certain features natin.
"But, you know, we can always be a better version of ourselves, if we try."
She sums it up, "It's important that we always look after ourselves. We only have one body, so we have to take care of ourselves."