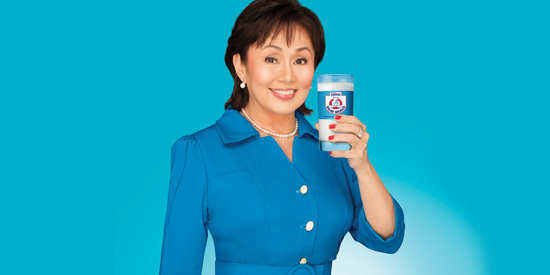 ---
ADVERTORIAL
Micronutrient deficiencies (MND) still remain to be one of the country's major public health concerns.
Millions of Filipino school children are affected by this condition according to the 7th National Nutrition Survey presented by the Food and Nutrition Research Institute of the Department of Science and Technology (FNRI-DOST) in 2008.
According to the FNRI-DOST, Iron, Zinc, and Vitamin C deficiencies are the most common nutritional problem among Filipino school children. Lack of these essential nutrients may lead to tiredness, concentration problems, and weakened immune system possibly resulting to sickness.
Lack of healthy dietary practices and budget constraints are among the common causes of this so-called "hidden hunger." Your child may have a full stomach but may not get the right amount of nutrients to protect him from sickness.
And it doesn't take a genius to know how costly it is to get sick. The rainy season, which covers most of the school year, makes it harder for parents to protect their kids from sickness.
ADVERTISEMENT - CONTINUE READING BELOW
As a mom herself, Gov. Vilma Santos-Recto knows how expensive it is when a family member, especially a child, gets sick.
In most cases, medical bills can lead a family to financial problems.
Being a public servant, Gov.Vi also learned more about motherly concerns that include keeping good health of the family. In fact, one of her thrusts is to prioritize good nutrition to ensure good health among Filipino families.
BALANCED MEAL PLUS. The easiest way to protect your child from common illnesses (such as cough and colds) is to give him a balanced and nutritious meal every day and complement that with fortified milk such as BEAR BRAND Powdered Milk Drink now with 100% Vitamin C–Gov. Vi's trusted ally in the fight against MND.
A hotdog, egg, and rice meal, for example, only gives 44% of Iron, 47% of Zinc, and 0% Vitamin C.
Fruits such as mangoes and calamansi, and other leafy vegetables are needed to add to your child's daily Vitamin C consumption.
ADVERTISEMENT - CONTINUE READING BELOW
A glass of BEAR BRAND Powdered Milk Drink complements and reinforces this meal. Your child's Iron intake will improve from 44% to 77% and Zinc will increase from 47% to 79%. Importantly, your child will get the 100% Vitamin C he/she needs.
With this easy, practical, affordable way of boosting your child's nutrition intake, it is encouraged for parents to complement their child's meal with a glass of BEAR BRAND Powdered Milk Drink every day. As Gov.Vi advocates, one can fight malnutrition through proper understanding of MND and food fortification, and by making it a habit to eat healthy and drink milk fortified with TIBAY resistensya nutrients every day.