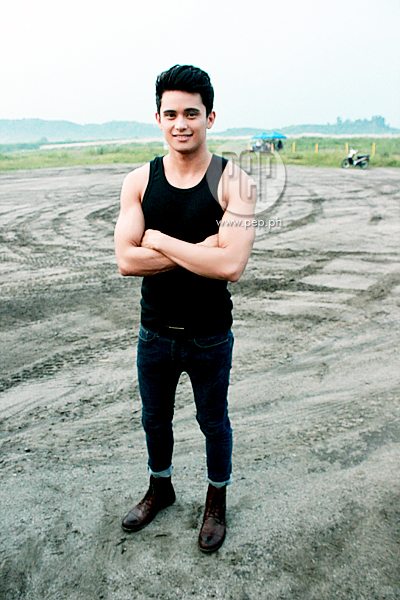 IMAGE Gia Allana Soriano
---
From being a lanky 17-year-old kid in Pinoy Big Brother Teen Clash 2010 days, the PBB Big Winner James Reid at 21 is now the poster boy of youthful masculinity.
The November issue of Men's Health magazine is proof enough.
"It's like a dream come true, really. I've always wanted to be on the cover of Men's Health. So, for me, this also a milestone.
"You know, to be on the cover of Men's Health, to be recognized for your body, for your health, it's really flattering," he gushed during the pictorial at Sandbox Pampanga last October 9.
He's also been on the cover of YES! Magazine cover twice in a row [October issue and as a part of November's Sexy Dozen special,] and Garage Magazine.
The Diary ng Panget and Talk Back and You're Dead star was also featured in Candy Magazine's Candy Fair 2014 and Cosmo Bachelor Bash this year.
(Read more here: http://www.pep.ph/celeb/people-and-lifestyle/life-and-career/29808/james-reid-and-la-aguinaldo-talk-about-whats-it-like-to-be-a-cosmo-hunk-and-a-candy-cutie)
About the overwhelming support James is currently receiving, the young actor exclaimed, "It feels great. I don't know what to say. I'm just really happy.
"My dad really buys all the magazines, all the covers, and he collects them all. And he's really proud of me.
"He tells me, 'You've made it.'"
EARLY TRAINING. James said his dad, Malcolm Reid, introduced him to gymnastics and swimming at an early age.
"I was a gymnast when I was a kid. I was really young.
ADVERTISEMENT - CONTINUE READING BELOW
"My dad taught me it would be a good idea when you're young, to gain flexibility, core strength, and foundation."
To prove it to the Men's Health staff, James did a head stand and walked on his hands for a few seconds.
"I can do back flips, sommersaults and, yeah, walking on my hands. Things like that."
He is known to be an excellent swimmer as well.
"Swimming was just something I did, you know... my dad made me do it to keep in shape.
"But I've loved it since I was a kid. I was three years old when I started."
ON STAYING SEXY. Part of it is due to his diet, mainly egg white or boiled egg for breakfast.
According to James, "If you eat it all up, it's almost like rice, if you think about it, it's white. But it's lean protein."
Mostly, though, it's his metabolism, "One week without gym, I could lose 35 pounds."
To maintain his beach-ready built, rice is a no-no.
"I stopped eating [rice] so I could stay shredded. So I could keep my body fat low.
"There are better carbs for you that can give you more energy without eating so much.
"For example, wheat breads, it's richer in energy.
"But, of course, you need carbs. So instead of eating rice I eat sweet potato, I eat a lot of cereal, and that helps."
James also talked about his customized exercise routines. His pace changes accordingly, to add or lose some pounds.
ADVERTISEMENT - CONTINUE READING BELOW
"When I'm trying to gain weight, I'll eat more carbs and more protein and I'll lift heavier weights.
"And my workout is a little longer, I'll do more time in the gym.
"When I want to lose weight, if I wanna shred, I stay away from carbs almost completely.
"Of course you still need carbs to stay healthy.
"My workout will also be lighter weights but higher intensity.
"For example, instead of 10 racks in heavier weights, I'll drop the weight but in 20-30 racks. So it's more aerobic exercise."
You can get more tips on how to get chiseled abs in time for Christmas when you grab a copy of Men's Health November issue!