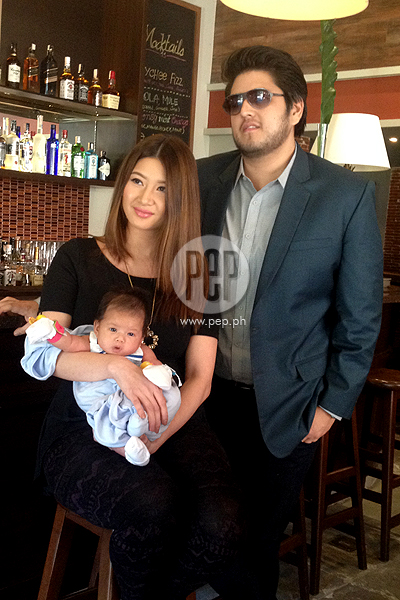 IMAGE Rizza C. Benedicto
---
Tagged as the royal family of the Philippines, the Gutierrezes are welcoming another baby to the clan. Tonight, November 17, on It Takes Guts to Be A Gutierrez, the family will show off their newest baby—and it's a girl!
After trying for three years, Elvis Gutierrez and Alexa Uichico were finally blessed with a beautiful daughter, Aria Carmela.
Last September 28, Alexa gave birth to a beautiful baby girl. It was indeed an answered prayer and an advance Christmas gift for the couple who have been together for eight years.
FIRST-TIME PARENTS. Elvis and Alexa admitted that prior to having Aria, their only experience with babies are their nieces and nephew: Lorin, Venice and Zion.
Lorin and Venice are Ruffa Gutierrez's kids with former husband Yilmas Bektas, while Zion is Richard Gutierrez and Sarah Lahbati's son.
What's it like to finally have a baby of their own?
Elvis happily shared, "Parang yung feeling na never ko pang naramdaman before.
"Parang alam mo yung goose bumps na ang saya tapos pag hindi ko siya kasama tapos naiisip ko siya parang napapangiti ako.
"Parang ganun. It sounds cheesy or corny pero ganun, e. Iba, iba pala talaga yung feeling ang saya."
For her part, Alexa said, "It was like an early Christmas gift talaga for us.
"It's amazing! It's the best Christmas gift.
"We keep watching how I gave birth over and over again and every time I watch it, I keep crying over and over again."
Elvis admitted that it took them a while to finally have a baby. He shared, "We're so happy. Finally, after many years. We've been trying already for three years... but we weren't really rushing."
ADVERTISEMENT - CONTINUE READING BELOW
Alexa happily cut in, "If God would give us a baby, then super happy. So we weren't really doing anything like taking anything to get pregnant. We were thinking if God will give us a baby, we would be so happy."
She revealed that Zion was their practice baby in the States, which somehow led to having their own baby.
Alexa narrated, "We took care of Zion in the States.
"So we did a California trip, we were the ones who were taking care of Zion in the States with Chard and Sarah and we decided to go on a California adventure.
"We went to Monterey, to San Franciso, and then we ended up in Las Vegas for New Year's so that's where we had our baby."
Elvis admitted that somehow, Zion inspired them to have their own baby. "Siguro na-ano kami kay Zion, medyo naaliw kami."
He added, "Na-excite kami masyado, kaya binigay na rin ni God kasi siguro nakita na niya talaga na gustong-gusto na namin."
PRACTICE BABIES. Alexa said they honed their parenting skills when they were taking care of Lorin, Venice and Zion. She said she developed her mother instincts when she watched over the kids in the States.
"Sa start when I met Elvis I was very relaxed. I was like, go with the flow but then over the years, I realized that I have this mother instinct growing, so when we were taking care of Venice, Lorin and Zion, I was very motherly. I changed a lot. Elvis was telling me, 'You have to relax,' But maybe I [was already] changing," said Alexa.
ADVERTISEMENT - CONTINUE READING BELOW
She added, "This is my way of growing up, of being mature. And then we had a baby. So for me, it was really God's plan like taking care of the babies—Zion when he was 7 months, taking care of Lorin and Venice and then bringing them on a trip and now Elvis and I have our own baby. So it's a godsend for me."
ARIA'S DEDICATION. Tonight at Marco Polo Hotel Ortigas, the Gutierrez clan will welcome Aria Carmela to their family and to the Christian World. Some of the ninongs and ninang are Grace Poe, Lorna Tolentino, TJ Trinidad, Monching Gutierrez, Tonton Gutierrez, Ruffa Gutierrez and many more. Gutierrez matriarch Annabelle Rama revealed that there will be 25 pairs of ninong and ninang to welcome Aria Carmela.