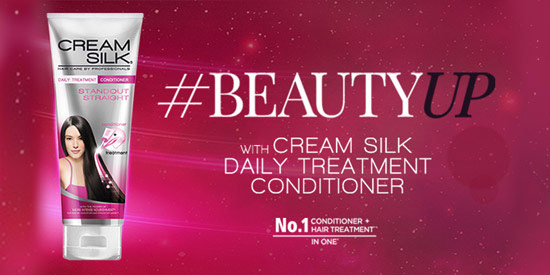 ---
ADVERTORIAL
Everyday, hair is exposed to dust, pollution, heat and even chemicals.
It takes a beating from all these elements making it dry, frizzy and hard to manage.
Beyond Beautiful Filipinas know that to care for their crowning glory, shampoo is not enough. What it deserves is expert care that knows exactly how to level up one's beauty on a day to the day basis.
Cream Silk has long been a partner in making sure that every Filipina's hair is smooth, tangle-free and healthy gorgeous so she can go Beyond Beautiful. It's formulated specifically for Filipina hair. And now, it has created a product that truly ensures that she can take her beauty to the next level.
Introducing the next level in conditioning—Cream Silk Daily Treatment Conditioner. It's the combination of the number one conditioner and number one treatment, ensuring each strand gets the nourishing power of hair treatment at the speed of a conditioner so hair is softer, smoother, and easier to manage.
Cream Silk Daily Treatment Conditioner comes in four variants to suit different hair types: Standout Straight, Hair Fall Defense and Damage Control and Dry Rescue. Each Filipina can pick the variant that's best for her.
Well-known beauty editor, Agoo Bengzon, with her extensive experience in the beauty industry, talks about the benefits of using Cream Silk Daily Treatment regularly so every Beyond Beautiful Filipina can #BeautyUp with this online video.
With Agoo's advice and the expertise of the No. 1 hair care brand in the country, every woman can go Beyond Beautiful and take her beauty to the next level.
ADVERTISEMENT - CONTINUE READING BELOW