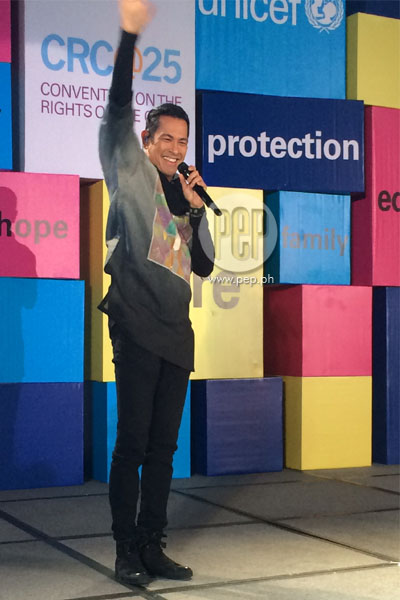 IMAGE Kaye Estoista-Koo
---
Gary Valenciano, longtime UNICEF (United Nations Children's Fund) Goodwill Ambassador, held a mini-concert on November 20 to celebrate the 25th anniversary of the Convention on the Rights of the Child (CRC).
He sang several memorable songs that evening, one of them "Kapit Pinoy," a song of encouragement for all UNICEF workers, volunteers, and the Filipino public in general.
It's a song, he said, which "may encourage us as we continue to take each step, no matter how difficult the winds may blow or how high the waters may rise. Together, I believe we will be able to achieve more than what we planned to achieve."
During the concert, Gary V invited his children to sing and dance alongside him.
He explained how the "family is one unit that has really undergone a lot of bashing, a lot of struggles, a lot of shaking, a lot of falling apart."
He remarked that he was happy to see "these kids here and to see the smiles on their faces.
ADVERTISEMENT - CONTINUE READING BELOW
"There is a difference when children smile with their hearts... and [you see it in their] eyes."
"THE CLIMB" WITH KIANA. Gary invited his daughter Kiana to sing Miley Cyrus's "The Climb" with him.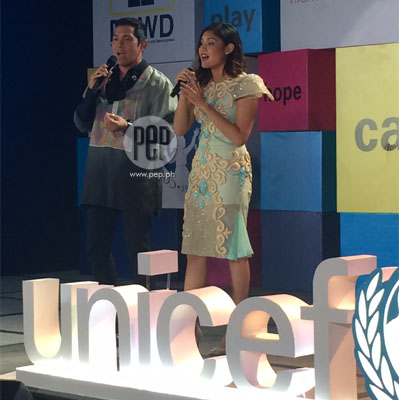 He explained, "Every time I do my UNICEF events, I make sure there is a song for the children, there is a song for the grown-ups, there's music for the leaders, there's music for people who want to help, there's music for teachers.
ADVERTISEMENT - CONTINUE READING BELOW
"And I thought this song would be perfect because it is a message that comes from myself and my daughter.
"But it's really meant for all of us here who, when we go home tonight, we're gonna be left with the same challenges...
"And I hope and I pray that maybe with the voice of my young daughter, we could perhaps instill a message in your hearts, 'I did it, I've done it,' and later on, may it pour into the children that need us the most."
Kiana, who is 21 years old, received her own share of praises after her performance.
Gary didn't mind when kids from the audience stood up, and tried taking selfies with Kiana off stage.
While Kiana is a singer like her dad, Gary revealed that she is also a budding fashion designer. "Gumagawa siya ng mga damit, nagde-design siya. Baka balang araw lumabas siya sa TV!"
ADVERTISEMENT - CONTINUE READING BELOW
SONGS MEANT FOR CHILDREN. The next two songs are Gary V staples: "I Will Be Here" and "Warrior is a Child."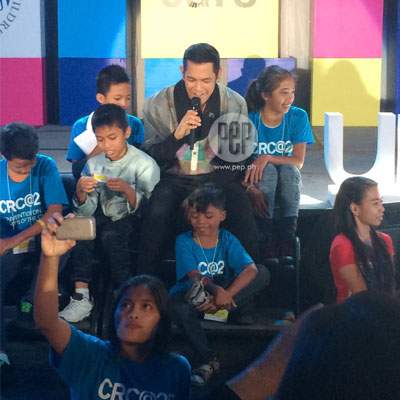 He explained, "I've been doing this for 30 years and it's incredible to see how music can pierce the heart and speak to all ages.
"The song, 'The Climb' I usually like to dedicate to all of us who have our own personal challenge.
ADVERTISEMENT - CONTINUE READING BELOW
"But the next numbers are songs that are actually meant for the children, kasi parang 'eto yung naging theme song ko tuwing pumupunta ako sa iba't-ibang lugar kung saan may UNICEF."
He joked that when he first sang these songs in 2001, he thought the songs would only be around for a few years.
But now, he believes the songs' purpose is "to instill hard core messages for hard core issues for the most incredible creations that God has made—the children."
GARY V HITS. "Babalik Ka Rin" and "'Di Bale Na Lang" are Gary Valenciano favorites and are sure to get the feet tapping.
He called his son Gab on stage, to perform and dance the two songs with him, much to the delight of the crowd.
When he stopped to ask for water after these two energetic numbers, Gary V told the crowd, "They always introduce me as Mr. Pure Energy. But when you get to my age, it's a lot of pressure!"
ADVERTISEMENT - CONTINUE READING BELOW
THE UNICEF SONG. Based on a poem written by his wife Angeli, Gary V sang "Bawat Isa Sa Atin" with the Mandaluyong Children's Choir.

When he saw the children smiling back at him, Gary said, "Iba ang dating kapag nakikita ko kayo, at ngumingiti kayo at nag-e-enjoy kayo.
"'Yan talaga, kahit pinawisan ako, kahit hingal na hingal na ako, parang gusto ko magtuloy pa rin. Parang ayaw ko na bumaba sa entabladong eto.
"Folks, there is joy in seeing these faces smile," he reminded everyone present.
GALING PILIPINO. It was at this mini-concert that Gary also shared another first, a story he says, "I need to share with you, because this is a story I've never shared with the media in this type of occasion."
Earlier this year he recalled, "I had just finished performing and doing my rounds with UNICEF in Tacloban and when I went, you could still see the damage caused by typhoon Yolanda and the slow rebuilding of Tacloban.
ADVERTISEMENT - CONTINUE READING BELOW
"That night, sa huling pagsasama ng mga taga-UNICEF from all over the world, I met a German fellow who told me, 'I have never encountered people like the Filipinos because the Filipino doesn't just say thank you, they also demonstrate it.'"
Gary asked how do Filipinos do this and the German related: "When you give them something, they literally go up to you and hug you and it's followed by an apology: 'I'm sorry, we cannot invite you to our home because our home was by the seashore,' so they would say maybe next time when you come back, and then they smile."
The German also said: "I need to tell you one more thing, I need to congratulate you."
Gary looked at him and said: "What for?"
"For being Filipino," the German replied.
Gary said that really touched him because "He was not with me when I performed, so he had no basis. I guess it was his moment to express his feelings about the Filipino... This is the impact that we Filipinos have on the world, and not only when there is a disaster or tragedy."
ADVERTISEMENT - CONTINUE READING BELOW
Gary ended his mini-concert with the song, "Galing Pilipino," which he thought was perfect for the occasion that marked the 25th anniversary of the CRC.
He concluded, "I think tragedies make us better, deeper, more resilient, and I say this because I don't know how many chances I will get to do this.
"But it is great... that somebody actually congratulated me not for the work I did, not for the songs I have done, not for the things I have said, but for simply being Filipino."