Sofitel Manila's Le Bar captures the vibe of France's famous Marche de Noel, also known as the "Christmas market."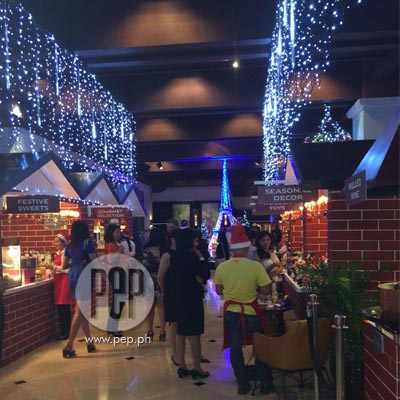 Quaint little shops featuring handmade toys and ornaments are right beside gingerbread house treats, seasonal sweet delicacies, and the ever-present eggnog.
What lends an even bigger air of authenticity is the smell of mulled wines and roasted chestnuts.
Here are the other set-ups to check out inside Le Bar.
1. At the Cheese Bar, which is right opposite the Boulangerie (otherwise known as their vast selection of breads), you'll find a feast of cheeses—from the various goat's cheeses to the cow's cheeses which range from very, very soft to semi-hard.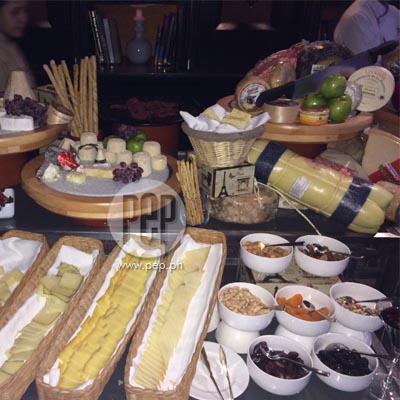 The notable stand-outs among the cow's cheeses include the Brillat-Savarin and Brie de Meaux.
The Brillat-Savarin is a triple-cream dessert cheese and the kind served here is the mature version which had a typical white, bloomy rind with an interior paste that is buttery-white in color.
Because of the complex flavors which include butter, salt, cream, mushroom, nuts and truffles, this cheese tasted best when paired with some dried cured meats and fruits.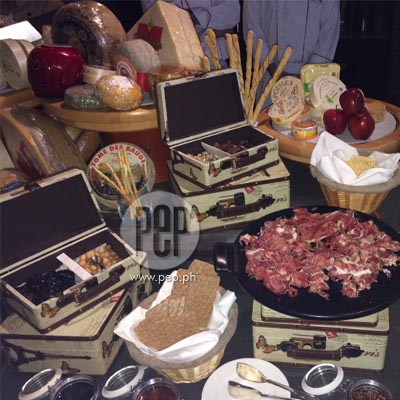 The Brie de Meaux on the other hand, has a milk and rich taste underlined by the presence of sweet and buttery flavors like mushrooms, truffles and almonds.
A Coulommier cheese is typically made from cow's milk, but the one here was made from goat's milk.
Like the other cheeses, it featured a bloomy rind and tasted best with apples or grapes to highlight its buttery, nutty flavor.
The other goat's cheeses were the Crottin de Chavignol, one of those rarest cheeses that can be eaten at various stages of its maturity, and is crumbly and smooth with a full-flavored, nutty taste; Sainte-Maure de Touraine, a buttery and smooth cheese with a fine grey-blue edible rind that looks like ash but is made from crushed grape vines; Chabichou de Poitou.
Of the semi-hard cheeses, the grana padano, manchego, and gruyere were the old and trusted favorites.
As you order from the cheese bar, make sure to chat up the cheese expert or cheesemonger and ask them to give you a sampler of the cheeses.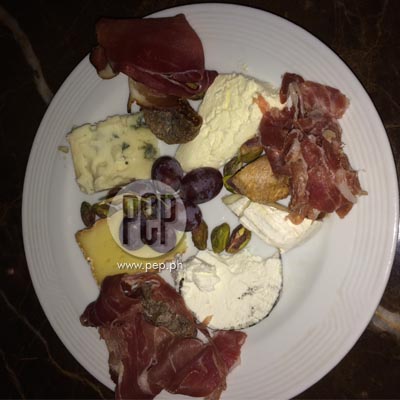 Their expertise helps you go through a progression of flavors so that you'll appreciate each cheese for its unique flavors and textures.
2. At the Asian Bar, serving sizes were small and manageable.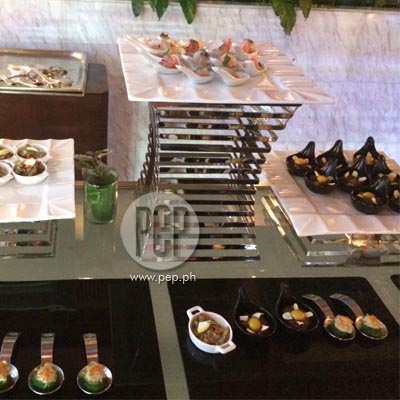 Here, you'll get a slice of either Korean, Japanese, Filipino or Thai. It's also a great place to inject some familiar flavors in your palette if you feel overwhelmed by the other Western tastes.
3. The Western Bar featured a Turkey Rossini and Ham...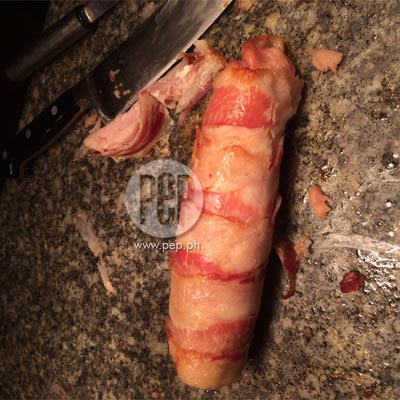 Salmon en Croute...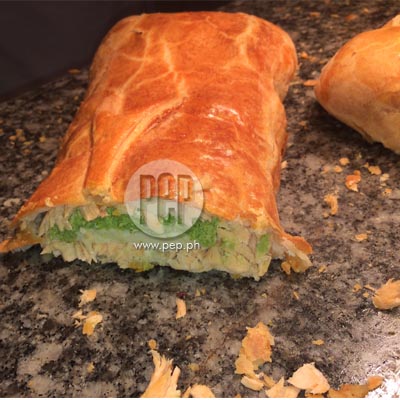 ...Pumpkin Risotto with Lobster and Parmesan, Risotto with Scallops, and Beef Wellington.
The risotto is prepared in front of you and served in mini-cocotes, while the traditional French dish of salmon en croute did not disappoint.
The beef Wellington was both tender and flavorful. Over-all, this bar was one of the more filling as portions were generous and the tastes were on point.
4. To cap off all the savory flavors, the Pastry Bar proved it was up to the challenge.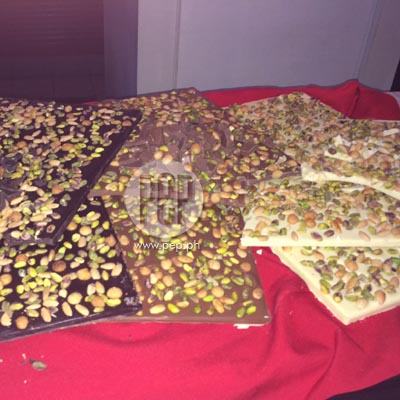 It featured a selection of Belgian chocolates (white, milk, and dark), French macarons, decadent cream puffs, cherry rum pralines, mango sunflower pralines, a variety of little cupcakes, rum baba, mango pannacota, creme brûlée, and dessert shooters.
5. Finally, if you didn't get to try the mulled wine at the Marche de Noel right outside the bar, you have one more chance to try it inside Le Bar at their mulled wine set-up highlighted by reindeer ice sculptures and servers who used the mouth of the reindeer to pour the wine from.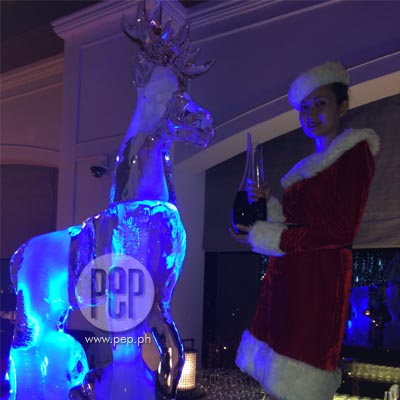 Le Bar offers ample seating of different configurations and lighting is subdued to bring everyone into the Christmas spirit—it even has a digital, roaring fireplace.
During the opening, a live string ensemble provided the perfect sound bed for the dinner guests.
The menu of Le Bar also includes several hors d' oeuvres like the platter filled with spicy bread with Almert, salmon, grilled vegetables, tomato with cheese and more.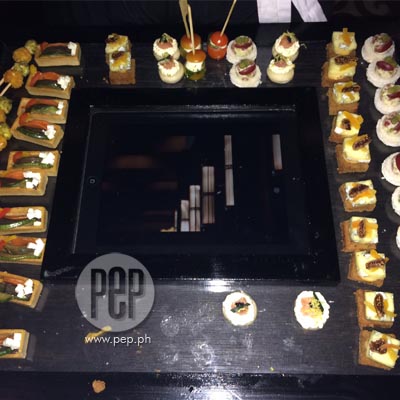 Skewers of beef kebab and pies that were actually seafood bouillabaisse also made the rounds.


Next time you find yourself past Makati and in the Manila area this holiday season, the Marche de Noel and Le Bar's culinary offerings may very well satisfy your yuletide cravings.