Summit Media has released a magazine that covers the life and work of Pope Francis before and during his papacy.
The magazine, Our Pope, also includes everything you need to know about his apostolic visit to the Philippines from January 15 to 19.
It features a graphic timeline of his itinerary in Manila and Leyte for easier reading.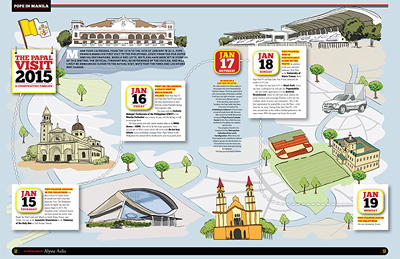 The magazine offers a peek into his modest residence at Casa Santa Marta at the Vatican, and some trivia about the Swiss Guards whose duty is protecting the leader of the Roman Catholic Church.
It explains the meaning behind Pope Francis's choice of garments and the significance of his involvement in social media.
In colorful photos and well-written articles, Our Pope affirms how widely respected and loved Pope Francis is. It enumerates his most remarkable followers and the gifts given by celebrities and political figures like U.S. President Barack Obama and Russian Prime Minister Vladimir Putin.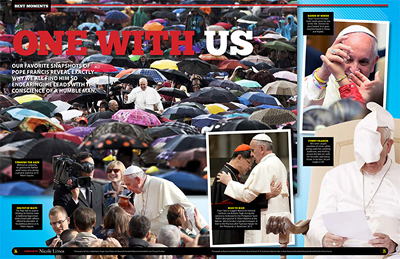 For those aspiring to visit the Pope in Rome, the magazine gives tips on where to go, what to do, and how to call on the Pope.
Every copy of Our Pope magazine has a giant poster calendar of Pope Francis as an inspiration to live by His Holiness's grace and humility.
Our Pope is now available in bookstores and newsstands nationwide for only P175.