Golden Globes 2015 was made colorful not just by the Hollywood stars' fabulous frocks, but also some of their remarks.
At the interview area where Ryan Seacrest was stationed, Kate Hudson was given a quick pat on the butt by Jennifer Aniston, who quipped, "I'm sorry, I had to do it!"
Clad in a very sexy Versace gown, Us Weekly reported that Kate got the same reaction from her How To Lose A Guy in 10 Days co-star Matthew McConaughey and Paul Rudd.
Meanwhile, Jennifer Lopez, who presented the award for Best Actor in a Movie/TV mini-series, earned what EOnline called a "cleavage crack" from her co-presentor Jeremy Renner.
"I've got the nails," said JLo while opening the envelope.
Renner quipped, "Yeah, you've got the globes, too."
Netizens found the remark "tactless" and "inappropriate."
On Twitter, Jeremy defended himself, saying the American Idol judge was such a good sport.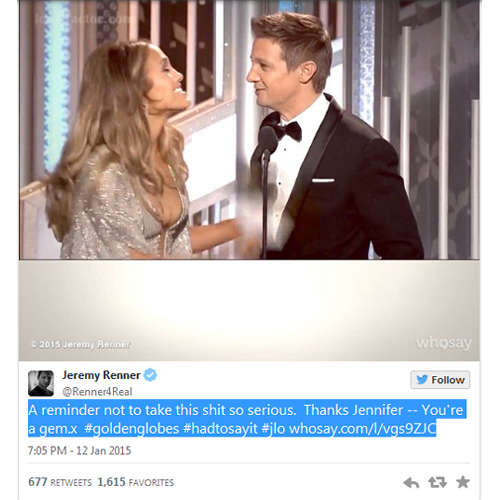 And what did JLo say?
She told E!'s Marc Malkin, "That was really funny...He's a very funny man. It even made me a little hot."