Jimmy Alapag, the Mighty Mouse, has hung up his player's jersey and donned a team manager's coat over the past couple of weeks.
His recent recognition as Sportsman of the Year 2014 given by Spin.ph on January 26, in Sofitel Philippine Plaza Manila, serves as a fitting salvo to his illustrious 12-year basketball playing career.
Cap, as he is fondly called by his teammates in Talk n' Text said, "Considering I just retired a few weeks ago, it kinda brings a nice end to my playing career.
"And, at the same time, I am looking forward to the new challenge for 2015 with my new role as team manager for Talk n' Text and, at the same time, an assistant coach with Gilas.
"It seems like one door closes and two more open.
"I'm just really looking forward to the year ahead and continue to help Philippine basketball continue to move forward."
HIS LEGACY. And move forward it has, with Jimmy Alapag as one its shining pillars over the past decade.
Jimmy, long appreciated for his playing skills, especially those ultra-fast runs with minutes to go on the clock, has also been an exemplary gentleman off the court.
On what he'd like to say to encourage the next generation of players, Jimmy said, "I have always been an individual who prides himself on work ethic, and really, everyday, using that opportunity to continue to improve and hopefully teach younger kids who are coming up, who can use my career as an example.
"That if I can have a 12-year career in the PBA, there is no reason why they can't do the same.
"So, I would just encourage them to continue to work hard, continue to study hard, because I think they go hand in hand by doing well in school.
"It gives them an opportunity to get on the basketball court and perform the best they can."
HIS INSPIRATION. When he picked up his award for Sportsman of the Year, Jimmy was visibly emotional, especially when he spoke about his wife LJ Moreno and their two kids:
"To my wife LJ and our two kids who are sleeping right now, you guys are everything to me.
"You guys are the reason and the inspiration behind all my success.
"When people see the emotion, when people see my heart, it's because of you guys.
"So thank you for being the most amazing woman that I know, the most amazing mother, and my biggest critic [laughs quietly].
"You know, it's been ah, it's been an amazing ride, you know, you have been with me every step of the way throughout my career.
"And now is just a new challenge for myself in a new career and a new challenge for our family.
"But I love you guys with all my heart and you guys are my everything."
WATCH VIDEO Jimmy Alapag gets emotional at Sportsman of the Year awards as he thanks pal Taulava, Chot Reyes, wife LJ Moreno
When PEP.ph (Philippine Entertainment Portal) caught up with Jimmy before the awarding ceremony started, he was playing with his two-year-old son, letting him climb up and down the stage and run around carefree.
Later, during dinner, PEP asked permission from the Captain so we can capture this priceless father-and-daughter moment...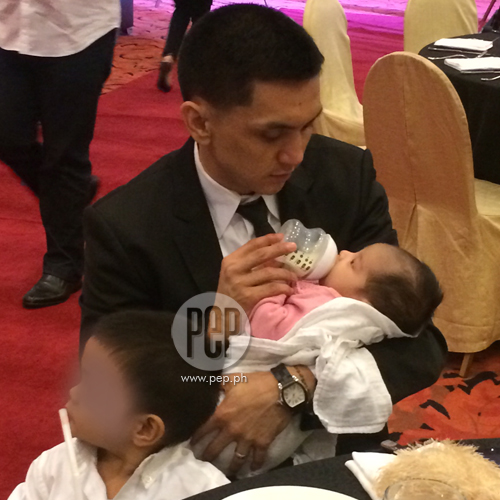 LJ had been holding their baby for most of the evening, and Jimmy took over so his wife could enjoy her dinner.
Lastly, PEP asked him if he is okay with his children following in his footsteps.
Smiling, he answered, "You know, I'm not pressuring my son you know, to be a basketball player.
"He actually enjoys the game, you know, as early as two years old.
"Uhm, but again, I just wanna provide my kids the best life that I can and you know help them be as successful as they can as they get older and try to raise them the best that LJ and I can."
Has he introduced him to the sport?
Jimmy answered, "I just want him to have fun.
"You know, even retiring at 37, the game you know was still fun and I enjoy the competition, I enjoy the camaraderie with the team, and I enjoy the training.
"So again, if my son pursues a career in any sport, I would hope that he just really enjoys it and has fun because I think from there, he'll build his own work ethic and his own drive to be successful."
Spin Editor-in-chief Dodo Catacutan echoed the image of Jimmy as a doting father, recalling his interview with the Captain on December 30.
"So I went there not knowing it was Jimmy's, as you said, 37th birthday.
"So I went there not knowing it was his birthday celebration.
"Nonetheless I was welcomed to his home and what I saw there was a very, very happy home.
"There were children running around the house, his parents were there from the U.S."