Twenty of the country's most creative bartenders from 17 of Manila's finest liquor bars will take part in a bartending competition, launched on January 26 at Blackbird at the Nielson Tower.
The winner will go on to compete in the Diageo Reserve World Class Bartender of the Year Finals, where 50 of the world's best bartenders will pit their skills and knowledge against each other before experts of the bartending industry.
Celebrity bartending and liquor lovers Raymond Gutierrez, Liz Uy and Erwan Heussaff were spotted at the launch.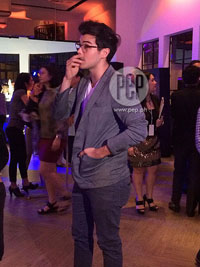 Erwan Heussaff

The 20 participating bartenders who were formally presented that evening are:

GavinoLazarra, 71 Gramercy
Kenneth Bandivas, ABV
Sean Carlo de Vera, Black Sheep
Poch Ancheta, The Curator
James Ortiz, Fairmont Lounge Bar
DondzBolante, Finders Keepers
Anthony White, Hooch
Michael Anthony Laude, M Café
Vanessa Correa, Nest Modern Table & Bar
Mark Herrera, Niner Ichi Nana
Orman Bag-ao, Raffles-Long Bar
Michael Tubiera, Rambla
Dianne See, Saboten
Sam Alcantara, Sage Bar, Makati Shangri-La
Reymond de Jesus, Sage Bar, Makati Shangri-La
Em-Em Bautista, Sofitel Philippine Plaza
Efren Madrigal, Sofitel Philippine Plaza
FlomelRapues, Solaire Resorts & Casino
Jesus Emmanuel Saludo, Solaire Resorts & Casino
Alyona Jeffery, Speakeasy




During the launch, the bartenders prepared cocktails inspired by the world's greatest destinations using some of the finest spirits from the Diageo Reserve portfolio, including brands such as Ketel One vodka, Cîroc vodka, Johnnie Walker Gold Label Reserve, Johnnie Walker Platinum Label, Don Julio Tequila, The Singleton of Glen Ord, Tanqueray No. TEN, and Bulleit Bourbon.

Jon Good, General Manager for Diageo Philippines, said a few words: "World Class is back and is bigger than ever for the Philippines this year, and we are proud to send out a representative from one of the best bars for the upcoming global competition.

"This stellar 20-bartender lineup represents the thriving cocktail culture that we have in the Philippines—a culture that is continuously and steadily growing—and tonight, we're happy and excited to shine the spotlight on these talented men and women to show everyone what our country has to offer."

Diageo Reserve also flew in Tanqueray Global Ambassador Barrie Wilson, who conducted special mentoring sessions at the Blackbird Cabin in an ode to Tanqueray No. TEN's new bottle design, which celebrates the famous golden era of cocktails when the Martini was the connoisseurs' drink of choice.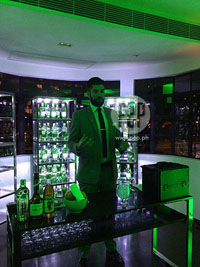 Tanqueray Global Ambassador Barrie Wilson

The launch of Diageo Reserve World Class Bartender of the Year 2015 marked the start of a flavorful journey for all bartending hopefuls. From January to May of this year, each market will host a series of qualifying heats and finals to find the most talented and inspirational of bartenders.