ADVERTORIAL
Maxi-Peel has this new campaign called "BagongGanda, Bagong Pag-Asa" wherein they featured Maxi-Peel users in short and sweet testimonial videos over at Youtube.
In sum, the users recounted how Maxi-Peel has changed their skin and the way they look at themselves (and the way others see them) in general.
The video that I related to the most was that of Sherry, a night shift nurse.
In the video, she said that people used to refer to her skin as "nakakadiri" (disgusting) because of her grave breakouts, especially on the forehead area, which was greatly caused by late night sleeping and it was inevitable due to the nature of her job.
I'm sure writers can relate to what I will say: most of us have whacked biological clocks because our "inspired moment" knows no place and time—some are inspired during the day, others at noon, and the rest, at night or even dawn.
In my case, that moment hits me at midnight, not to mention I have work and other things to attend to during the day so I can only sit down and write when all my tasks are through.
Even if I'm not pre-occupied during the day, I still wait for that "inspired moment" to come because I do not want to churn out 'blah' blog posts just for the sake of updating this blog. I love what I do so much that sometimes, my skin gets compromised. Like Sherry, I suffer occasional breakouts especially on the chin area due to the same reason: late night sleeping. (Cheers to all nocturnals out there!)
People can be so unforgiving sometimes.
A friend who I hadn't seen in a long time and I'd seen a couple of months back jokingly told me "You have pimples? You're a Beauty Blogger, right?"
Duh-as if Beauty Blogging makes me vulnerable to being human!
Like Sherry, that moment also encouraged me more to find the perfect mix of products to help me deal with acne and when I found it, I did not let it go just like how Sherry treats Maxi-Peel. Sherry and I might suffer breakouts every now and then, but we're not worried anymore because we know we can always turn to our preferred skin defenders!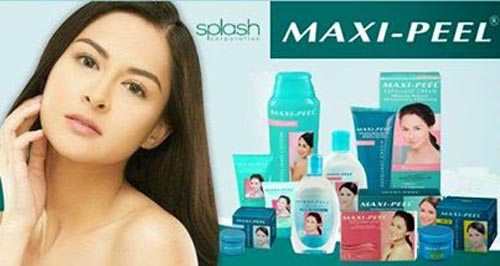 So! Maxi-Peel—to the uninitiated-is locally made by Splash Corporation—it is a classic and popular drugstore skin care line built by Dr. and Dra. Hortaleza.
It started out with peeling solutions and later on expanded to a full-blown range that features complementing products such as sunblock cream, moisturizing cream, concealing cream, Facial Wash, Cleanser, Exfoliant Cream, and Soap.
This line promises to reveal better skin, deliver a lightening effect, and combat dark spots to boot.
The big question is: How do you use it and how does it work?
To understand better how peels (specifically Maxi-Peel) work, let's have a mini discussion on exfoliants and exfoliation. More about that when you click READ MORE.
Photo credit: thefashionspot.com
In essence, Exfoliation is the process of removing debris (e.g. dead skin cells and dirt) on the epidermal surface. Dead skin cells should be shed off since it causes the build-up of dirt and bacteria, which the normal cleansers can't reach.
The purpose of Exfoliation is to provide a deep-clean sensation, encourage cell turnover, and promote better absorption of topical skin solutions-to some extent, Exfoliation may deliver secondary effects such as whitening, brightening, and acne reduction. Exfoliants are the key players in it as they deliver the exfoliating action.
There are two main categories of exfoliants: Physical and Chemical, and variants are as follows:
1. Physical- wash cloth, hand, face brush, commercial scrubs (those with gritty stuff in them), water-based gel scrubs
2. Chemical- Peels
Physical exfoliants are commonly used because they're easier to use, much more accessible, and address the needs of those who only need mild renewal—they're also preferred by those with pretty responsive skin.
Chemical exfoliants, on the other hand, are used by people who suffer grave hyperpigmentation, acne, and scarring, and also those with skin that don't respond to physical exfoliants. Chemical peels vary in types and formulation, and some of the common ones used are AHA, BHA, Tretinoin, and Hydroquinone (Maxi-Peel is an example of this).
Physical exfoliation, though, tends to sometimes be abrasive to the skin compared with the chemical peel, which just technically loosens the bonds of the dead skin cells and dirt.
Maxi-Peel combines Tretinoin and Hydroquinone, their first and only proven formula for the peeling solutions—there are three strengths that you can choose from: #1 for mild skin concerns, #2 for moderate problems, #3 for severe problems.
Maxi-Peel promises to release you from the shackles of bad skin in three ways:
1. Remove- upon application, a stinging sensation will be felt, a sign that the product is settling and taking effect on the skin.
2. Renew- days after the usage, the user will experience redness, a common occurrence when using peels.
3. Reveal- Skin will begin to peel and this may last for weeks. Afterwards, old skin is removed and new, beautiful skin is revealed.
Maxi-Peel on Facebook advised this way of usage: Use the peel consistently for two months, then give your skin a one month resting period before resuming with the treatment, and use only until you have achieved your desired result.
Of course, it's best used with the rest of the Maxi-Peel products. If any unfavorable skin problem arises, stop usage and consult with a dermatologist.
Skin is at its most sensitive during exfoliation so we need to make sure that we apply sunblock while using Maxi-Peel or
1) Use moisturizing cream after application to maintain the moisture of your skin while exfoliating
2) Important to rest after 2 months of exfoliating or whenever you feel that your old skin cells have shed off. Better to use Maxi-Peel complementary products such as Facial cleanser, wash/scrub that's especially formulated to maintain your renewed skin.
If you want to try Maxi-Peel, just keep the tips aforementioned in mind and most importantly, don't overdo it and choose the right peel strength for your needs.
For more information about Maxi-Peel and its proper usage, just visit MAXI-PEEL on Facebook.
Got your "BagongGanda, BagongPag-Asa" Maxi-Peel story to share? Feel free to share them on the comments section below!
Disclaimer: This post is brought to you by Maxi-Peel and The Beauty Junkee : http://thebeautyjunkee.blogspot.com