For beauty inspiration, one thing that most girls covet is the celebrities' impeccably-outlined eyebrows.
It may seem like a trivial thing, but the eyebrows actually play a crucial role in defining one's overall look.
"It frames the face, it gives it character, and, at the same time it gives symmetry to your face," says Muriel Vega Perez, chief makeup artist for Professional Artists Cosmetics (PAC) Philippines and international affiliate for the brand.
As in fashion, beauty trends also evolve. This year, the drift calls for full-arched brows—like Julia Barretto or Isabelle Daza, whose brows seamlessly go from thick to thin from the base line (near the nose) to the tip of the tail.
Achieving the perfect eyebrows starts by defining the right shape for you.
For Muriel, the perfect shape is all about imperfection.
"It doesn't have to be 100% equal [on either brow] because if you compare it to how your brows actually look, it will make you look too strong, too sharp, too architectural.
"You can always categorize your [face shape] as oval, heart-shaped, square… still walang perfect na face.
"So, if you're going to make your kilay too architectural, it's going to change the aura of your face, so for me it should be 90% equal lang."
GETTING INTO SHAPE. The first step to perfection is self-assessment. Ask yourself: Do I need to trim my brows to get it into shape?
If your answer is yes, ask again: Do I shave, wax, pluck, or thread it?
"If you have time, the best way is threading," says Muriel, who has worked with celebrities such as Grammy Award winner Renee Olstead and young actresses Nadine Lustre, Jasmine Curtis, and Bianca Umali among others.
"But if you need to apply make-up right away, shaving pa rin kasi you can't thread and apply makeup agad-agad kasi the pores are still open.
"In threading kasi, pati iyong roots [of the hair] nabubunot niya, and eventually hindi na tutubuan ng hair iyon or mas manipis na iyong hair na tumutubo.
"Waxing is also good, pero tiyambahan kasi ang waxing, minsan iyong roots nabubunot minsan hindi."
Either way, always seek help from a professional when it comes to threading or waxing your brows.
Afterwards, you can simply maintain and eliminate hair regrowth by shaving using an eyebrow razor or plucking with a tweezer.
In shaping the brows, Noriko Imura, a Japanese make-up artist for international brand K-Palette and whose specialty includes making beautifully shaped eyebrows based on her clients' skeleton analysis, shares these guidelines for a balanced look: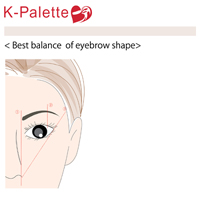 "To get your beginning point for your inner brows, place a pen vertically from your nostril [edge of nose] to your eyebrows.
"To get the ending point for your eyebrow tail, place the pen diagonally from the edge of your nose, passing through the outer corner of your eye.
"To see where the arch or the highest point should be, look straight into a mirror, the arch should be right above the outer rim of your iris."
COLOR ME GOOD. "Aside from the correct shape, using the right shade of eyebrow liners is also important," says Noriko.
Her tip: "It should be one to two shades lighter than your hair for soft and natural-looking brows."
For women with naturally ample eyebrow hair, like Saab Magalona, Pauleen Luna, and Camille Prats, Noriko suggests using a liquid eyebrow liner to add definition to the shape of the eyebrows.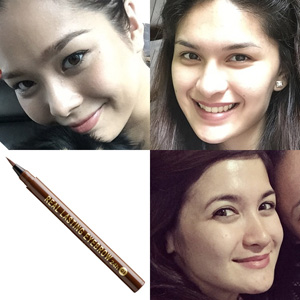 Clockwise from top left: Saab Magalona (Instagram: @saabmagalona), Pauleen Luna (@pauleenluna), and Camille Prats (@camilleprats) are all fans of the K-Palette Real Lasting Eyebrow Liner.
For those with sparse eyebrow hair, like Regine Velasquez-Alcasid, Ellen Adarna, and Sam Pinto, a combination of liquid and powder products is best recommended.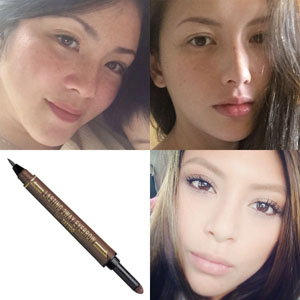 (Clockwise from top left: Regine Velasquez-Alcasid (Instagram: @reginevalcasid), Ellen Adarna (@mari.elena.adarna), and Sam Pinto (@sampinto_) all use the K-Palette 2-Way Eyebrow Liner for natural-looking plump brows.)
"Start by applying the liquid tip to define the shape and top with the powder to give the eyebrows a more three-dimensional look," says Noriko.
To cap off the look, she also suggests using eyebrow mascara to set the eyebrows in place.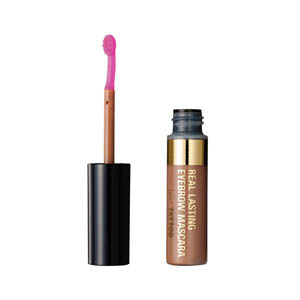 Meanwhile, Muriel adds that coloring the eyebrows should go from lightest to darkest from the base line to the tip, as well as from bottom to top.
"Hindi puwedeng equal ang darkness from dulo to dulo kasi magmumukha kang masyadong strong," he says.
Following the same guidelines for shaping, Muriel recommends marking the three points—base, arch, and tail—with an eyebrow pen before filling in the brows with color.
"Pag nag-start akong mag-draw ng eyebrows, sinisimulan ko siya halfway sa ilalim pababa.
"'Tapos ifi-fill out ko muna 'yan, 'tapos iyong tira-tira nung brush ko iyon iyong ishe-shade ko sa loob, so magagawa mo na iyong technique na lightest to darkest.
"Apparently, effective siya and nakatipid ka pa kasi tira-tira na lang iyong nasa brush, e."
In terms of products, Muriel recommends an eyebrow pencil for on-the-go girls.
"Eyebrow pencil kasi you can apply it directly, so pagka-line mo with the pencil use an angular brush to blend it.
"You can rub din iyong angular brush sa tip nung pencil para pang-fill kung may kulang pa. No need to apply directly iyong pencil para hindi masyadong matapang."
For a full-on celebrity look, he suggests using a combination of pencil and powder products.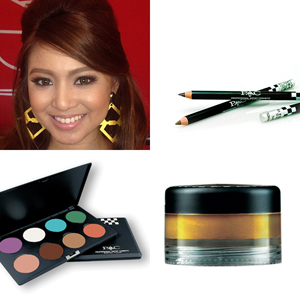 (Clockwise from top left: Actress Nadine Lustre wears on her brows a combination of Eyebrow Pencil in Brown, Face Paint in Gold, and Matte Eyeshadow in Brown #08 all from PAC Martha Tilaar.)
In this faux full brow look he did on Nadine Lustre, Muriel used a brown eyebrow pencil to outline the brows, and a brown eyeshadow to fill in the gaps.
"Then, instead of eyebrow gel, I used a gold face paint. I brush it over doon sa hair ng kilay para magbe-blend siya, hindi siya nakaangat iyon buhok."
Versatile face paint products, Muriel says, are very practical to have in your beauty arsenal. Not only can it be used as a substitute to eyebrow gel, it can also be used as an eyeliner, eyeshadow, lipstick or lip liner.