Only two days left before Heart Evangelista becomes Mrs. Chiz Escudero!
Last February 12, the couple flew to Balesin Island Club in Quezon province to oversee the final preparations for their big day on the 15th.
Thanks to social media, Heart gets to update her fans even if her wedding location is 60 nautical miles east of Manila.
Here's a sampler:
1. Heart's locket with her parents' photos
Heart, like any other bride, would love to have her parents by her side when she walks down the aisle.
But since (at press time) they couldn't make it, the Kapuso actress revealed that she will be wearing a gold necklace with her parents' miniature on it.
This is the accompanying caption of her post: "Keeping this close to my heart… I'll never forget how much I was loved my whole life… thank you mom and dad for everything [heart emoticon] always your baby girl [heart emoticon] although my heart breaks not to have you here… I love you mom and dad no matter what. In time everything will fall into place."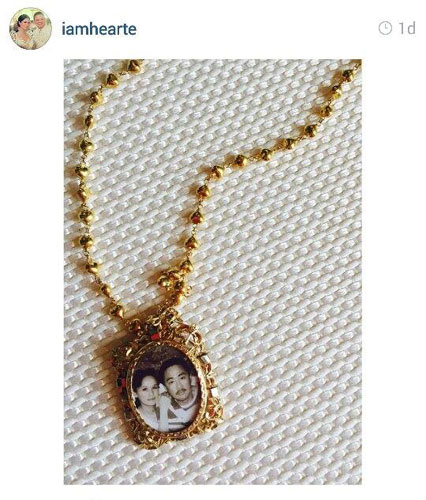 2. Bride's dressing gown
Probably next to the wedding gown, the dressing gown is also important because the picture-taking begins as soon as the bride does her make-up.
In her Instagram post dated February 10, Heart showed a photo of sheer white dressing gown embroidered with "Mrs. Escudero."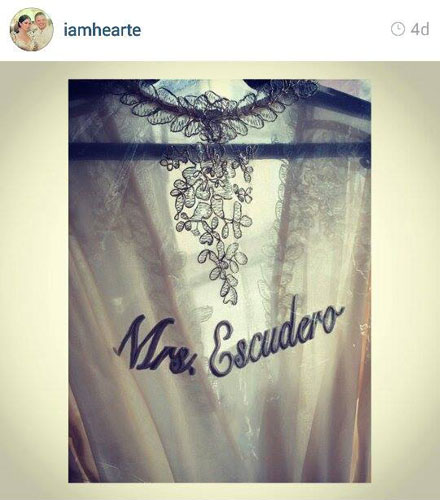 3. Welcome gift for the bride's entourage
It seems like the bridal entourage will get a handcrafted bag and earrings that match the salmon blush motif of the wedding.
The personalized note from Heart and Chiz makes it even more special!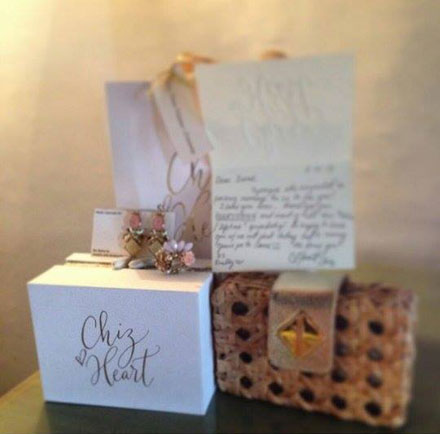 Photo Credit: @irenedepp on Instagram
4. Personalized travel kit
Guests will be receiving a customized travel kit—a beach bag with a heart-shaped abstract painting made by Heart and Chiz.
Inside the bag are: fan, insect repellent, a pack of nuts, and some personal care and beauty products that Heart endorses.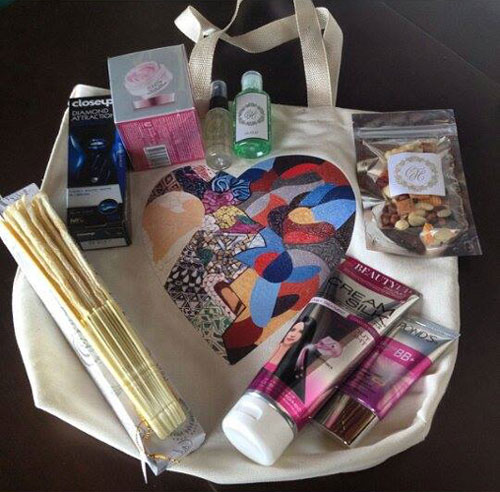 Photo Credit: @irenedepp on Instagram
5. All-white floral set-up
As requested by the bride, the wedding venue is now filled with lots of white flowers.
As seen in her wedding production designer's Instagram, imported flowers—roses, tulips, wisteria, crystal balls, and hyacinths—from Holland arrived at Balesin today.