How do the stars keep the flames of love burning this Valentine's season?
PEP.ph (Philippine Entertainment Portal) asked a few celebrities how they go the extra mile to keep their love alive. Or in the case of the loveless, how do they deal with singlehood?
JIMMY ALAPAG. The pro cager and loving husband of actress LJ Moreno shows he's still got much romance alive in his marriage.
He says of his V-Day plans, "I have some things planned for my wife.
"You know, again, it's been a special year for the both of us, both career-wise and obviously with our family.
"So I'll use Valentine's Day just as a reminder how much I love her, how much I care about her, and how much I appreciate what she does for me and the type of mother that she is for our kids."
Now that's a three-point goal from across the other side of the court.
KIM RODRIGUEZ. Meanwhile, the actress—at the time of the interview—had no definite plans yet.
"Ngayon Valentine's, 'di ko alam. Siguro kung sino mag-aya, ay!"
Is she a planner if she were to celebrate with a special someone?
The young GMA talent answers, "Ako hindi, kasi ngayong Valentine's, hindi ako yung nagpa-plan.
"Mas gusto ko yung mga spontaneous, kasi kapag nagpaplano, bilang artista, kailangan mo yung schedule niya, pinagpaplano.
"Para sa akin, 'di natutuloy yung iba, kaya gusto ko yung, 'Uy may kasama ka ba?'"
KAREN BORDADOR. At the Levi's 501 CT launch in Valkyrie Palace, we caught sight of Karen Bordador arriving with fellow RX 93.1 DJs Rico Robles and Julz Savard.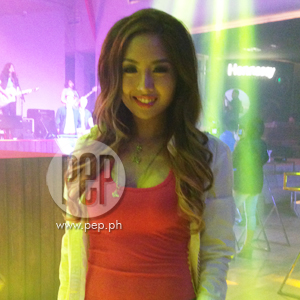 We had to get the scoop on what this newly-single 25-year-old jock, TV personality and model has planned for her first V-Day alone in four years.
She recently figured in a very public breakup a month after she and her then-boyfriend Chris Tan quit wedding-themed reality show I Do last November 2014.
Moving forward, she laughed and then made a sad face while she was trying to answer the question about what her V-day plans.
Incidentally, Karen was so "kenkoy," she pulled us into the ladies room so we could interview her in peace while the Levi's 501 CT fashion show was going on outside.
Karen coyly confessed, "Yung totoo, alam mo ba yung nakasulat sa zodiac sign, it says there, I'm gonna do everything opposite of the Valentine's Day.
"First of all, before, like last year, naka-red ako the entire time, like you know, all those sweet stuff...
"This year, I colored my nails black. With sparkles 'yan, girl!" she proudly declares as she shows off her black nails to us.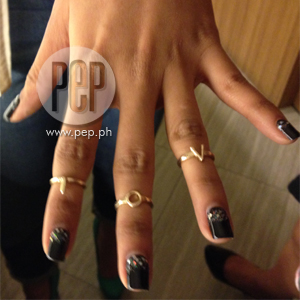 "Sabi ko, I dictate my zodiac sign."
So for Valentine's Day, this smart girl shared, "I made sure on Saturday, I have work the entire day!
"Talagang ano, people are asking, 'So sinong boyfriend mo, sinong ka-date mo,' pero I'm not ready yet to get there, it's been how many..." she says, as she tries to recall how long it's been since her breakup.
"It's been two months pa lang. And people expect you to be fine immediately, and you don't just move on from four years. Four years! That's a big leap!
"Like my friends are pushing me to go, to meet people, pero nowadays, yung nami-meet ko puro girls," Karen ends with a big laugh.