Heart Evangelista has become a beauty inspiration for bride wannabes.
Aside from earning mostly-positive reactions for her bridal looks, the before, actual, and after-wedding pictures posted by her make-up artist Albert Kurniawan on Instagram launched thousands and thousands of likes.
Fans called her "doll and goddess," and described her look as "perfection" and "super ganda!"
And just by looking at her photos, we learned a few things...
1. You don't just raise your brows, you highlight them.
You think they're there just because? Nope.
A fan of classic eyebrows, Heart knows that shaping, contouring, and filling them can flatter facial shape, balance features, and frame her eyes.
This photo was taken the night before her wedding day, February 15, 2015 in Balesin Island Club.
Heart celebrated her 30th birthday with fresh and barely-there look.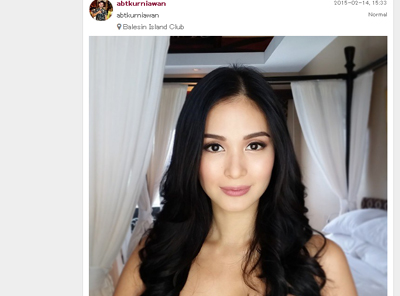 2. Pinays and Asians can look like a doll, even Barbie!
In some of his interviews, Kurniawan—whose forte is making eyes stronger and more defined—mentioned that almond-shaped is the "most beautiful."
With contact lens, white eyeliner under the eyes, blending and smudging black eyeliner on the outer part of the eye, and false eyelashes, you can achieve that doll-like look.
This photo was taken a few hours before Heart walked down the aisle.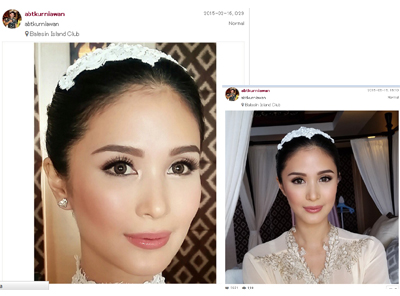 3. Some ladies are just eyebags-free...and really lucky!

But if you're born with it, Kurniawan told Hola! magazine, "...change the focal point. Apply your blush-on higher."
This was her look at the wedding reception here in Manila.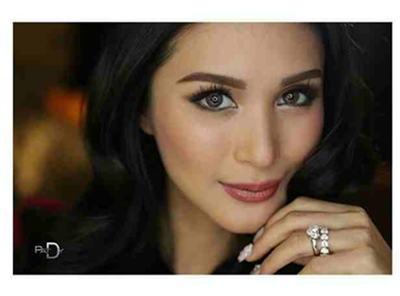 4. Perfection begins with clear, beautiful skin.

Heart's flawless face is courtesy of "a lot of water, a lot of sleep," and her beauty must-have: Pond's!
Heart discovered the new Pond's Pearl Cleansing gel as the perfect light gel facial wash, giving her skin a silky feel and making it refreshed and cleansed.
She also uses Pond's Dewy Rose Whitening Soft Gel which has Rome Lumiere Serum that penetrates deep into the skin, lightening dark spots and smoothening pores without the sticky feel.
And lastly Heart says, "I use Pond's BB+ Cream every time I leave the house because it has SPF 30PA++ that protects me from harmful UVA aging and UVB burning rays."
These photos were taken shortly after the wedding reception in Manila. Did it look like she entertained hundreds of guests?