Sports anchor Cesca Litton and businessman Tyke Kalaw were among the trio of celebrity couples who tied the knot this past Valentine weekend.
Here are eight things we love about the very private ceremony that took place on February 14, 2015.
1) THE VENUE. Following a controversy last year when reservations for their chosen wedding venue—Balesin Island—got "bumped off" for the Chiz Escudero-Heart Evangelista wedding, the Kalaw-Litton nuptials finally went off without a hitch at the opulent Eskaya Beach Resort & Spa in Panglao Island, Bohol.
The venue is simply perfect for Cesca and Tyke, who are both adventurous and enjoy the deluxe life.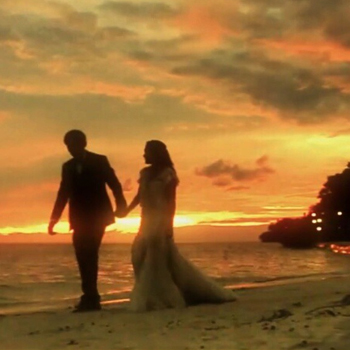 @eskayaresort on Instagram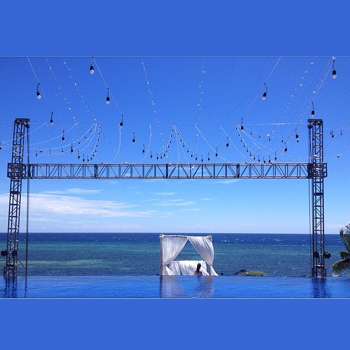 @ab_garcia on Instagram
It boasts of a 16-hectare property that has natural flat lands, cliffs, caves, and a smooth beachfront with powdery white sand.
Guests of the resort have the option to go diving, swimming, and other water activities, as well as relax and get pampered at the famed Handuraw Spa.
Cesca and Tyke wed in the afternoon, atop a cliff overlooking the Bohol Sea.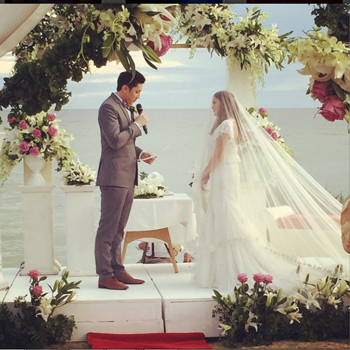 @robinnievera on Instagram
The dinner reception was held at the resort's central attraction—the Infinity Lap Swimming pool, which was beautifully decorated with string lights, lanterns, and white orchids.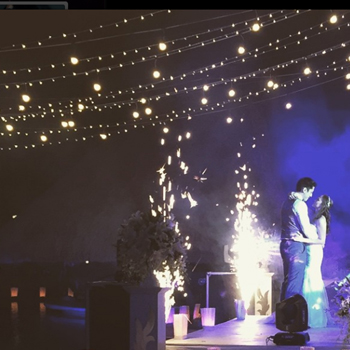 @katramnani on Instagram
2) POOL PARTY. Everyone loves a fun, booze-filled wedding party.
And where there's booze and a pool standing right by, this happens: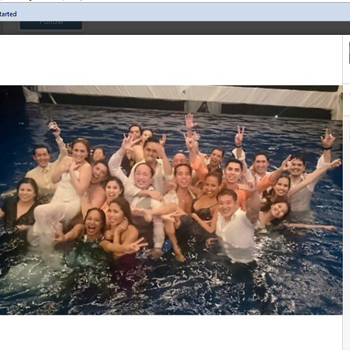 @tykekalaw on Instagram
The impromptu pool party at Cesca and Tyke's wedding reception began when few of the couple's guests decided to just jump into the water in their gowns and suits.
Soon, Cesca (still in her Rajo Laurel wedding gown), Tyke and others joined in, and the rest of the night became an epic #TykeAndCheck wedding memory to remember.
3) PARTY FLATS. True to her spontaneous nature, Cesca dismissed the "I'm gonna party all night in my heels" mantra of most brides and switched into a pair of flat sandals.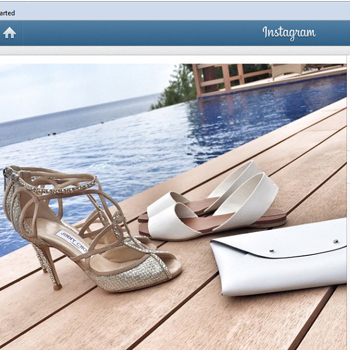 @checklit on Instagram
Taking the place of her bejeweled tan Jimmy Choo heels is a pair of custom-made Eden flats from Filipino shoe brand Posh Pocket Shoes.
Female members of the entourage also received flat footwear from the same brand as a thank-you gift.
4) TEAM KRAMER IS PRESENT! Cheska Garcia-Kramer was spart of the entourage, Scarlett was a flower girl, and Gavin was a ring bearer.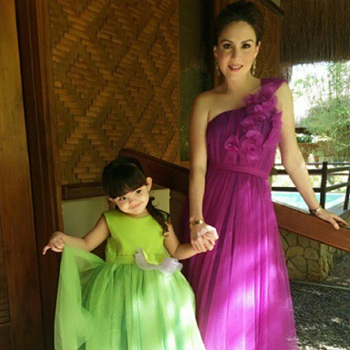 @erikdelossantos on Instagram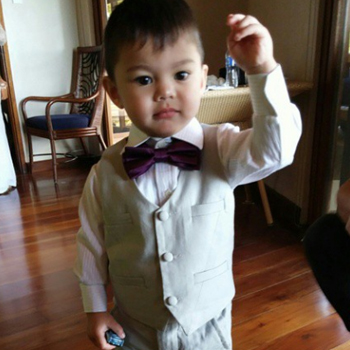 @chekakramer on Instagram
Another thing to love about the presence of the Kramers in this event was the heartfelt message Cheska sent to her pal and kumare Cesca via Instagram.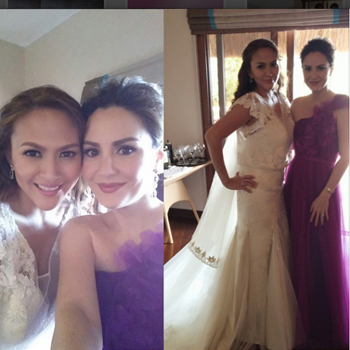 Here's an excerpt: "... I wish you beautiful and healthy babies! They're a reflection of your love and unity. It truly completes everything. The best and greatest blessing from God. No words can explain the joy of having your own family. :-) I love you Litton."
5) To be married not just once but twice to the same guy.
On Instagram, Cesca wrote, "Christian ceremony last week. Catholic ceremony this week. Religion won't divide us."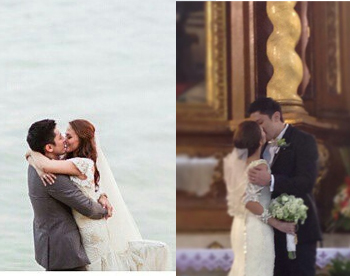 @checklit on Instagram
6. The bride's headpiece
It was named after her, "Francesca," and has "champagne and white tanzanites set in silver and dipped in white gold."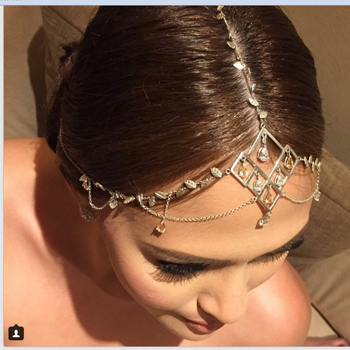 @checklit on Instagram

7. The Great Gatsby-themed party in Manila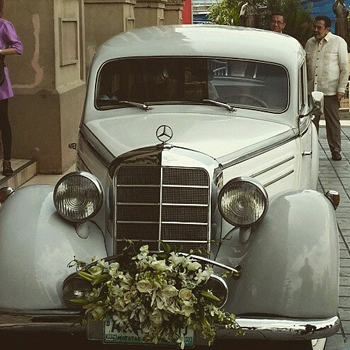 @josephgperez on Instagram
Cesca arrived in a vintage car, and look who's the photobomber: no less than the former President Joseph Estrada.
8) "WELCOME TO THE FAMILY, TYKE." For both the groom and bride, nothing beats the warmth of being embraced by the family who raised your loved one to become the person she or he is today.
The short Instagram post came from Cesca's sister, host-actress-model Issa Litton, after the first wedding...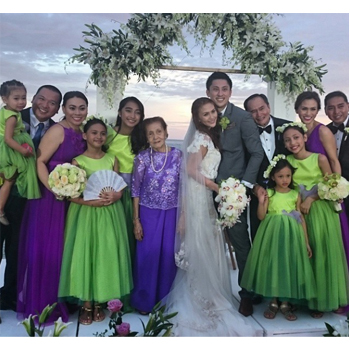 Christian ceremony last week. Catholic ceremony this week. Religion won't divide us