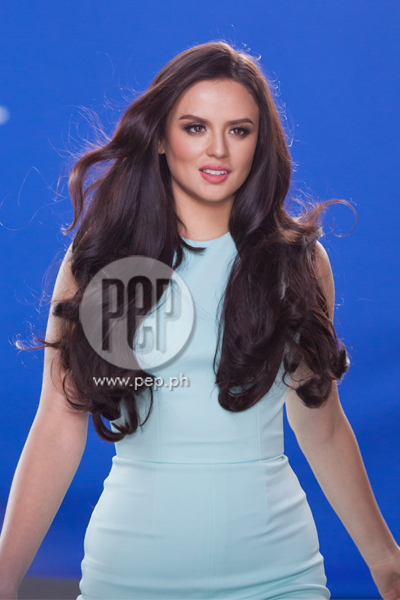 IMAGE Emerson Leonor
---
During the Converse Spring 2015 press preview held recently in White Space Pasong Tamo, Makati City, PEP.ph (Philippine Entertainment Porta) had a candid and engaging "shoe talk" with model/host/entrepreneur Georgina Wilson.
George, who was introduced that evening as Converse's newest brand ambassador, candidly remarked, "I'd like to be the new-age Imelda since my shoe collection is quite extensive, and I told her last night actually that I am trying to make her laban in terms of shoes.
"I asked how many shoes she has. She said millions, so I said, 'Okay maybe I should just give up.'"
FAR FROM IMELDIFIC. She remarked she has a long way to go to even be called "Imeldific."
Then with a laugh, she continued, "I have a lot of shoes, like one of the most that I know but nowhere near a million, maybe Converse can help!"
What was the reaction of former First Lady Imelda Marcos, the grandmother of Georgina's long-time boyfriend Borgy Manotoc, to George's bold challenge?
"She was laughing. She thinks I'm crazy so she takes what I say with a grain of salt. She's wise."
We asked if she's the type of shoe lover who wears shoes once or twice and then keeps it or gives it away.
She says she's more like the first.
Georgina revealed, "There are obviously shoes that you just get super attached to so you don't really give it up. But I'm the type of shoe lover na parang it's very hard. I don't know… me giving away shoes?
"I should though, but there are shoes I really hold on to!"
What are her favorite pairs?
"Dear to me are ones that are comfortable but stylish. It may be a heel, it may be flats, it may be open-toed, basta comfortable and stylish," she stressed.
ADVERTISEMENT - CONTINUE READING BELOW
STYLE VS. COMFORT. And unlike those who still prescribe to hashtag "tiis ganda," George said, "When you're younger, you're down to make pasakit na lang. Sige tiis ganda, but now, I just want comfort.
"I want it to look good too, you know, I don't wanna compromise looking good. And I feel that what excites me so much about Converse is that it's not… I guess I am not the typical girl to associate with Converse."
She quickly pointed at the various people in the gallery.
"You know, look around, it's like skaters and stuff but it just shows that Converse is really for everyone. It's something that is universal.
"It's been around forever, it's the world's best-selling sneaker. I am honored that they even think that aligning with me is something that will be a benefit."
We told her that she makes anything look good, to which she remarked, "Yeah, exactly and they are taking me on as a regional brand ambassador. So that's exciting!"
BAG-A-HOLIC. She also owns up to a peculiar bag quirk, "Actually, Borgy keeps telling me,'You have so many bags, can you switch it up?'
"I stick with one. I think, as we discussed, I think a lot of people think I am a lot more high-maintenance than I am.
"But if anything, I need to maintain more, I should make more of an effort.
"Like change a bag up. Make a statement. Especially when I go to the office, it's like as simple as possible—comfy shoes, easy outfit—I don't have to think about it, that's all I wanna think about."
What's her most essential item, especially if she were stranded on an island?
"If I'm on an island, I want a pair of rubber shoes. I'll have my Chucks with me para my feet don't get hot!" she remarked.
ADVERTISEMENT - CONTINUE READING BELOW