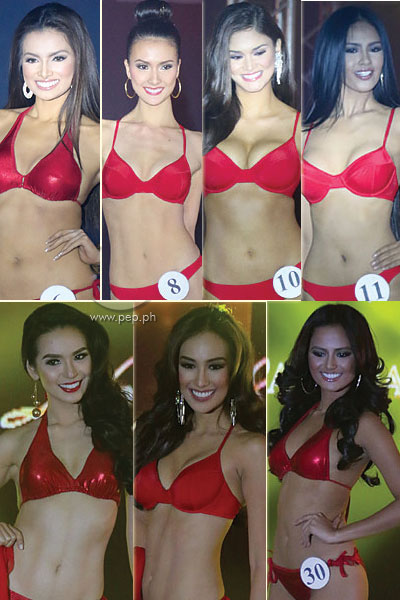 IMAGE Mark Atienza
---
This year's Binibining Pilipinas is marked by a number of repeaters.
Since they have joined in previous editions of the said pageant or other equally-prestigious beauty contests (now popularly referred to as "beaucons"), these candidates supposedly have advantage over first-timers.
Having gone through the process of competition before, they are expected to be a step ahead in training, preparedness, and experience.
Thanks to 2014 Miss Universe-Philippines Mary Jean "MJ" Lastimosa—who first joined in 2011 and finished 2nd runner-up, and joined again in 2012 and emerged as one of the top 12 semi-finalists.
THE REPEATERS. For this year, seven candidates are trying their luck for the second time—or third time—and hoping to win one of the major titles.
1. Tony Alyessa Hipolito, 24, previously joined in 2010, and is up to the challenge for the second time around.
This lass from Mindanao is the great granddaughter of the Queen of the Manobo tribe and the King of the Royal House of Sulu.
She said that she wants to follow in the footsteps of her mom, who has a charity organization.
"What I want them to learn is engage in schooling. I want them to feel beautiful, smart, to have a goal, and learn Christ-like values," she said.
2. It's also Kimverlyn Suiza's second time to join.
After joining last year's pageant, doors had opened for Kimverlyn in modelling and acting.
Incidentally, she used to work behind the camera as a member of a television production staff.
She related that part of her job was to tell actors what to do in front of the camera.
"Dun ko natutunan na mag-internalize. So dati, sinasabihan ko yung artista na, 'Ay, dapat po ganito yung gagawin.' Ngayon, ako na yung sinasabihan. Ganito pala ang feeling."
3. This is Pia Wurtzbach's final chance to win a crown.
ADVERTISEMENT - CONTINUE READING BELOW
She was a runner-up in 2013 and a finalist last year.
The 25-year-old celebrity/aspiring beauty queen from Cagayan de Oro said she just wants to make the most out of her entire journey.
Pia is into low-impact exercises, such as anti-gravity yoga.
4. Janicel Lubina, 19, is from Palawan.
Having worked as a farmer at a young age and as a maid to help her family's struggle to make ends meet, she caught the public's attention.
She was 1st runner-up in Miss World 2013, in which Megan Young won and eventually became Miss World.
5. Anabel Christine Tia also joined Binibining Pilipinas last year.
This art teacher from Misamis Occidental teaches painting, dancing, and cooking to kids who are 2-16 years old.
"Pinakamasayang experience with kids, they learn something.
"Yung sinasabi na, 'Teacher, I want to grow up, I want to be like you someday,' parang I can inspire children."
6. For her third and last chance, Hannah Ruth Sison from Albay is determined to become a major titlist.
From not making it to top 12 in 2013, she placed 2nd runner-up last year.
"You become better each year," she remarked.
"I would actually call myself a visionary. I have lots of dreams in my life and I really try to make it happen no matter what people say, try to bring me down.
"If I really want something, I really do my best to really get what I want."
7. Patricia Lae Ejercitado from Cainta, Rizal is joining Binibining Pilipinas for the second time.
Apart from being part of Binibini in 2010, she was also a finalist in Miss World Philippines pageant in 2013.
A travel enthusiast, Patricia Lae doesn't mind backpacking so she can visit places here and abroad.
"Yung favorite while travelling, I met a lot of people. When you talk to them about the Philippines, parang natutuwa sila."
ADVERTISEMENT - CONTINUE READING BELOW
She said it gives her joy when these strangers eventually become her friends, call her, and decide to visit the Philippines."
Who among them will finally win one of the five titles?
While repeaters enjoy some advantages, there's still no guarantee they'll win the crown.
Some of the former titlists observed that "contestants get better each year," whether they're repeaters or not.
Add to this: previous results have proven that first-timers and repeaters stand an equal chance of winning.
Out there, at the grand coronation night, it's still everybody's ball game.
Binibining Pilipinas 2015 grand coronation night is happening this Sunday, March 15, at the Smart Araneta Coliseum.