Alice Dixson has recently made another breakthrough concerning her health and overall wellness.
With the help of her U.S.-based cousin Dr. Camilla Griggers, whose mother is the sister of Alice's father, the actress took on the Super Feed/Feel Detox 10-Day Challenge, which is a 10-day cleanse without chewing solid food while purging toxic thoughts and feelings.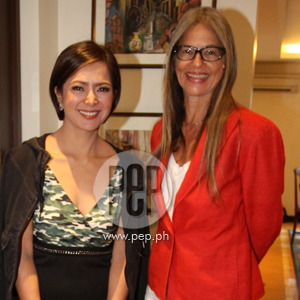 During the presscon for this challenge, Alice shares, "I'm very appreciative of my cousin Camilla who encouraged me to do this detox. She saw the state I was in."
Citing its several far-reaching benefits, Alice exclaims, "It has given me a lot of added energy, given me some more good outlook in life.
"I can feel it na ulit! I was 16 when I last said that!" alluding to the popular soap ad tagline that made her a household name back in the late '80s.
TIMELY CHALLENGE. Alice recalls that it was during a recent trip to the U.S. late last year when this idea was floated to her.
She recounts, "Going into the 10-day detox, before I got committed, she [Camilla] kept on going on and on about how you need to clean your liver. But it was in one ear, out the other for me."
She adds, "Slowly, through her reinforcement, her example, she said, 'When we get back to Manila, you gotta do the cleanse with me.'"
What finally convinced her to take on the challenge?
She continues, "At that time in my life, I had some baggage that I wanted to get rid of.
"I felt that my body needed to cleanse out.
"I'm known as a very healthy person here in the Philippines.
"I promote wellness, I promote products that promote wellness. And generally, I live a very healthy lifestyle, so it seemed.
"But there were things that I could do to help my health, and when you can do that and it's available to you, and you have the time and the effort and the commitment, then I highly recommend you go for it."
SLEEP PROBLEM. One of her primary motivations was her desire to finally get off her sleep medication that she's been on for almost two years.
She confesses, "Because of my weird hours, nahirapan na ako matulog nang tuluy-tuloy.
"Because of yung pinili kong trabaho, especially when I was younger, hindi na ganoon yung body clock ko.
"I've been wanting to get off the sleeping pill for a long time but it's very difficult."
She was becoming too dependent on sleep medications, and it didn't help that she had a lot of work on her plate as well.
She adds, "I was drinking a lot, like a lot of events then partying, and my liver, my alcohol intake was off the charts, it was a lot of social drinking!"
Camilla chimes in, "What I saw was a combination of drinking and sleeping pills, so I challenged her.
"I think it's time to clean the liver. I'm so happy she said yes, as a family member that she took the challenge."
Part of her cleanse and detox included days of doing Coffee Enema, which is basically the act of using coffee to go directly into the liver through the veins and helping flush out the bad from the colon and into one's poop. She doesn't mince words in describing the cleansing process.
"Liver filters blood all day long so when the liver ducts are clean, blood can flow faster so oxygen gets to all of the body and energy shoots up. All that crap goes out of you. It's like resolving a bad traffic situation."
Alice quickly shares her best learnings from doing this 10-day detox cleanse.
She says, "You're more sensitive to what is not good for you. The more you sweat during detox, the better."
Even though she looks fit and great, Alice confesses that thin doesn't equal fit or healthier.
"I was eating the wrong kinds of foods back then. I would eat a lot of deep-fried foods.
"I'm no angel. I still have a little bit of sinful food every now and then. I used to do it all the time.
"Like before, I would eat a whole cheesecake by myself. But I don't do that anymore!"
Alice says she saw the need to make lifestyle and habit changes.
"I am being more conscious of what I eat, more lifestyle choices because before payat ako because I was still young, I was active.
"But now, I am not as active, so I kinda pick and choose plus I was sleeping really bad hours.
"When you're younger you can do all of that. But when you're older, you have to take care of yourself."
LIQUID DIET. Alice has shared her daily experience from this cleanse and detox through Instagram, sharing the recipes she prepared herself.
She says, "There was preparation to the first day and that was two to three days of eating raw food, salads, raw vegetables, raw fruits, organic vegetables with fruit juices. We didn't take any sugar, but we did have dressing.
"The real first day was when we started all liquids.
"By day three, I wasn't eating solid foods yet I felt so alive. Not even hyper, but just energized."
Since this detox cleanse involved not chewing solids, Alice was about to ready to give up.
She admits, at day six she said, "Ayoko na 'ata. Gusto ko na kumain! I said I'm actually craving for food!"
POSITIVE EFFECTS. Right now, Alice says she can still feel the positive effects.
"For me, the challenge was, my lifestyle, I go out a lot.
"There is a lot of social drinking, I sleep late hours, I don't always get to eat good food.
"And with this realization, it sort of made me focus on why am I making all the wrong choices, what can I do.
"Aside from dumping crap, I also dumped a lot of emotional crap so, you just feel so much better, take my word for it I can feel it!"
By the eight day of the cleanse, Alice had stopped taking her sleeping medications and has been off them since.
She says her sleep cycle has improved.
Even if she comes home from taping and her body is still awake, she says the cleanse helped get normalcy and her sleep clock back. It helped "cleaned me up!"
Camilla interjects, "There is a dumping of body fat where the toxins used to be, so she feels light."
Actually, Alice reveals how she even lost weight, "I did lose weight but it wasn't a primary goal, it wasn't even on the hitlist!
"That's six pounds of waste products. I didn't go into the detox wanting to lose weight.
"I got in for health reasons, for health benefits, and so a by-product of it was losing a lot of the stored guck in me, it's really crap that was stuck in your large intestine.
"Once your body learns to rest, it's able to eliminate all of the guck."