ADVERTORIAL
Imagine a cute and handsome celebrity greeting you as you drive thru your favorite McDonald's.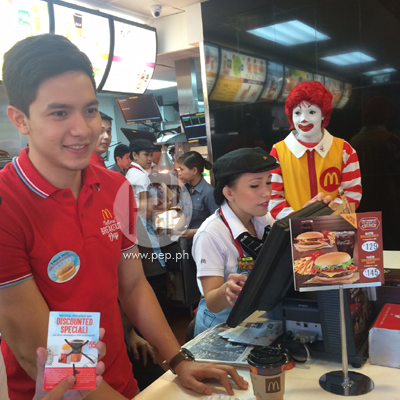 How about a beautiful and charming star handing you your breakfast at the counter?
Makes you say "hooray for today," doesn't it?
Since 2013, McDonald's has been celebrating the National Breakfast Day by giving away free breakfast food, like McMuffins, tapping its celebrity endorsers and partners every year to help out.
Adi Timbol, PR and Communications manager says, "This is now the third year and every year, National Breakfast Day has gotten bigger: we have more stores this year, close to 400 nationwide are joining National Breakfast Day."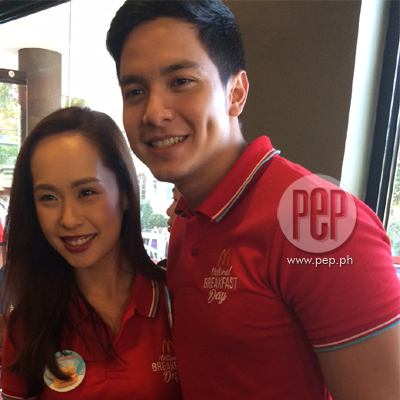 This 2015, McDonald's tapped around 10 celebrities from both the Kapamilya and the Kapuso networks.
Adi says, "Our roster of endorsers, we have Xian Lim, Enrique Gil, Matteo Guidicelli, Alex Gonzaga, and also, we tapped Bianca Gonzalez for this event.
"From GMA, our endorsers, Solenn Heussaff and Lovi Poe, and then we also tapped Alden Richards, Rocco Nacino, and Drew Arellano for this event."
At the two McDonald's stores that PEP.ph (Philippine Entertainment Portal) visited within minutes of each other, the number of people served as of 6:21 am was 554, while at the other, 800 as of 6:45 am.
PEP.ph (Philippine Entertainment Portal) asks Adi if they are aware if the celebrities have an internal competition amongst themselves to see whose branch hands out the 1,000 free McMuffins first and fastest.
She laughs and answers, "I think Bianca and Drew, because they have been friends and they have been doing National Breakfast Day although from separate stations, they work together. But they're great friends so they would often joke about it."
We tell her that in the branch we stayed in, McDonald's Roosevelt Avenue-Baler, actor-host Alden Richards was regularly sending updates about the time and number of people served to his friend and fellow Kapuso Rocco Nacino, who was in McDonald's Tandang Sora.
She tells us, "Nakakatuwa lalo pag talagang magkaibigan talaga sila and the banter is just so much fun.
"Because they are celebs, they are helping also in the distribution, maybe lalo yang si Rocco and Alden because they are friends."
She continues, "The response has been fantastic that's why we keep on doing it again and again and really to have more Filipinos join in the celebration.
"I think based on reports there were stores who were done as early as 6:30, 30 minutes tapos na!"
She adds that their fastest and strongest responses come from the provincial areas, but that, "on average we expect to finish around 7-7:30 am."
Even if the free breakfast items get handed out early, Adi remarks people don't mind, "and we really do see them coming back to our stores, and I think that's the most important thing because they have tried the muffin and they tasted it and it's good and they just keep coming and they'll keep coming back."
HAPPY TO SERVE. Alden, the Kapuso Primetime Prince, is very happy with McDonald's Breakfast Day and, on his second year doing this, says, "Since last year, difference, yung store is matagal ng andoon, McDonald's Quezon Avenue. This one is just a four-month old store, pero natapos yung pagdistribute ng 1,000 free McMuffins ng around the same time."
Flashing his signature dimples, Alden tells us, "Nakakatuwa rin, this just opened last December so technically four months pa lang siya. Mas masaya kasi ang daming pumunta, ang daming maaga gumising just to have their free McMuffins and McDonald's delicious breakfast.
We ask Adi if they are targetting to have more celebrities on board come next National Breakfast Day and she says, "We always try to change it up a bit, throw in some new faces together of course with our endorsers, actually yun ang dapat abangan kung sino ang mga bagong or madadagdag sa McDonald's family."
Alden, who at 23 years old, is being primed by his home network for even bigger and more challenging leading roles says, "The next year, hopefully kung kunin ako ulit ng McDo, I would love to do this, kasi nakakatutuwa yung mga tao.
"Ako kasi, personally, I'm not a morning person, but when I see people wake up early, smiling to get their free McMuffins from McDo, then they see me there and that made them smile, it's more than enough for me.
"'Yan yung pinakamagandang reason kung bakit ko gustong gawin yung National Breakfast Day every year, it's because of the people and their smiles."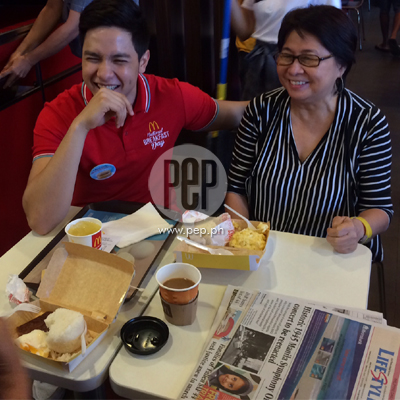 Alden's participation in the McDonald's Roosevelt Avenue-Baler branch helped the branch serve free McMuffins to 1,000 people as of 7:05 am.
Incidentally, Rocco Nacino's branch reached the 1,000 mark at 7:25 am.