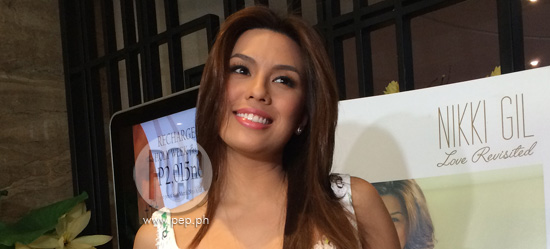 IMAGE Nerisa Almo
---
Loving again did not really become a problem for Nikki Gil, who experienced a very painful (and very publicized) heartache in 2013.
At the press launch of her new album titled Love Revisited yesterday, March 18, the singer-actress was more open about love and relationships, compared to the period when she and her then boyfriend Billy Crawford had just broken up.
For the first time, she also gave a lengthier story about her happier love story—meeting her fiance named BJ Albert.
A few months after her breakup with the Kapamilya host, Nikki recalled, "I was already going out, nagdi-date na ako, going out on group dates, being introduced to people.
"Siyempre, ang mga kaibigan ko, lahat na lang ng love prospect. Nandoon ako sa point na 'yon."
However, Nikki mentioned in a previous interview that she's not the type who dates guys just for the sake of having a companion.
So when the 27-year-old singer came to point where, "I was close to, like, 'Ayaw ko na, hindi naman ako nagmamadali,' I was set up on a blind date."
She continued narrating, "Hindi siya talaga blind date kasi we went to same school together.
"Ayaw lang sabihin ng friend ko sa akin dahil baka i-Google ko siya dahil may ganoon akong ugali—gino-Google ko ang tao, 'ano background nito, parang NBI clearance lang.
"So we went out on a date only to find out that we've been to so many places, in so many of our friends' weddings, and at a restaurant, like, 'You were there? Nandoon ka din?'
"It's just weird all of my friends were like how you can not know each other?
"Ang liit-liit ng circle na ginagalawan niyong dalawa, as in like his closest friends are some of my closest friends.
"Parang iniisip nila bagay sana sila pero parang magkakilala na sila.
ADVERTISEMENT - CONTINUE READING BELOW
"So, if anything, dapat matagal nang nangyari 'yon."
But Nikki does not regret not knowing BJ earlier.
She explained, "You know, I guess it's God's timing that we should know each other now at this point in our lives because, who knows, had we met earlier, it might not have worked out.
"Para siyang ...it's closer to home, he's not a complete stranger, I guess, which was made it easier for us to gel."
"I DESERVE TO BE HAPPY." While others take years to move on, it only took months for Nikki to open up her heart again to a new love experience.
How did she do it?
She related to entertainment reporters it helped that she didn't dwell too much on the hurtful breakup.
"It didn't take long," she remembered.
"I felt like hindi ako ang tipong magtatanim ng galit na, 'Ayaw ko na, lahat naman sila pare-pareho.' Hindi ako ganoon.
"Parang I knew I did my part. I knew that there wasn't anything really wrong with me, which is, I guess, dala ng support system ko.
"I knew that I didn't deserve it and I deserve to be happy and to be loved because that's how I am—I like to love."
Nikki even noted, "It didn't take much time dahil nga hindi na ako nag-wallow sa 'pagpapahingahin ko muna ang puso ko.'
"Love never runs out, you know. It's one thing that the more you give away, that more it will come back to you.
"So I never really closed my doors to love—and not just the romantic kind, even in friendship."
Then, she stressed this point about giving love a chance: "Bakit tayo mag-aaksaya ng panahon na magkimkim ng galit when there's so many people out there who are willing to accept the love that you have to give."
ADVERTISEMENT - CONTINUE READING BELOW
Now that Nikki's engaged, she's getting married in the last quarter of 2015, the Kapamilya singer feels better and secured.
"I guess, it's just a feeling, kumbaga, there's light.
"If there's a tunnel, there's light at the end of the tunnel.
"You know na mayroong goal, mayroong patutunguhan.
"You're both working towards the wedding and a happy marriage. 'Yong feeling na, 'Okay, mayroong pupuntahan ito,'" she concluded.