As boxing fans around the world wait with bated breath for the much-touted boxing match between Pinoy pride Manny Pacquiao and American champion Floyd Mayweather Jr., Filipino supporters also look forward to entertaining sidelights on the Pacquiao camp.
1. Philippine national anthem interpreter
For the second time, the Christian pastors of The World Choral were chosen by Pacman.
If you missed their performance last year, here it is...
They will be singing the "Lupang Hinirang" with Filipino-American teen Gail Banawis.
For sure, the National Historical Commission of the Philippines will be watching and listening closely.
The government agency is hell-bent on protecting our national anthem—its tempo, tune, and every note—and insists it should only be sung the way it was originally composed.
Did you know there's a 20,000-peso fine and even a jail sentence for those who alter the melody?
During his last fight with Chris Algieri in Macau, Manny himself—a recording artist, and plays the piano well—had to listen to their rendition prior to the fight.
Some Pinoy Netizens teased Manny, "Next time, ikaw na siguro ang kakanta ng Pambansang Awit."
2. Jinkee Pacquiao's ringside look

What arm candy will Mrs. Pacquiao bring to the fight? Something from her hoard of Birkins? A Himalayan, perhaps?
What will be her hairdo? Will she be sporting a bangs?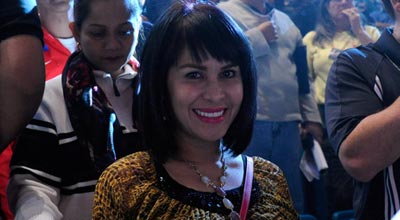 Whatever, she should come with a hanky to wipe away her sweat and tears during and after the match. We wish they will be tears of joy, though.
3. Jinkee's bling
Through the years, Jinkee has been consistent in the bling department.
Her jewelry may be labeled, expensive, and bright, but they're never too flamboyant to draw attention away from her endearing persona as Pacman's number one fan.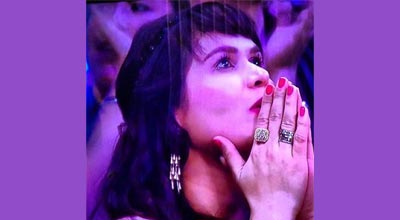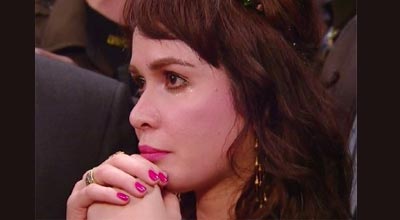 Will it predominantly be Bulgari, Chanel or Cartier? Shine bright like your diamond, girl. Posting your #OOTD wouldn't hurt either.
4. Mommy Dionisia's gown
Through the years, we've seen how Mommy D's taste in clothes has evolved.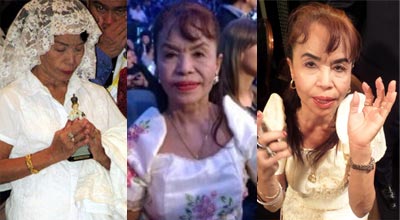 The butterfly-sleeved ternos she wore for her son's previous fights have been bashed and praised by netizens.
But Mommy D's fierceness, we believe, transcends her clothes. Whatever she wears, she will proudly flaunt her fierce stage mom spirit.
5. Mommy Dionisia moment

She will definitely chant her orasyon for Manny.
She will, of course, bring her rosary.
She may even give Floyd Mayweather Jr. the "finger."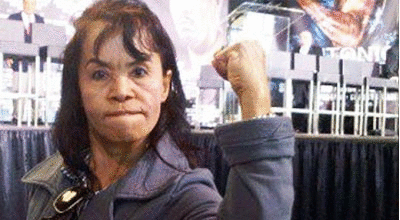 But whatever she'll do, netizens will surely have a field day.
6. The logos on Manny's trunks
On fight day, it will carry some of the world's most expensive advertising spaces.
According to Spin.ph, "Smaller logos placed in the front part of the trunks are priced at US$150,000 (P6.6 million) while a logo of the same size at the back part will cost $100,000, or around P4.4 million."
This was his trunks last November, when he fought Chris Algieri. It had back-to-back ad placements.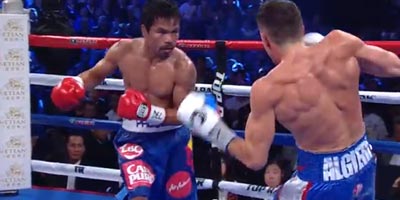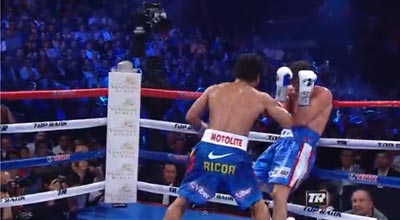 7. Pacquiao's coterie of political, religious friends and advisers
The great Filipino boxing champ has amassed, not only a large number of fans and followers, but also friends and advisers from from politics and various religious groups.
Who will fill his entourage list? How many politicians? How many pastors?
One thing for sure, Chavit Singson will be there and the world will not be able to avoid seeing the Ilocos Sur governor's face on TV.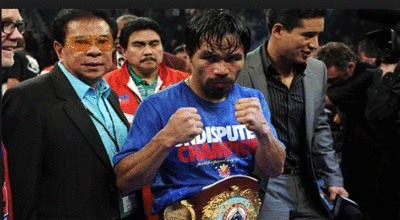 But while we admire Governor Singson for being such a supportive friend, we also wonder how much of his wealth has come from betting on Manny's matches, if indeed he bets.
Oh, if only Manny's entourage could take some of the blows that the boxing champ endures in the ring…
8. The post-match interview
Yes, he speaks in broken English but we have to give it to this congressman for being able to express himself in a way the whole world understands.
Come on, he appears on U.S. talk shows such as Jimmy Kimmel Live! without an interpreter, and handles himself well against a barrage of probing questions!
9. The photo op with Hollywood celebs
If Manny emerges as the victor, expect selfies with the Pacman to flood social media, including accounts of Hollywood celebrities.
We're most curious to see Justin Bieber's post though.
Did we miss something? Feel free to add, and use the comments column below.
Photos: screengrabs from Top Rank videos, philboxing.com, File