Rhian Ramos is positively beaming these days.
The Kapuso actress, who has recently taken over Marian Rivera's role in the GMA-7 primetime show The Rich Man's Daughter, looks very happy and healthy.
When we spotted her during the Belo Polo Cup 2015 recently, we asked her for some workout tips, to which she casually answered, "Well, I've been going to 360 Fitness either twice or thrice a week.
"It's really good for fat loss! So I like it there [laughs]. It makes me feel feminine after!"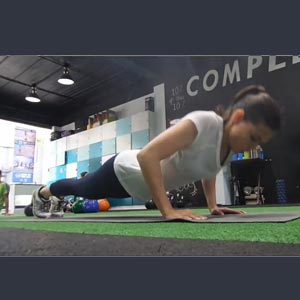 Photo: @whianwamos on Instagram
Another reporter butt in and asked her to comment on Mo Twister, to which the star reacted, "No, probably not."
The reporter prodded her on about how it feels to win her case against Mo Twister, and she just answered, "Everyone likes to win. Uhm, yeah, so because of that, I can really put more of my attention on moving forward."
Even when the same reporter continued to probe her on the lessons she learned from the whole Mo Twister experience, Rhian tactfully replied, "Uhm, actually I don't feel like talking about it today, it's such a nice day!"
The male reporter tried one more time to ask about Rhian's lovelife and she pointed out "Yes, he's right behind you [laughs]."
Finally giving in to the never-ending probe, she replied, "Uhm, happy all the time!"
NON-SHOWBIZ BF. Afterwards, when we had the chance to have a more quiet moment with Rhian, we asked her about her boyfriend, and she remarked, "Yes, where did he go? I don't know where he went."
She added, "Uhm, well he's non-showbiz so I don't really wanna get all up in his personal stuff, but yeah, that's my boyfriend."
Rhian briefly shared how they met through racing.
"He gave me some tips and stuff like that. He's really good, e.
"And I'm kinda like the person that they like to take pity on, on the track because I'm not that good."
Her boyfriend—three-time Vios Cup champion Jason Choachuy—shook his head, as if to say she's not that bad.
Rhian continued, "But I've improved a lot recently. I used to not be good, at all. But now I've improved.
"And because of that, we met and we spent time together and we just wanted to spend more time together so that's what we did this year."
The two have been officially dating for three months, since the New Year.
Rhian confessed why she is attracted to him.
"Because he's the best gentleman I know, so I thought I'd claim it. Sabi ko, 'That's the best guy I know, I'll claim that na!'"
NEW PROJECTS. Aside from The Rich Man's Daughter, there are other projects that have been keeping her busy.
She elaborated, "I'm doing a motoring show. It's gonna come out sometime either last week of April or first week of May, something like that.
"It's for GMA NewsTV and it's with my co-host Sam YG, it's going to be called Full Throttle."
She also hinted at an upcoming business opportunity, "I'm spending a lot of time trying to put up my own business, I can't overly talk about it but it is clothing-related so I'm putting all of my time in that."
Is this a venture with friends or partners from showbiz?
Rhian answers, "Uhm, at the moment, no, but if I feel like it's time for some growth, then I will."