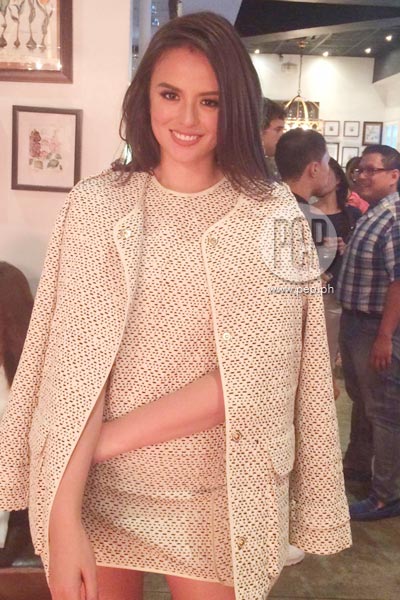 IMAGE Kaye Estoista-Koo
---
Georgina Wilson and her best friend Solenn Heussaff recently published their own book titled Besties.
It was supposed to be an own independent venture, but the book attracted the interest of ABS-CBN Publishing, which generously bankrolled its production and publication.
In Besties, the two girls fearlessly put into print the mean tweets and comments they received via social media.
During its press launch, Raymond Gutierrez, another close friend, asked if Besties is their answer to their bashers and haters.
Georgina quickly answered, "No.
"Well, honestly...None of my actions are [addressed] to the haters because when I see a [mean tweet], I delete it and it's all good.
"This book is addressed to that person who says, 'You're so pretty and I want your life.'
"I want to show [readers] na [my life] is not perfect."
BOOK'S MESSAGE. Ultimately, Georgina said she and Solenn want readers to love and appreciate their own lives.
She explained, "It's not about wanting other people's lives. It's more about loving yourself, appreciating your life and having fun with your best friend."
Georgina talked about her favorite chapter in the book—finance.
"It talks about stuff you never really talk about—paying your taxes, asking your boss for a higher salary, saving, traveling on a budget, things that are sometimes kinda boring to talk about..."
Solenn butted in, exclaiming, "Paying taxes! I needed that! It's hard to understand, but she put it in simple words."
Georgina said that when she showed Solenn the first draft of her chapter on finance, her friend said, "George, nobody is gonna read this."
ADVERTISEMENT - CONTINUE READING BELOW
So she revised it six or seven times.
"I tried to make it as fun as possible. Solenn was my test, and that's good because I don't want the topics to sound complicated, because they're not," she said.
Solenn confirmed this. Georgina would often go to her and ask, "Do you understand this, and if I said, 'Yes,' then it was OK. I was the test!"
DREAM PROJECT. As part of the book, Solenn and George, (Georgina's nickname among friends), included photos from their past.
Georgina related, "Solenn just decided to go through my photos and told me which ones she didn't like so much."
She hopes the book will show that they aren't perfect, and that they don't live the perfect life.
Georgina stressed that they are just two besties "with goals, and who like to do things together."
She then held up their book and said, "It's so cool to see that we have a book in National Book Store. It's been a dream project and I wouldn't have wanted to do it without my best friend Solenn."
BEGINNINGS. Georgina talked about where they got the idea for Besties.
"Solenn came up to me saying 'We get all these mean comments and stuff, positive and negative, and I think we should do something with them.'
"We've been through so many things; maybe people can learn from our experiences," Georgina said.
"The book is the most honest we've ever been about our feelings, about our trials in life.
ADVERTISEMENT - CONTINUE READING BELOW
"Obviously, we're not experts on anything, but the books shows that when you have a friend, it's easier to go through tough times.
"Life isn't worth living without friendship and love. That's what the book is about."
BOOK 2? Georgina confessed she missed so many production deadlines.
"Oh my God! We had so many revisions, like months and months of revisions!
"That's what we had to learn, being authors. But we had an amazing team behind us that really believed in the project."
Solenn teased Georgina about the possibility of a sequel.
Georgina said, "Well, that's a maybe, but we hope so...."