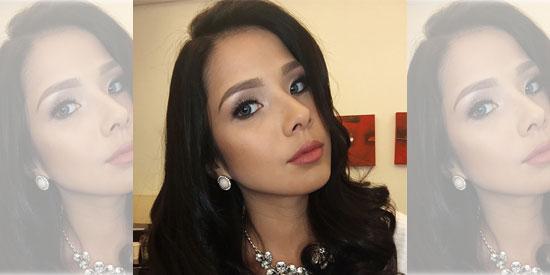 IMAGE Maxene Magalona's Instagram
---
Maxene Magalona has been wearing corrective glasses since she was in high school because of her low vision.
While wearing glasses has become a fad these days, there are times when she needs to ditch them over her dependable pair of contact lenses especially when she's at work.
Here, she cites five reasons why she actually loves wearing Air Optix Colors contact lenses, apart from the fact that the brand is her newest endorsement.
1. It corrects low eyesight.
She explains: "Right now, I am near-sighted with 150 and 200 grade.
"I've been wearing lenses because when I'm hosting, I need to look at the prompter.
"I can't wear glasses on air because of the glare and everything.
"And hindi bagay sa outfit ang glasses, so kailangan ng lenses.
"That's why I've been wearing lenses since I can remember."
2. It is long-wearing.
Maxene says some of the contact lenses she had worn in the past only lasted for about eight hours.
ADVERTISEMENT - CONTINUE READING BELOW
She had no choice but to remove them and let her eyes rest, or risk getting eye irritation towards the middle of the day.
"So, imagine, I have to put on my glasses, take them out, put them on again. So medyo hassle.
"But with Air Optix Colors I have no such problem. I can wear them all day long. I don't feel like they're there. Super breathable siya."
According to Air Optix Colors resident ophthalmologist Dr. Jeanette Oo, the brand has six times more oxygen than other brands to avoid eye dryness or redness.
3. It looks very natural.
Maxene has got that perfect tan this summer, but she managed to pull off a pair of sterling gray contact lenses without looking odd or too foreign.
"It's actually my favorite color in Air Optix Colors lenses," she adds.
So whether you're fair-skinned or morena (like most Pinays are), you can opt for any of the subtle or vibrant shades of contact lenses.
ADVERTISEMENT - CONTINUE READING BELOW
Air Optix Colors are available in pure hazel, blue, green, gray, brown, honey, brilliant blue, gemstone green and sterling gray colors.
4. It's good for instant makeovers.
As one of the celebrity contestants of Your Face Sounds Familiar, Maxene says wearing different colored contact lenses help complete her look for each of her impersonations on the show.
"I did Taylor Swift and I had to use brilliant blue because my girl Tay Tay has blue eyes. And I did Madonna and I used sterling gray. I did Selena Gomez and I used hazel brown."
Dr. Oo adds that girls who love to wear eye makeup don't have to worry about mascara smudge because the brand has a "unique permanent plasma surface treatment," which protects the contact lenses from absorbing oily deposits from makeup.
5. It's perfect for selfies!
Take a selfie and see how wearing a pair of contact lenses gives your eyes that extra sparkle.
ADVERTISEMENT - CONTINUE READING BELOW
Pop on those lenses and you're all set for a picture-perfect shot!