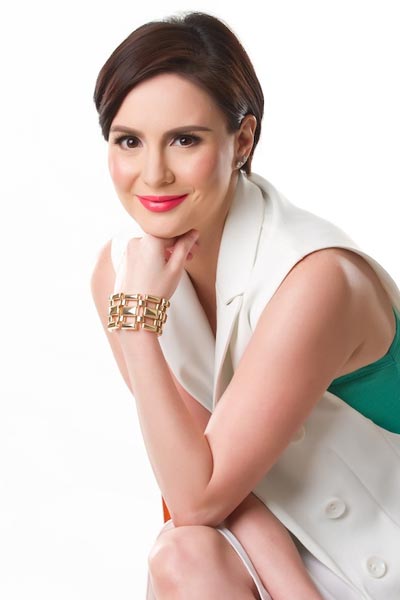 IMAGE File
---
The moms and dads we like to watch on TV and like to follow on social media are like us too.
They want to maximize their resources and make do of whatever it is they have.
Electrolux recently launched its Do More With Less campaign in Abenson Global City hrough the help of their ambassadors, Cheska Garcia-Kramer, Chef Rosebud Benitez-Velasco, and Chef Bruce Lim.
We asked about their fave appliances, and here are their top picks:
For the Kramers, it must be the refrigerator as they have two units—a big one in the kitchen which is a side by side inverter and a bottom mount in the living room.
Cheska admitted she isn't as worried about the cost because, "it's energy efficient, I made sure of that."
How?
"Doug checked! He did the math and he's so strict on the household."
Between Cheska and Doug, the celebrity mom said her husband is "the homemaker."
ADVERTISEMENT - CONTINUE READING BELOW
She adds, "He makes sure that the appliances are efficient, modern, and he does the marketing pa!"
Andrea Pionilla, marketing manager of the brand, also shared a tidbit about the cager.
"...even before we got him as an endorser, when we were doing photoshoots with Cheska and Kendra, he was there, helping Cheska out with handling a toddler at the time, siya yung nag-yaya.
"He was very conscious of the time especially if low na yung energy ng kids."
Back to the appliances, another favorite of Cheska is the vacuum cleaner, which is also the top pick of Chef Rosebud.
The brand they're endorsing is actually made out of 55% recycled materials, that's why it's black.
But the reason moms love it: it is silent so it's perfect if you have a baby or a senior at home that would require quiet time.
Meanwhile, Rosebud finds washing machine helpful, especially if it saves her time, energy, and water.
ADVERTISEMENT - CONTINUE READING BELOW
She elaborated, "Aside from being a chef, I'm a new mom with a one-year-old and for me, care has to be given into the clothes my baby wears."
It's also important to her that she's "able to spend more time with my family."
And how does her washing machine help?
Rosebud explained, "...the washing cycles are customizable, so that if it's for baby, it falls under a certain time, if it's for teenagers, it has to be shorter or longer if they are active and, for us adults, it's different pa because we don't do strenuous activities."
Chef Bruce's choice is the microwave oven because, as he shared, "When I come home, I don't want to spend so much time cooking because I've been doing that the entire day already.
"Sometimes I just want to pop something into the microwave oven, and this helps me save on time and spend more of it with my family."
ADVERTISEMENT - CONTINUE READING BELOW
That microwave oven, we were told, only costs one peso per five minutes of usage.
Among the many things we learned from these celebs, there are really so many ways to accomplish our chores faster, and make our lives easier.