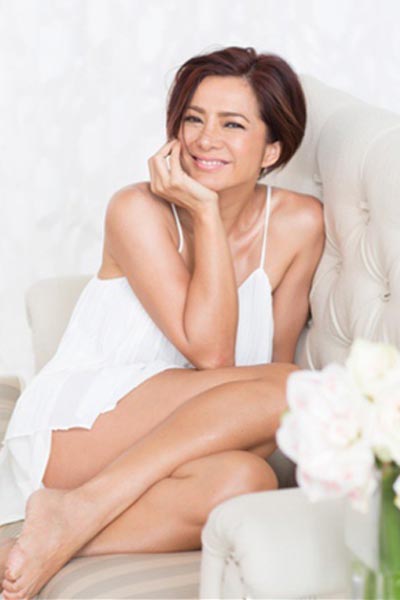 IMAGE @belobeauty on Instagram
---
One can apply all those anti-aging creams to look young, but there's a way to find out a woman's true age: look at her neck and hands.
Even Alice Dixson, 45, is no exemption to the inevitable signs of aging.
At the launch of her latest venture with Belo Medical Group recently, she revealed her number one beauty problem.
"…to look beautiful is a challenge sometimes, but I wanna get rid of my turtleneck skin.
"I call it turtleneck skin kasi, you have wrinkles here [pointing to her neck area]."
She tried picosure, which is said to be the fastest—by 110 times—laser technology.
According to Michael Byers, the guy who introduced the technology to Dra. Vicki Belo, "It revitalizes the skin. It can lighten and rake out tattoos…in five minutes.
"And there's no downtime."
Alice affirmed, "I didn't feel any pain or anything like that and as we go on, we continue to see improvement."
ADVERTISEMENT - CONTINUE READING BELOW
Dra. Vicki further explained why it's hard to maintain those two parts of our body.
"I think the neck and the hands will give a woman away, so you can watch my hands because, really, more or less, the face, most of us really maintain it.
"But we forget the neck and the face don't match.
"For some reason, because there are no oil glands on the neck—there is not much space for rejuvenation.
"Oil is a double-edged sword. People would say, 'Oh, I want oily skin because I won't age,'—which is actually not true.
"Oil is very inflammatory.
"It makes your skin—large pores, inflamed, red, angry—it doesn't look good. Your pores look bigger.
"But if you don't have any oil, like nothing on your neck, no oils glands, then you don't have a source or stem cells to rejuvenate the neck.
ADVERTISEMENT - CONTINUE READING BELOW
"I mean, there are very few stem cells there but the 'picosure' stimulates whenever you want, and that's why it is great for the neck."
EYE AREA. Dra. Vicki said she's been trying to convince Alice to try treatments around her eye area.
"…I think her eyes are a bit thin and some of her lip is starting to sag, but she doesn't want to do it.
"So what we decided is to do picosure around the eye area so that it will tighten the skin and will maybe give a lift of two millimetres.
"So this is really all she needs. She will be doing this once a month, and then we'll do the neck.
"Of course, the body's great, that's her work. But she's very, umm, [loves] going out in the sun, she's always in the sun, right?
"The nice thing about picosure, unlike other lasers, we can do it even if you have been exposed to the sun."
ADVERTISEMENT - CONTINUE READING BELOW