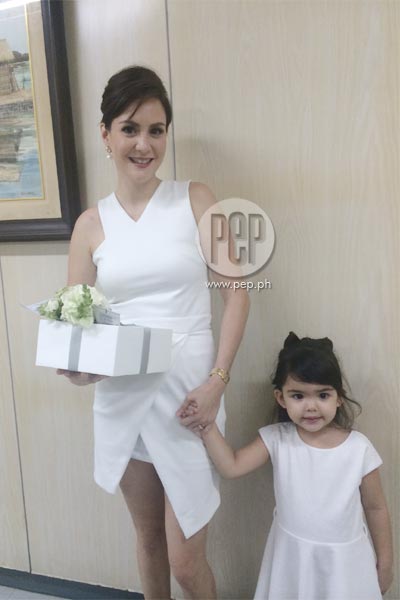 IMAGE Kaye Estoista-Koo
---
Cheska Garcia-Kramer, the superwoman behind #TeamKramer, looks like she has it altogether.
In a recent event where the Pond's Girl and Pond's Miracle Mom revealed her beauty secrets, Cheska told the press that confidence is tantamount to learning not to sweat the small stuff anymore.
The wife of Doug Kramer said she let go of her insecurities when she became a mom.
Cheska runs a household and manages three children so she knows all about the other things moms worry about.
She admitted, "Wala na akong pakialam. It's because I have so many other things to think and worry about.
"I don't know for other moms but that alone makes me feel empowered already.
"I know myself better. I know my capabilities. I know what I can do, what I can't do."
ACCEPTANCE. She says overcoming insecurities and choosing to be confident come with acceptance.
She explained, "There are some things I can't wear anymore. It's accepting things in your life and freely embracing it because this is who you are now and honestly.
ADVERTISEMENT - CONTINUE READING BELOW
"I have no insecurities.
"The only thing that will make me insecure is talking to an intelligent person in front of me, someone who is more interesting. But other than that..."
EMBRACING AGING. Embracing it all also means she isn't denying her age.
Cheska proudly declared, "I don't try to brush it off because it's part of our life.
"The only time I'll probably feel that way is if I know I didn't take care of myself.
"If I wasn't so conscious of taking care of my skin back then, maybe I would have a problem with accepting my age. But I take pride in hitting my 30s.
"Most people, when they ask me my age, they always think I am much younger than that."
CHESKA'S BEAUTY BOOK. As part of her Pond's endorsement, Cheska created a #PondsMiracleMom booklet where she details her basic beauty regimen.
She shares how she first cleans her face using the Pond's Age Miracle Cell ReGEN Facial Foam, which she has been using for quite a while now.
ADVERTISEMENT - CONTINUE READING BELOW
Secondly, she puts on the Miracle Firm & Lift Targeted Lifting Serum Massager paired with the Miracle Day Cream SPF 15 PA++ for a dewy and smooth finish.
And lately, she says she's been having a love affair with the Firm & Lift eye contour lifter, which comes with an applicator so you don't have to use your fingertips, plus the face and neck lifting day cream.
She also uses the dual action Miracle eye therapy, which she calls yin and yang because it's pink and white.
The Firm & Lift products are part of the Age Miracle line.
Cheska said that this simple arsenal of products has worked miracles for her, and would most probably work for any woman looking for a quick skincare fix.
She added, "Anything that says firm & lift is already something that a woman takes a second look at. It's something you instantly pick up and read.
"The moment I saw firm & lift, it got my attention.
ADVERTISEMENT - CONTINUE READING BELOW
"The Pond's Age Miracle Firm & Lift Eye Contour Lifter reminds you of a machine when you go to a derma, it reminds me of that but you have it in the comfort of your own home and you can do it every day, and it's within your budget."
BEAUTY SMACKDOWN. She wanted moms who think they can't have youthful, glowing skin to have access to a simple regimen like hers.
Cheska shared, "When I made this, I didn't post it in my Instagram because I wanted it to be a surprise and I called it my beauty smackdown—beauty essentials or your make-up basics.
"So I made my checklist of what I have and what works for me and what I carry with me everyday no matter what happens."
Stressing the importance of a daily skincare regimen, Cheska pointed out, "You can have all the best make-ups and best brands.
ADVERTISEMENT - CONTINUE READING BELOW
"But if you don't have a good nightly regimen and you don't follow any regimen, then nothing can conceal your sagging face. Or wrinkly first signs of aging if you don't do anything to take care of your skin."
STARTING YOUNG. With these in hand, Cheska said she hopes to correct mistakes on skin care.
She confessed, "Maybe, I should have started a regimen as early as the moment I started putting on make-up."
Cheska started showbiz when she just 12 years old—around the same time that she had her first encounter with Pond's.
She recalled, "I pretty much remember trying out Pond's Cold Cream because my mom would use it to take off her own make-up and I would get from her."
Aside from all the tips she included in her beauty must-haves, Cheska also stressed the importance of staying healthy and avoiding certain vices, such as smoking and staying up late.
ADVERTISEMENT - CONTINUE READING BELOW
Her skincare advice for moms? "You're never too young or too old to start something so try and find out what works for you.
"Don't wear too much make-up, even for teenagers.
"If you can avoid it, then don't, only because you're only young for so long so enjoy your natural skin, enjoy your youth!"