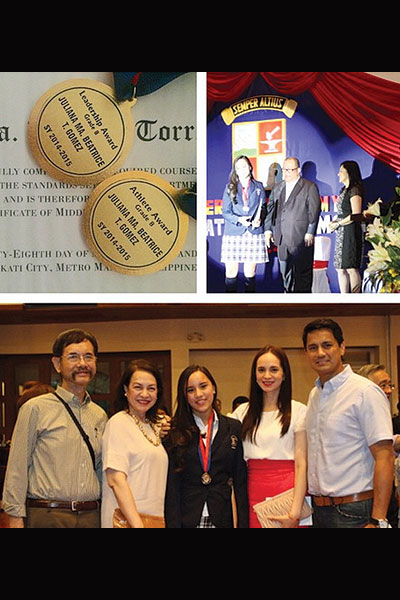 IMAGE Photo grabbed from Richard Gomez's Instagram
---
Little did they know that their daughter was also a recipient of two awards.
On social media, Richard posted about her unica hija's "wonderful surprise."
He wrote, "Juliana graduated in elem. yesterday and received recognitions for athletic awards and leadership award."
For her part, Lucy posted on her Instagram account that she tried holding back her tears when her daughter's name was called twice to accept her medals: one for Leadership Award and one for Athletic Award.
Juliana evidently took after her parents—Lucy is the incumbent representative of 4th District in Leyte, while Richard is known for being a sportsman.
Lucy related, "Her Dad and I, together with her LOLO Manoling Ang LOLA Julie, were in the audience.
"Juliana never let on that she had special awards that day.
"Imagine my (our) surprise when her name was called --- first for the Athlete and Varsity awards (two separate ones) and then the Leadership Award.
"I was holding back my tears. Richard was stunned as well."
The female politician stressed, "We had no idea. She kept it from us all this time, wanting it to be a surprise."
She then went on to say how proud they are of Juliana, who used to be a "very shy girl, but eventually bloomed into her own person."
On the latter part of her post, Lucy had this to say to her daughter: "All I ever pray for is that you will grow into whoever God wonderfully designed you to be."
Lucy continued that she wants Juliana to be the kind of person she wants to be when she grows up.