Early this morning, former Olympic gold medalist Bruce Jenner reveals her new identity as Caitlyn Jenner on the cover of Vanity Fair.
On her new Twitter account—which is another world record for the former athlete for reaching one million followers in four hours—the former stepdad of Kim Kardashian tells her followers: "Can't wait for you to get to know her/me."
I'm so happy after such a long struggle to be living my true self. Welcome to the world Caitlyn. Can't wait for you to get to know her/me.

— Caitlyn Jenner (@Caitlyn_Jenner) June 1, 2015
Apart from her new name, many were also surprised by her new look, which was the transition she talked about in a TV interview last April.
In that interview, Caitlyn, who was still "Bruce" then, said, "For all intents and purposes, I am a woman.
"People look at me differently. They see this macho male, but this female side is part of me, it's who I am.
"I was not genetically born that way."
THE CHANGES. Comparing the old photo of Bruce and the first photo of Caitlyn, it doesn't take a genius to know that several changes were done for his major transformation.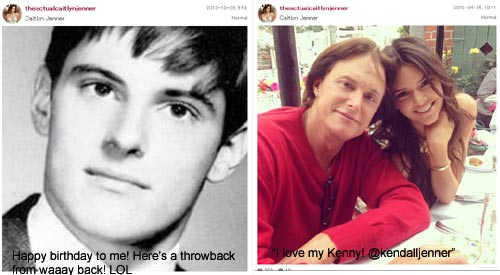 Cosmetic surgeon Vicki Belo shared to her Instagram followers earlier what possible procedure were done on Caitlyn to achieve her new look.
She said, "In order to feminize his features #brucejennerfather of @kendalljenner @kyliejenner became #caitlynjenner by doing a #facelift #foreheadlift #necklift.
"He made his eyebrows more feminine by changing from a straight line to an inverted C.
"He #botoxed his forehead lines corrugators (in between his eyebrows) and crows feet.
"He also did #botox on his neck muscles added #fillers on cheeks and lips.
"He did #blepharoplasty #eyelift and #eyebagremoval #rhinoplasty refined his nose and got rid of his Adam's apple. Wow that's a lot!"
The popular beauty doctor in the country seemed to have forgotten about the change in Caitlyn's chest, but most of her followers noticed that the American reality TV star might probably had breast augmentation as well.
What do you think about Bruce's transformation into Caitlyn, PEPsters?