Fun. Sweet. Special.
Those were the words to describe the wedding of Elvis Gutierrez, the favorite son of Annabelle Rama, to Alexa Uichico last night, June 26, at the Santuario de San Antonio Parish, Forbes Park, Makati City.
Though the guests came (most of them in blue, the color picked by the groom) dressed to the nines, the atmosphere was very jovial.
VIEW PHOTOS Stars and politicians at Elvis Gutierrez and Alexa Uichico Wedding
And for the first time, the usually shy and quiet Elvis took centerstage, with his famous siblings Ruffa, Richard, and Raymond letting him shine, and his mom Annabelle Rama exclaiming that he's her favorite son.
We listed down five things that made us say, "Elvis and Alexa, your wedding rocks!"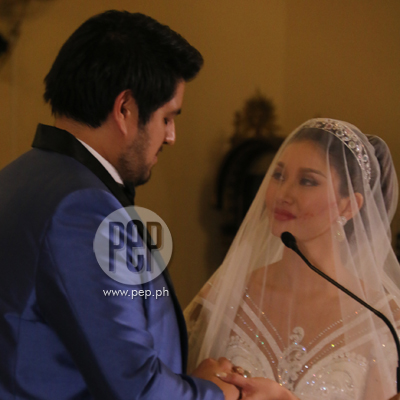 1. The messages of Elvis and Alexa for each other were heartwarming.
Elvis said in his vow, "Our bond has been strengthened by destined time and obstacles life has given us in our relationship.
"One of our obstacles that we have overcome was the differences of our families. But you and your family have accepted me for who I am as a person.
"Another obstacle that we have overcome is our long distance relationship. But now in front of our loved ones, and in front of the Lord our God, proud to be in this journey together with our little baby Aria.
"I want you to know that you are a very beautiful person from inside and out. And I am looking forward to spending the rest of my life.
" I love you till my last breath."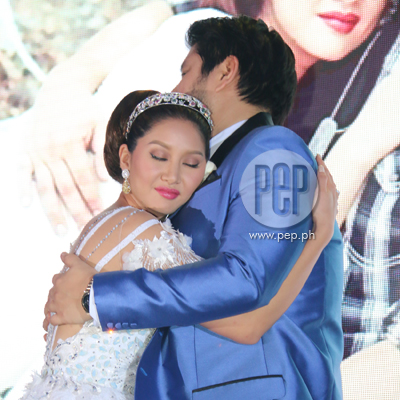 Alexa: "…Elvis, I promise to love you unconditionally through good times and bad.
"I promise to take good care of Aria and you. I promise to bring you to the beach more often.
"To the love of my life, I am so happy that after nine years I still find myself falling in love with you.
"After nine years, we are here in front of our loved ones and I am proclaiming my everlasting love.
"I love you, Babe."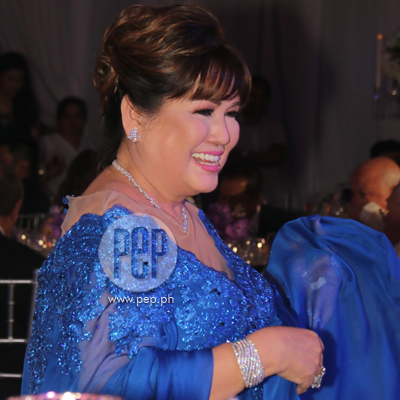 2. Anabelle's message brought the house down...
She began, "Alam niyo si Elvis, isa sa pinaka-favorite kong anak 'yan.
"Alam naman na ni Richard 'yan. Kasi si Elvis pinanganak ko sa States kamuntik ako mamatay."
Then, she mentioned how the principal sponsors were chosen.
"Yung mga sikat na pangalan [ng ninong] kanilang side [Alexa], ako naman showbiz, Bongbong Marcos, Erap Estrada.
"Thank you so much sa lahat ng mga ninong, ninang, kung sapilitan umokay sa akin maging ninong at maging ninang.
"Yung mga mayamang ninong, thank you so much sa envelope.
"Basta happy kami. Thank you so much. Ang iba diyan, nakakalimutan magbigay envelope, pinapa-remind ko lang sa inyo.
"Yung nagbigay na sa akin ngayon, marami maraming salamat, matutuwa apo ko si Aria."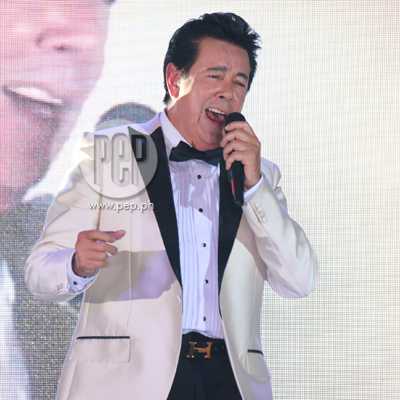 3. Dad Eddie Gutierrez did an Elvis Presley song and dance number.
The patriarch of the Gutierrez family said he named Elvis after his idol Elvis Presley.
4.Aria was a scene stealer.
It was her parents' big day and party, and she walked down the aisle and also mingled with the guests in her walker.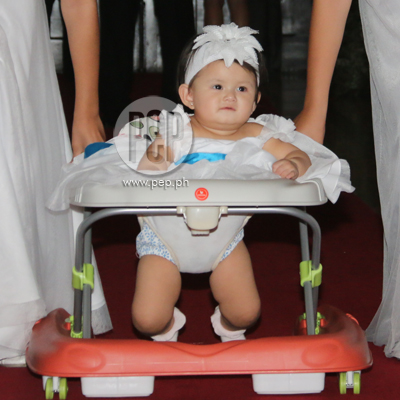 VIEW PHOTOS FIRST LOOK: Elvis Gutierrez and Alexa Uichico wedding
5. The dance with their parents was also touching.
See how the bride and groom looked lovingly at two of the most important people in their lives.