Discrimination against gays and lesbians has become more rampant, thanks to social media!
Remember the controversial billboard featuring real-life gay couple Vince Uy, Preview creative director, and Nino Gaddi?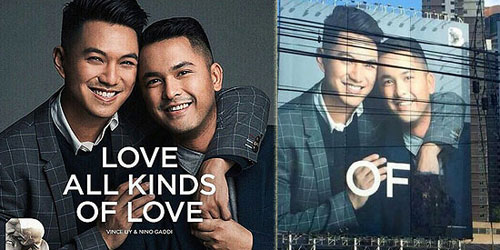 Recently, the same often-discriminated sector of the modern society are on the headlines again, this time in a situation that has been dubbed as humiliating.
Fashion designer Veejay Floresca, who is presently taking up her masters at the Academy of Arts University in San Francisco, California, though born male, identifies herself as "Female" in her California state ID.
She presented that ID upon entering Valkyrie, a party club at the Bonifacio Global City on June 12, and then again, later, for a friend's birthday bash.
On both occasions, she was refused entry because, according to the bouncer, "cross-dressers are not allowed in the club."
She was able to get in, eventually, but only after pulling some strings and already feeling humiliated.
Sparks flew online wildly after that. Barbs, accusations, and insults were traded on social media, even among the LGBT community.
And here are the things we learned:
1. Hey, gays, lesbians, or whatever you wanna call them exist.
And their fight for recognition and acceptance has been a looooong struggle.
Their voice is no longer a whisper barely recognizable and confined in the dark corners.
Yes, the struggle for equal rights is definitely still a long way to go, especially in this part of the globe, but at least the community is being noticed.
The controversial discrimination at the party club made its way to national headlines.
Ten years ago, it was difficult to imagine that such incident would even be discussed on national television.
2. Remember this one word all the time: respect.
An offhoot story from the incident sprung from the Facebook post of a "Becky Nights" member:
She meant transgender women who are refused entry to Valkyrie have the option to go to a comparatively less exclusive bar.
That was a joke, of course, but Netizens didn't find it funny.
The Becky Nights co-host issued an apology, but only after receiving a violent dressing down from insulted members of the community.
3. In this country, you need to have a name or even the slightest bit of "celebrity status" to be heard. It's a sad reality.
This gender discrimination brouhaha was blown to controversial and headline-grabbing proportions because it involved a designer with a "name," Veejay being recognized as one of the three finalists of the first-ever Project Runway Philippines.
Transgender activist Geena Rocero, who famously delivered a TED Talk on LGBT recognition, also joined the noise barrage.
Photo: @geenarocero on Instagram
4. There's the LGBT discrimination, there's also the social discrimination.
If the gender discrimination did not happen to a person with a name and connections, would the "no crossdressing policy" of Valkyrie be under critical scrutiny?
It would have taken another celebrity to be insulted before that policy, which the club denies exists, is criticized.
Many other ordinary transgender women have been refused entry to the club in the past, but those incidents were left unnoticed.
Gif: giphy.com
Trixie Maristela, the most recent winner of Eat Bulaga's Super Sireyna, was refused entry long before Veejay experienced it, but it barely got noticed.
Veejay, on the other hand, was eventually let in, because she knows some people there. What if an ordinary transwoman who knows nobody walked in to party?
The hottest discussions on social issues nowadays take place on social media, not on radio, not on TV, not on the national dailies.
Remember the Melissa Mendez plane offloading incident? That is another example of a controversy much discussed over social media.
The digital world has given us a platform where anyone can express his or her opinion to be heard across the globe, albeit some being foul and irresponsible.
5. This issue should be everyone's social responsibility.
Of course it helped that Vice Ganda tweeted, "The 'No Crossdressing Policy' in any establishment is so THIRD WORLD. If Valkyrie implements this crap I will pull out my very small share."
For a person who has 5.36 million followers, she is definitely an influential ally. But imagine if more people jump on the bandwagon?
7. SOGIE. Geena Rocero has said we need to learn this: Sexual Orientation and Gender Identity Expression.
Understanding this will help all sectors of society to be respectful of gender choices and expression.
Gif: giphy.com
What about you, PEPsters? What's your take on the brouhaha?