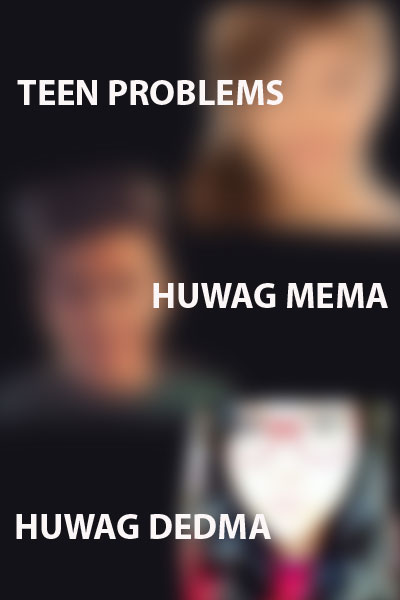 ---
"Iba na talaga ang henerasyon ngayon."
That is our common reaction to the liberal or experimental lifestyle of the young people today.
Last week's showbiz headlines—all involving teen stars—once more brought home the awful truth that can send chills down every parent's spine.
What has befallen the young stars can also happen to their children.
The string of events had brought forth questions that do not have definitive answers.
Like, is there any way to explain the untimely demise of a young lady so talented, so promising, and so full of life?
And if, indeed, she was the one who wrote that suicide note on Tumblr, how can a parent address her struggles and seemingly-hopeless concerns?
Is it acceptable for a 12-year-old boy to ask a girl four years his senior on national television, "Are you still a virgin?"
Should parents restrain their kids from talking about things set by the society as taboo?
So what if a young actress is allegedly in love with a girl?
How should parents deal with that?
How can anyone be so cruel as to post a very, very personal video of a minor?
Worst, how can people jump on the bandwagon—looking for links of the video, watching it, reposting it on social media, and casting judgment on the minor?
What sort of a person would invent a statement that supposedly came from a talent management firm?
Parents (including this writer who is a mother of a baby girl) are now battling a plague of uncertainties and fear.
What if it happens to your daughter or sister or niece or whoever close to you?
There is much to fear from those tragic and traumatic events in the young life of our teen stars as much as they leave valuable lessons.
ADVERTISEMENT - CONTINUE READING BELOW
From there, we try to move on.
Through an email exchange with a sociologist—Dr. Ricardo Abad, Ateneo de Manila University's chairperson, Department of Sociology and Anthropology—we seek guidelines on how to deal with teenagers.
1. Keep communication lines open with your children.
If you want to encourage them to share their secrets with you, do not limit the topics they can discuss with you.
Sunshine Cruz, for example, is happy that her eldest daughter Angeline Isabelle confides in her.
In an interview with PEP.ph (Philippine Entertainment Portal), the actress said, "And maraming kuwento sa akin yung 13-year-old ko.
"Minsan naa-annoy kasi maraming nagkaka-crush sa kanya.
"So sinasabi ko lang, 'You have to tell me everything, okay?
"And if they continue to bug you, let me know… I will talk to them.'"
2. Listen.
Give your kids your full attention whenever they tell you something.
Whatever it is you're doing, stop.
Charlene Gonzalez-Muhlach and her husband Aga Muhlach have made it a rule that whenever they're spending time with kids, they switch off their phones and avoid going online.
3. Know what kind of shows and films your kids watch.
Some parents actually impose a no-TV rule on their kids until they reach a certain age.
If it cannot be avoided, perhaps having an agreement between you and your kids can help.
Or, maybe, you can ask, "…what type of media and content is a child exposed to nowadays?"
Or, "What type of media and content is a child performer or studio participant exposed to?
"What environment are children exposed to?"
A reminder: "We necessarily have to take two, three, four steps backward when it comes to children.
"If us adults have difficulty coping with life's problems, what more the young?"
These came from MTRCB (Movie and Television Review and Classification Board) Chairman Atty. Toto Villareal himself.
ADVERTISEMENT - CONTINUE READING BELOW
Even Dr. Ricky Abad recognized the fact that "we need better content viewing for young people."
But, if your kid is turning out to be a gay or lesbian, Dr. Abad pointed out, "films and TV shows, by themselves, do not determine the gender orientation of people."
4. Speaking of gays and lesbians, our society can and should no longer deny their existence.
While it's easier said than done, parents can actually do something to help the society—albeit, gradually—understand (and eventually accept) the presence of LGBT.
Dr. Abad remarked, "The fear of contaminating others with lesbianism or homosexuality is exaggerated."
5. Monitor your kids' Internet activities.
Whether you choose to restrict or regulate their access, bear in mind that whatever appears on your Feed or timeline will likely appear on your kids' too.
Hence, make that extra effort to discuss the "sensitive" topics with them, and remember tip #1.
Dr. Abad warned, "Social media will ruin more lives until we find a way to curb its excesses."
6. If you are not a parent, soon you will be, and soon, these concerns will be yours as well.
Hence, before you click or like or retweet or share something, is that even worthy of your time and effort?
And remember this, if you repost a content that humiliates a person, that makes you an accomplice in this despicable act of a twisted mind.
Iba na talaga ang henerasyon ngayon.
As those who had gone through their teenage phase sans the gadgets, unli-data plans, and social media, would openly say, "Noong panahon namin walang ganyan…" or "Noong kabataan ko, sa edad na 'yon, paglalaro ang inaatupag ko…"
We compare how times have changed.
We point out technology has ruled the way our children or younger siblings live their life.
But we miss out on the fact that society—with all the norms it has set and its biases—has remained quite prudish.
ADVERTISEMENT - CONTINUE READING BELOW
Some people are still quick to judge and quick to condemn.
We forget that back then, a lot of moms didn't have to work, and the cost of living was cheaper.
Hence, these days, when something "explicit" circulates on the Internet, the mom won't be beside her son to remind him, "Hey, you're not supposed to see or talk about that yet."
The Internet has also made things so readily available.
And sadly, some people are quick to click any button "mema" (memasabi lang, memagawa lang).