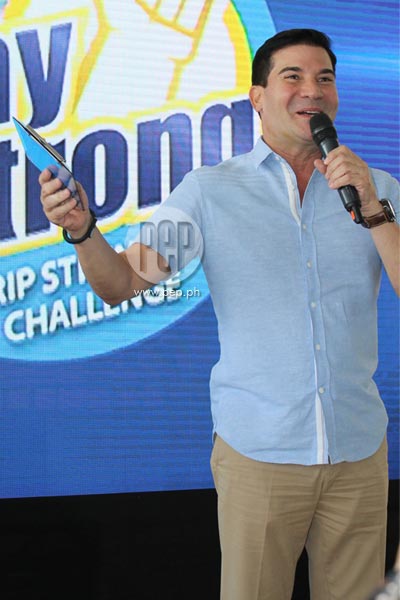 IMAGE Francesca Ganal
---
Would you believe Edu Manzano will be turning 60 on September 14?

Edu doesn't look even a decade near his real age, and that's because he's been more health-conscious.
"You have to keep a certain level of fitness to be able to work in this kind of industry," the Kapamilya actor shared at the launch of Ensure's Stay Strong campaign in SPARTA Sports and Recreational Training Area, Mandaluyong City last July 23.
"I stopped [acting] for ten years.
"I only got back recently, because I wanted to see how things were like, if things have changed."
He paused then sighed, "No, nothing's changed."
UNFORGIVING SCHEDULE. An actor's schedule, he said, has remained unforgiving—with hours stretching from 6 a.m. to 6 a.m. the next day.
Edu admitted it's sometimes difficult maintaining his energy during taping hours.
"When I arrive 6 a.m. on the set, I'm a very nice person. 'Morning! Hi! How are you, everybody!'
"Pero pagdating ng 10, 11 o'clock on that night, 'Kuya, ikaw na.' [And I answer,] 'Ano?!'
"'Yon nga, 'yong lifestyle, 'yong artista talaga.
"So sometimes, you can't blame the actor if they're not in their, they didn't come in their A-game because sometimes it's just too exhausting."
REALITY CHECK. Having been "an athlete my entire life," Edu used to think he's "immortal."
"Ang yabang ko no'n e!" he said.
"Because anything could happen to me, and I'll be fine."
His athletic resume includes being vice president of the Philippine Amateur Judo Association and his military background in the U.S. Air Force that lasted six and a half years.
ADVERTISEMENT - CONTINUE READING BELOW
But his age inevitably reminded him of the reality that goes with growing old, "['Yon nga lang,] when you would take longer to recover than normal, you know, you would see that now you are more sensitive to allergens or triggers.
"Then, it's time for me to drop that attitude and realize, 'hey, you know, it's different these days.'"
AGE TAKING ITS TOLL. Add to experiencing the effects of aging, Edu acquired asthma four years ago.
"I started feeling sorry. You couldn't do the things you're so used to doing before, like running every week or at least 3K man lang.
"You used to lift, pump weights, play competitive badminton, play basketball.
"All of that really had to take a back step."
The once "immortal" Edu felt humbled and said, "You have to accept certain things.
"And one thing I work out is my strength because, for me, that was one of the aspects of my performance that allowed me to do so much 'cause I was so strong.
"So ako, I try to retard the decline."
CHANGING LIFESTYLE. Getting old doesn't mean being less physically active for the actor/host.
"I'm back to, I'm doing a little bit of badminton, pilates, and a lot of quad stretching.
"I also do a lot of TRX [Total Resistance eXercise], but I stopped lifting weights.
"I get bored easy with the same program. So I work out in this place called Platinum.
"One day we do all day TRX, the next, we do is stretching."
ADVERTISEMENT - CONTINUE READING BELOW
He has also recalibrated his diet to balance everything out.
"Umm, I don't eat rice. I cut out rice from my diet. I do a lot, I eat quinoa [tiny, bead-shaped pseudocereals]. You know, for the fiber."
He has also eliminated gluten or food that has wheat, cereals, and oats from his diet.
"MEDICINAL" POINT OF VIEW. "Balance. Everything now in moderation," he advised.
"Everything is all balanced already.
"You know when I acquired asthma, 'yong...I also realized that there were certain nutritional, let's say habits, na I had before na it was too strong to cope that I had to slowly eliminate them from my diet.
"So now I'm more conscious about a lot of things."
This new perception of how to live reflects on his endorsements as well.
"Umm, actually now, I...with what is available in the market, you know, you can take advantage of what is presenting itself already.
"For us to have better, ah, a better lifestyle, a better quality of life, I think we should reconsider before 'yong mga dating palaisipan na, 'Wala mamamatay din tayo!'"
TURNING 60. Edu has a new sense of optimism now that he's turning 60.
"I have a chance to actually improve my quality of life in the year to come.
"So I take the first step by keeping a regular exercise program, having the nutritional needs ng katawan ko.
"And I guess a lot goes down to the mindset. Nandiyan na 'yong produkto e yakapin natin.
ADVERTISEMENT - CONTINUE READING BELOW
"So, 60s is the new 50. Call it what you want, but it's the quality of life.
"I want to enjoy my life."