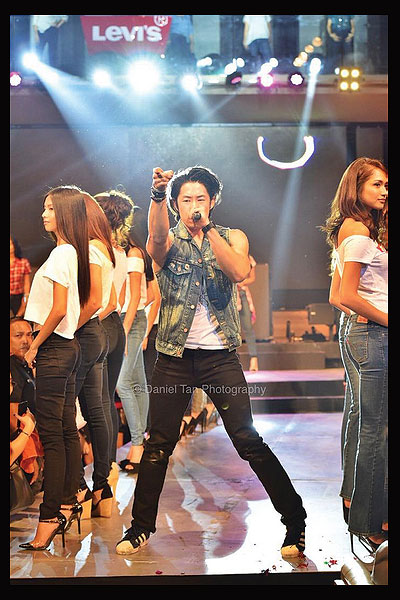 IMAGE Photo from Daniel Tan's Instagram account
---
It has been a decade since Vanness Wu first set foot in the Philippines.
Remember F4's jam-packed New Year concert back in 2004?
The famous Taiwanese group—composed of Jerry Yan, Vanness, Ken Chu, and Vic Chu—became a phenomenal hit because of the series Meteor Garden in early 2000.
Fast forward to present, Vanness's recent post on Instagram showed his love and gratitude for the Philippines that showed him much appreciation.
On July 29, Friday, Vanness returned to the Philippines as a guest performer at the launch of Levi's women's denim collection for Fall 2015, held in Valkyrie Club, Taguig.
Prior to the program, PEP.ph (Philippine Entertainment Portal), together with other members of the press, got to interview the 37-year-old performer and was asked various questions—from his return to the Philippines to fashion and to what turns him on.
A cheerful Vanness mentioned that his trip back to the Philippines was amazing, with "...a lot of memories coming back."
He added, "I just want to take this moment and thank Levi's for inviting me here."
Vanness also said he had been wanting to visit Manila, and was happy that after the success of the first season of Asia's Got Talent—in which he was one of the judges—from March to May this year, more opportunities started coming his way.
VANNESS STYLE. Aside from being a performer, Vaness, who is also known for his fashion, can pull off anything—from formal to funky, laidback to sleek.
Did you know he has his own fashion line.
Asked what his fashion principle is, Vanness replied, "Whenever I go out and wear anything, I always have these three concepts, which stay true to me.
"(1) You have to feel comfortable in your clothes and (2) you have to wear them without caring about too much of what's gonna happen to it.
ADVERTISEMENT - CONTINUE READING BELOW
"That way, you have the freedom when you're moving.
"(3) The manner is, the clothes is wearing you and you're not wearing the clothes.
"So that's how I try to dress every time.
"Sometimes, there some pieces there, pretty outlandish and crazy, sometimes there are some things that's simple."
Which denim style does he like for women?
Vanness said he goes for "hip-hop" fashion.
"There's a lot of different styles that I like in denim, that women could wear that would look great in them.
"Of course the slim fit, but I'd take it back to old school, where the hip-hop dancers, the girls would wear baggy jeans and sports bra and they would be dancing and this hat. That just looks awesome, growing up in a hip-hop background."
For his parting words, Vanness thanked his Filipino fans: "Mahal ko kayo, I love you guys, God bless you.
"Thank you, guys, for always, always being there for me, just sending out your prayers and warm messages, just welcoming back in the Philippines with such warm hearts."