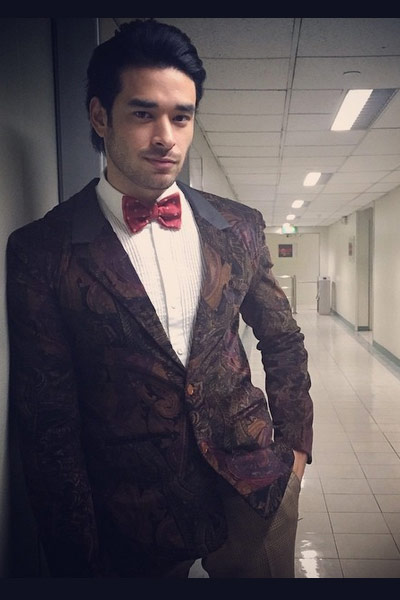 IMAGE @johnspainhour on Instagram
---
,John Spainhour, the 26-year-old 2014 Mr. World Philippines representative, is slowly but surely becoming one of the most sought-after male models and endorsers.
PEP.ph (Philippine Entertainment Portal) caught up with the hunk minutes before he was launched as the latest brand ambassador of Berroca at the Palace Pool Club, a high-end bar at BGC in Taguig City co-owned by Vice Ganda, Tim Yap, Fabio Ide and others.
John, who was born in South Carolina, is now establishing himself more and more in Manila as the go-to model and endorser.
He tells us that his Berocca commercial started just like any normal TVC (TV commercial), where he went through all the stages of casting.
He recalls, "When the TVC launched, it turned out pretty good and it seemed like they wanted to continue and try to push this a little bit more so they got me back.
"Originally, I wasn't supposed to be the ambassador, but then it turned out so good that they just pushed it that way."
John, who keeps healthy and active, is the perfect kind of man to endorse Berocca Performance.
"When the time comes and I feel like I need a little bit of boost, I'll take some Berocca. And then I'll just make sure I keep going.
"It gives a little bit of a pick-up once I do feel like I'm getting drained, so having stuff like that available is nice.
"It's quite nice to have something like that. Of course, when you're endorsing it, you get more of it," he adds jokingly.
OUTDOOR LOVER. John finds his satisfaction from being outdoors, and says it's something he'd expect as well from a woman he would want to have a long-term relationship with.
"Of course, the girl that I wanna be with has to be okay and should be able to handle that kind of thing.
ADVERTISEMENT - CONTINUE READING BELOW
"Some girls that I came across, they couldn't fight their way out of a wet paperbag it seems, so you can just see the fun level being kinda low," he confesses.
He explains what he means by his expression of the wet paperbag.
As John puts it, "They didn't seem like they could really handle anything extreme or adventurous, so it doesn't seem like the fun would really be there. They seem too pampered or too sheltered."
He clarifies, "I'm not saying they have to be like a mountain man out there, like living in the woods and stuff, but they have to be able to handle and not complain about it [outdoor adventure] whenever the time comes."
But just how extreme does he get with his outdoor adventures?
He clarifies, "It's not really extreme, like bungee.
"I would like to do that as well, bungee jumping and skydiving, but the things I am really referring to are just normal type sports like snowboarding or scuba diving."
We quickly remind him that scuba diving is not really everyone's normal sport.
He replies with a laugh, "Scuba diving is normal—yes, it is.
"'Tapos, mountain biking, hiking, camping, shooting guns. I don't say that this is all we have to do because, of course, I enjoy watching movies, I enjoy playing video games, I enjoy just chilling in like a mall or something."
If it's a guy like John doing these things with you, why would any normal girl complain, right?
"The spice of life is variety, so you just do a bunch of other different things. It doesn't have to be all extreme sports or all video games," he laughs.
STILL GETTING USED TO THE LIMELIGHT. John is a strange combination of a guy who enjoys both indoors and outdoors.
ADVERTISEMENT - CONTINUE READING BELOW
His introvert personality makes him naturally shy. How does he feel about all the attention he's been getting?
He admits, "I'm not gonna lie. I'm still getting used to the attention. It's not something that I was anticipating. Just like anything, you don't really anticipate this."
It was his older brother who first entered modeling, and John just followed.
He adds, "It's also my personality, it doesn't really fit the limelight. It [modeling] drains my energy a lot more."
Right now, John says he's happy where he is.
He admits, "I'm just doing small jobs in showbiz, so far, it's okay, seems to be okay."
He's still going with the flow, and states that he isn't one to plan ahead.
He reveals, "No, no, I'm not a planner at all, I just go with it.
"I have the direction, I get a heading and that's it, I just go. Whatever the winds may do, may push me left, may push me right, I can go wherever the seas take me."
SHOWBIZ PLANS. As for broadening his involvement in showbiz, he isn't sure of that just yet.
"Right now, I'm just getting my feet wet and just testing the waters and seeing how it is, what kind of lifestyle it's like.
"And if I decide it's something I'm okay with and I can handle then, of course, I'll really pursue it a little bit more," he promises.