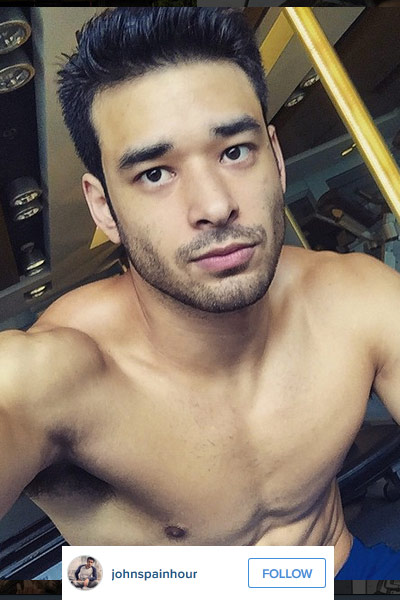 IMAGE @johnspainhour on Instagram
---
Former U.S. Marine scout sniper, Fil-Am supermodel, and 2014 Mr. World Philippines John Spainhour is happily single.
When asked why, the Berocca endorser joked, "The girls keep running away from me!
"Maybe the video games I've been playing have been getting in the way."
He hasn't really been going out a lot lately, making his social life pretty much obsolete.
John added, "I mean, I've been having fun playing video games on my own at home, and then usually when I go out, it's usually by myself. I haven't really been pushing relationship stuff."
MODEL TYPES. Of course, he's had his share of past relationships.
His next goal, John said in jest, is to date Victoria's Secret Angels.
We told him that's a tall order.
He replied, "Yes, I know. Shoot for the stars!"
"Well, my type is, they don't have to be a model, but I would say my type is the model type."
Right now, he hasn't really been thinking about pursuing his dream girl.
He figured, "Maybe later, when I get my stuff together."
Being a non-planner, we got his drift and didn't ask him when he plans to finally enter a serious relationship again.
John admitted, "Of course, I don't plan to play video games forever, but maybe I will..."
PEP.ph (Philippine Entertainment Portal) reiterated he's looking for a Victoria's Secret Angel type who likes to be outdoors and play video games.
He nodded in agreement, then chuckled, "It would be pretty nice, I wouldn't mind!"
MOVING ON. As an eligible bachelor, we're curious how John moves on from his past relationships, as he has admitted to having several exes.
With a serious face he answeed, "Moving on? I usually kill whoever I break up with, so there's no..."
After getting a good laugh about it, John turned all gentlemanly as he said, "I don't wanna get into too much detail.
ADVERTISEMENT - CONTINUE READING BELOW
"But the last, for example, I was the one who initiated the breakup, but I don't wanna get into details about that."
Is he the kiss-and-tell type of guy?
Going into his default mode, John said that after a breakup, he can be found playing video games.
"It's hard to explain, it depends. If it was my choice, then it was my fault and I have to live with the decision."
He does leave a tip on how to be healthy while moving on.
"The only thing I can do is work on myself. Actually, in the other case, if it wasn't my fault and she broke up with me, then the way I have to handle it is it would be more difficult if it was the girl that broke up."
HANDLING BREAKUPS. He recalled feeling bad about his first breakup.
John reminisced, "The girl breaking up was when I was in sixth grade. A girl broke up with me, I felt bad then."
We told him he started early.
He threw in, "Well, in second grade, my first girlfriend, let's see, yes, second grade..."
With a straight face, he recounted how long they lasted.
"We didn't know what we were doing, we just knew of the concept, and we were like, 'Okay, we'll do it.' Of course it didn't last, like two weeks!" he related.
Now laughing, John explained, "It was just like, we were too young for that kind of stuff.
"That's why it didn't last like what are we doing. Okay, we're like, 'forget it,' and that's what happened."
Is he friends with any of his exes, including his grade two and grade six girlfriends?
John said in his best deadpan, "Which ones? I told you, I killed them, so I guess we are. I placed flowers on their graves."
ADVERTISEMENT - CONTINUE READING BELOW
FRIENDS WITH EXES? On a more serious note, he said, "Actually, to tell you the truth, it's hard for me to be friends with my exes.
"I don't know, it's hard to explain. I don't know.
"Maybe like the old ones, all the exes from years ago. It will be if I meet up with them again, things will be fine.
"But if it's more recent, then it's hard to be friends."