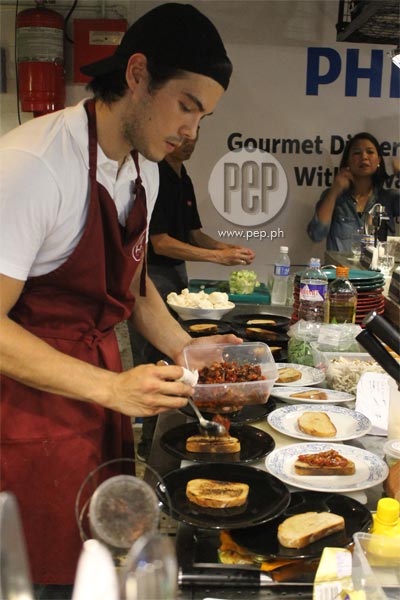 IMAGE Francesca Ganal
---
As enticing as the words "gourmet dinner" already sound, knowing Erwan Heussaff will be personally cooking a five-course meal for you whets the appetite even more.
As the new celebrity endorser of Philips, Erwan hosted the "perfect dinner party" for the media at his pop-up restaurant The Red Light in Makati City, last August 5.
His hole-in-the-wall resto is the perfect "collaborative space" to eat delicious food with friends, bounce off ideas with business partners, and brainstorm creative concepts with your team.
The Red Light is the seventh restaurant of Erwan's group, The Mothership F&B Group.
"I wanted a place where we didn't feel too pressured to kind of make money… we can kinda do whatever we want," he told the press as he began cooking the first dish for the evening.
A rare occasion as he works with chefs on ordinary days, "I'm never alone in doing what I do so I'm never actually the one cooking in the kitchen."
HEALTHY GOURMET DINNER. Would you believe Erwan didn't have any formal culinary training?
He said it was more his love for eating that turned him to cooking, "For me, that's the best way to kinda learn.
"I'm not as technical as most people obviously, but I guess I understand good flavor, and that's basically what I'm cooking on."
Here are the five meals cooked by Erwan:
1. Buttered toast done a bit differently, but delish.

Basically a ball of solid mozzarella cheese with cream cheese inside, Erwan topped the buttered toast with burrata and greens.
Starting off with the burrata that woke up the taste buds and excited us for the next dish.
2. Soup, his go-to comfort food.
"I really like, after a long day, I enjoy something brothy," he said. "It's always something that reminds me of childhood."
ADVERTISEMENT - CONTINUE READING BELOW
His go-to Filipino soup, "For me, I would say batchoy."
For the night's dinner, he served Coldcorn Chowder with poached shrimp salad.


The poached shrimp complemented the chowder well. Its corn cream flavor wasn't overwhelming that the soup went down easily.
3. Fish cakes done to crisp finish without deep frying.
"I'm not a fan of deep fried," he declared, "It kinda kills the flavor and most of the nutrition."
For the fish cakes in his first entrée, he used the Philips Digital Airdryer to avoid deep frying.

The taste was surprisingly light and tender. The fish cakes were complemented by romesco sauce and toasted quinoa.
Quinoa, a pseudocereal, is a healthier alternative to rice.
4. Hanger steak and mashed potato, the Erwan way.
We learned that Erwan goes for something simple when he cooks for his loved ones, "Mashed potatoes, roast chicken… simple stuff."

He said he enjoys mashed potato for himself, and leveled up the hand-chopped steak with sweet potato squash mash.
5. Dessert.
If there is one thing Erwan doesn't like to make but loves to eat, that would be desserts.
For the night's dessert, he made his own version of the Pinoy classic, turon, which is actually a "turon hubad" because the banana was not rolled in a caramelized wrapper.

The banana was drenched in cocomilk and caramelized sauce with a tinge of lemon.
EASY HOME COOKING. Erwan cooked a five-course meal using Philip's newest line of kitchen appliances, the Philips Viva Collection.
This collection is designed specifically for the condo lifestyle. Appliances are compact, thus, they occupy minimal space in the kitchen.
The Digital Airfryer with Rapid Air technology was used by Erwan.
"Air is the new oil," Philip's Business Development Manager for Domestic Appliances Reah Ronsaryo said.
The multi-cooker can fry, grill, roast, and bake. It is also easy to clean and, for Erwan, that is a personal advantage.
ADVERTISEMENT - CONTINUE READING BELOW
He revealed, "I love to cook, but I hate to clean so I like appliances that are not too dirty."
Aside from this multi-cooker, Erwan's kitchen neccesities include food processors and blenders from the Philips Viva Collection.