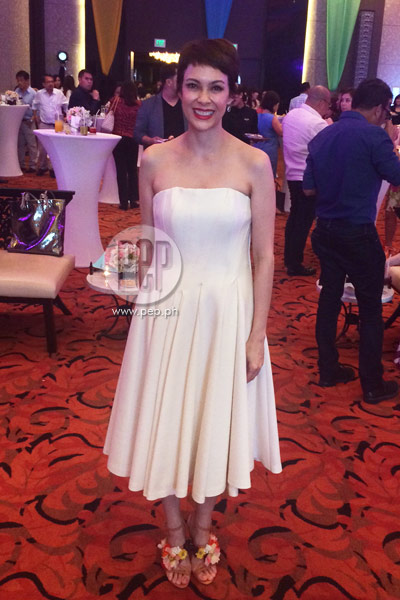 IMAGE Kaye Estoista-Koo
---
Angel Jacob, the 40-something TV host believes in being beautiful inside out.
At the Vietura Aesthetic Lifestyle event she hosted recently at the Sofitel Philippine Plaza, Angel mentioned the drawbacks of experimenting with all sorts of beauty products, especially at her "young age."
"When you're in your 20s, you're very adventurous and you try everything, especially when you see a friend using a particular product that works on her and you start thinking, 'It's gonna work for me.'
"Pero what I learned through the years is we all have different skin types and our lifestyle contributes to the kind of skin we have.
"Genetics plays a very big role in the quality of our skin as we age."
Dr. Mary Jane Torres, the clinic's chief medical practitioner, highlighted the importance of knowing what's good for your body and skin.
This is what clinic's latest treatment, Harmonie or BHRT, also known as Bioidentical Hormone Replacement Therapy, offers.
IMPORTANCE OF HORMONE BALANCE. Dr. Torres explained that the focus of BHRT is on hormones and their important role in our growth, metabolism, reproduction, and other physical functions.
A fact: imbalanced hormones make us prone to disorders and physical discomforts.
BHRT, according to Dr. Torres, helps achieve this elusive hormone balance that allows us to look good and feel even better.
Harmonizing the hormones, she says, also helps fight fatigue, dry skin, chronic insomnia, difficulty losing weight, and memory gaps.
Also present at the event was Connie Quirino, who shared she was convinced to try out the new therapy after experiencing fatigues.
Prior to this, she did a lot of jogging and walking to keep fit.
Despite her healthy regimen, Connie noticed her skin started becoming dry, sagging from sun exposure, and developing wrinkles around the eye area.
The oil painter, who enjoys outdoor activities, usually does ocular.
ADVERTISEMENT - CONTINUE READING BELOW
"I would choose the best spots to paint. I am quite exposed to the sun most of the time.
"I really have an active lifestyle. I really have to be energetic most of the time. But I noticed slight fatigue slowing me down in my day-to-day activities."
Although age is just a number, Connie wanted to improve her overall well-being. When she underwent treatment, the result she claimed was she felt more energetic and younger.
She even swore her skin became firmer with more moisture, and she started sleeping early and waking up early.
The BHRT creams and capsules, the clinic claimed, starts taking effect within a week.
That evening, other happy clients like Cory Quirino—who, Connie said, constantly reminds her to drink water—and Tingting Cojuangco came to support the launch.