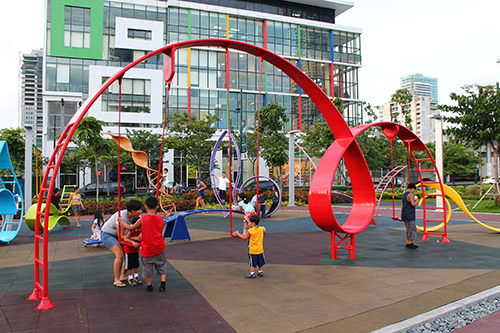 ---
ADVERTORIAL
There's no better way to create a #LakingAmazing childhood than exposing your kids to different interactive activities.


Remember your own childhood where you couldn't wait to go outside and play?


Nothing beats those carefree days playing hide and seek and other well-loved street games.


Given the limited living spaces in the metro, however, maintaining a backyard or finding a village playground for your kid's playtime can pose a challenge.


We round up 10 kid-friendly places (in no particular order) where your child can learn and play at the same time.
*Disclaimer: Prices/entrance fees and availability of rides are subject to change without prior notice and may vary according to the theme parks' respective management protocol.
1. Terra 28th Park

Terra 28th Park is a public park that allocates play spaces and art installations for kids.

Try to come early in the morning or late in the afternoon to avoid the scorching heat of the sun as you play with your child on the uniquely-designed swings and seesaws in the area.


The pathways are also ideal for leisure walking and jogging especially for parents who want to get their kids into active lifestyle.
Address: 28th St. Bonifacio Global City (BGC), Taguig City
Rate: Free entrance
Photo by Elmer Domingo courtesy of commons.wikimedia.org


2. SM MOA seaside playground
To those who who live in the south, if BGC is too far from your place, SM Mall of Asia's seaside playground is a nice alternative.

Although it tends to be crowded on weekends, it has lots of mini-slides and swings.


Cap off your daytime adventure with a ride at the mini Ferris wheel while enjoying an amazing view of the sunset and Manila Bay.


Address: Sunrise Drive, SM Mall of Asia, Pasay City
Rate: Free entrance excluding Ferris wheel ride which costs P200 per person*
Photo by Boxxer "jAz" Rose courtesy of Panoramio.com


ADVERTISEMENT - CONTINUE READING BELOW

4. The Exploreum


Introduce your child to the wonders of the universe with The Exploreum's (formerly known as NIDO Science Discovery Center) 3D planetarium theater.


One of the highly recommended movies for kids is One World, One Sky starring Sesame Street's famous cartoon characters Big Bird and Elmo.
There's also a gallery featuring fancy robots and other mechanical wonders.


And because your child is Laking NIDO® 3+, PROTEKTADO, he/she won't hesitate to brave the sniffing game at the Grossology area, where kids can learn about different types of bad odors when certain body parts are filled with bacteria and fungi.
Or they can have fun playing doctor as they "operate" on a mock human body.
Address: Seaside Boulevard, SM Mall of Asia, Pasay City
Rate: P350 for Gallery and Dome Theater only*
Photo by Juvy Ann Petilla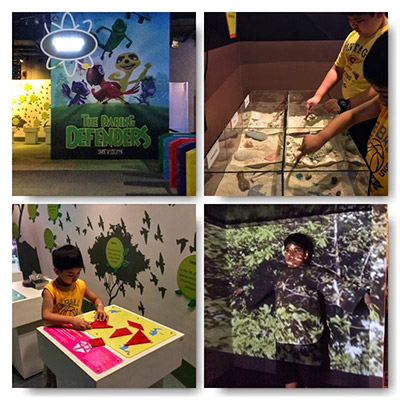 5. Museo Pambata


One of the interesting installations in Museo Pambata is the "Katawan Ko" walk-through where kids can learn about taking good care of their body.


Inside the tunnel which was made to look like giant intestines, you can tell your kids that it is where good and bad bacteria usually live in.


With a glass of NIDO® 3+ that is filled with Lactobacillus PROTECTUS®, your child gets millions of good bacteria that will help build his/her body's defenses.


To know more about how NIDO® 3+ keeps your child's tummy protected from, check out this Amazing Tale Video on Laking Amazing Site.

Other main attractions in this child museum include a simulation of old Manila, an herb garden, a children's library, and play stores among others.
Address: Roxas Boulevard corner South Drive, Manila (behind Quirino Grand Stand)
Rate: 150 each for kids and adults*
Photo by Museo Pambata website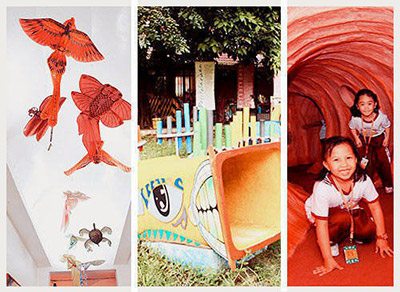 6. La Mesa Ecopark


Take your whole family on a picnic and enjoy some fun outdoor activities like trekking, biking, boating, fishing, and camping at La Mesa Ecopark.
ADVERTISEMENT - CONTINUE READING BELOW
Even adults will find the visit enjoyable and Instagram-worthy with its extensive recreational facilities including a saltwater swimming pool, a mini forest, a butterfly trail, a paintball field, and a zip line, among others.
If you prefer a dip in the pool, there are two saltwater kiddie pools (two to four feet-deep) and one 25-meter lap pool where you can jumpstart your child's swimming lessons.


No need to worry about possible water contaminants since saltwater pools are reportedly safer and gentler on the eyes and skin compared to swimming in chlorinated water.


Address: La Mesa Dam Compound, Greater Lagro, Quezon City
Rate: P80 entrance fee per head and P40 for children below three feet; P80/head for boat ride*
Photo by Spot.ph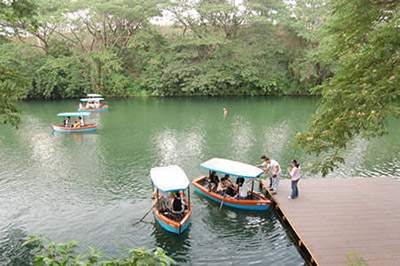 7. Fun Ranch in Ortigas and Alabang
Known as a play space where kids rule, Fun Ranch features rides that are suitable to three to five-year-old kids.


There are lots of padded play spaces, a mini train, bumper boats, bumper cars, a mini Ferris Wheel, and carousels.


Make this fun trip at a theme park more special and unforgettable by bringing your whole family and taking lots of snapshots!
Address: Frontera Verde, Ortigas Avenue cor. C5, Pasig City or Westgate, Filinvest Alabang, Muntinlupa City
Rate: P350 for a ride-all-you-can ticket but no entrance fee*
Photo from Fun Ranch Facebook page
8. Ark Avilon Zoo
Let your kid discover the wonders of nature and wild life at Avilon Zoo, conveniently located in Frontera Verde, Pasig City (beside Fun Ranch).

According to its official website, some of the main attractions of this indoor zoo include exotic animals like the white tigers, "Tyson" the Burmese python, Palawan bear cats, and birds of prey among others.


Children will most likely enjoy interacting with the kid-friendly animals like the lambs, turtles, and rabbits found at Ark Avilon Zoo.


ADVERTISEMENT - CONTINUE READING BELOW
You might ask: How can I ensure my child won't get sick from physical contact with germs and dirt outside the confines of our home?


NIDO® 3+ helps build your child's body defenses so you can be confident that your child is not only protected but will also get to experience a laking amazing adventure.

Address: Frontera Verde, Ortigas Avenue corner C-5, Pasig City
Rate: P300 each for adults and P200 for kids*
Photo by Jen N. courtesy of tripadvisor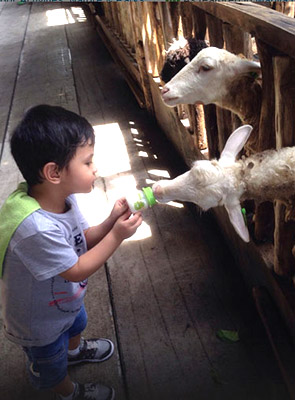 9. Star City
A day trip at Star City is not only convenient but a fun experience for the whole family.
Adults can opt to go for extreme rides while the little ones can enjoy the padded playground and other kid-friendly facilities like the ball pool, mini Ferris wheel, revolving tea cups, and duck tubs.


Address: Vicente Sotto St. CCP Complex, Pasay City
Rate: P65 entrance fee and P420 for a ride-all-you can ticket*
Photo from Star City's website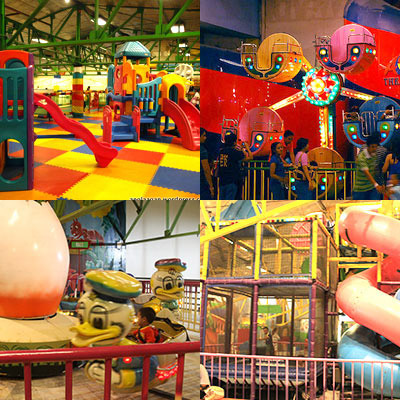 10. Rizal Park
A famous landmark in the metro, Rizal Park (also known as Luneta Park) merits a visit since it is home to the statue of our national hero Dr. Jose P. Rizal.

Aside from teaching them a sense of pride for the country, encourage your child to discover the beauty in their surroundings.


Take a relaxing stroll inside the Orchidarium where your kid can have fun exploring the lush greenery, the well-designed lagoon, and the butterfly pavilion.


Or better yet, you can rent a bike in Rizal Park and teach your kid how to ride.
Aside from learning a new skill, this provides an opportunity for your kid to feel a sense of fulfillment and independence for the first time.

In the process, don't be afraid to let your child get down and dirty.
Address: Luneta Park, Roxas Boulevard, Ermita, Manila
Rate: Free entrance at Luneta Park; P100/adult and P60/kid for the Orchidarium*
Photo by Rica of angkaladkarin.com
ADVERTISEMENT - CONTINUE READING BELOW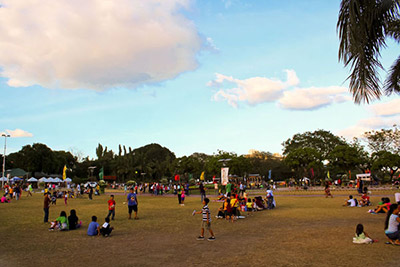 NIDO® 3+ is the only growing-up milk with millions of good bacteria called Lactobacillus PROTECTUS® on top of other essential nutrients that help build body defenses and keep your child healthy and strong.


With the help of NIDO® 3+ moms are assured that their children are well-protected outdoors.


Don't forget to take lots of pictures as mementos of your child's #LakingAmazing adventures!


Discover more tips about giving your kid a #LakingAmazing childhood by logging on to Laking Amazing Site.