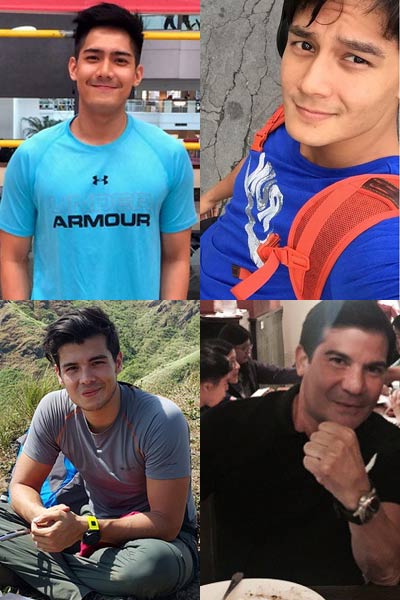 IMAGE @iamrobidomingo / @erwanjheussaff / @dandanmatsunaga / @realedumanzano on Instagram
---
Celebrities are often pressured to look good and maintain a certain physique for the camera.
And that's partly the reason why Robi Domingo regularly does boxing and mixed martial arts.
But how does he stay motivated?
Through MensHealth.ph, the PBB 737 and The Voice Kids host shared his "fat to fit" tips.
1. Don't fear the gym.
Robi said, "If you keep telling yourself na 'nahihiya ako' or 'hindi ako marunong gumamit ng equipment' or 'hindi ko kayang gawin ito,' nothing will happen."
2. Challenge yourself to do more.
For your fitness routines and gym workouts, "Huwag mong sasabihin na 'Hanggang dito lang ang kaya ko.'
"Dapat you go beyond the extra mile. Run faster and sweat more."
MORE TIPS. Daniel Matsunaga, Erwan Heussaff, and Edu Manzano also had important things to say about staying fit.
Daniel, the face of KIX's R U Tough Enough Challenge, stressed that "the first weeks are the hardest" because of the muscle pains.
"You get that feeling that your body cannot handle it anymore.
"It cannot take it—that pain—anymore or you feel like there are no results
"Parang you're even bigger because your muscles are swollen, pero you don't see it.
"It means that once it happens, there's an improvement in your body
"And it is your mind saying to you that, 'Ito, it's working, but masakit 'to.'
"You shouldn't stop because that's how you improve. You get stronger and stronger everyday."
He underlined: look for a workout that you will enjoy.
"There is always a way of finding workout, you know?
"Because a lot of people say, 'Aww, wala akong time, wala akong this,' di ba?
"You have to find it [workout] and find a place, and what you like, what you love,
"How many types of workout? How many types of exercise [are there]? It is impossible for you to hate all.
ADVERTISEMENT - CONTINUE READING BELOW
"There's one that's gonna make you happy, you know, pursue that and just go with it."
Another thing to keep in mind about healthy living is eating right.
Known widely for The Fat Kid Inside, Erwan's blog and his Youtube channel remind us that "weight is first lost in the kitchen and then sports."
Lastly, Edu reiterated the importance of sleep.
"It doesn't have to be six, seven hours or eight hours. It's even four hours.
"But if you can put yourself in a mindset na kung saan itabi mo muna ang stresses mo sa buhay, um, I can really [focus].
"A nice, good, restful sleep is very, very helpful," said the actor/TV host who will be celebrating his 60th birthday on September 14.