Shoe shopping for Chanel Olive Thomas is not as simple as "when the shoe fits, I'll buy it."
First and foremost, there are different kinds of shoes depending on what you're gonna use it for.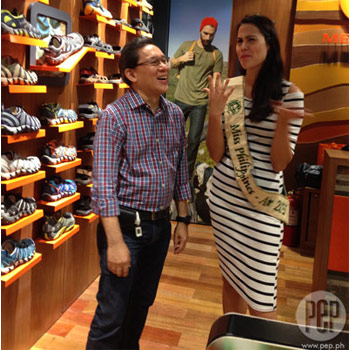 He said there's a reason why every part of a shoe is created in a certain way.
The patterns in the outsole, for instance, were designed supposedly for traction, slip resistance, and stability.
Chanel's worry is about her "foot losing grip," and Yu advised, "Know the technology."
Some shoes are made for a rainy weather or muddy soil or slippery terrain or concrete pavement so find out how a brand engineered a pair of shoes to guarantee your safety—meaning, you won't slip or get stuck or trip.
The Miss Earth Philippines Air 2015 added, "Give me that confidence and support that I really need when I'm outside because the last that I want when I'm training is to injure myself by having the wrong support shoes."
Her next requirement: "I need to know they're comfortable."Did you know Asian women need wider shoes?
That's another insight from Yu.
Their hiking shoes are really heavier, but you're assured they won't get stuck in the mud when hiking.
Their running shoes are really lightweight so there's no extra pressure when you're running so fast.
Lastly, Chanel said, "I need to know they're gonna last me a long time.
"Coz I'm always asked if I'm using my shoes a lot, and I find that when I buy maybe cheaper models of shoes, they don't last that long…
"Long-lasting, really-strong durable shoes."
And to those who want their footwear to be durable, comfortable, and fashionable at the same time, the brand recently launched its sandal collection.
VIEW PHOTOS Miss Earth Philippines beauties headline Merrell's #BeyondTheTrail event